Volaris is the second-largest airline in Mexico and offers some tantalizingly low prices on some of its routes to Mexico.   Most American carriers can't compete at those prices.   But be warned that you may be subjecting yourself to hellaciously bad customer service and scheduling tricks that simply wouldn't be tolerated under U.S. law.   You may think you are buying cheap airline seats.   In reality, you are likely buying yourself a very expensive headache.
We've looked into Volaris over the past few years and found much to concern us.   Online complaints about the company's pratices are voluminous.   Just check Yelp, Ripoff Report, Pissed Consumer, TripAdvisor, Better Business Bureau, or Trustpilot websites to read the countless horror stories.  Travel + Leisure Magazine rated Volaris the 6th worst airline in the WORLD.   But we went beyond just relying upon other consumers' experiences.  We dug into a few complaints we received and found some of the worst customer service that we've ever encountered…..and some of us have been doing this for over 40 years!
Who Is Volaris Airlines?
Volaris is a low-cost airline based out of Mexico City, somewhat along the model of Southwest and Jet Blue.   It started in 2006 and was well positioned to take over Mexicana's airport routes when that airline folded in 2010.   Volaris began service in the U.S. in 2009 and has since expanded to well over 20 destinations in the U.S.   However, Volaris' entry into U.S. markets has been a turbulent one.
Our Internet search turned up a number of different websites containing stories of aggregrievated American customers who had their flights cancelled at the last minute or flights switched without their knowledge.   The prevailing opinion among these customers is that Volaris will cancel an entire flight if the aircraft is not filled. According to some observers, if a Volaris flight doesn't have many passangers, the airline will change the time to try to boost sales, or will combine two flights into one, changing your travel plans without advance notice.  This is apparently what happened to us.  Many travelers have reported that Volaris will cancel the day of the flight, again, for no apparent reason.   And the number and verocity of customer service-related complaints are surprisingly large for a relatively small airline that has just recently sought to expand into the U.S.   As with our experience, many customers complain that Volaris' customer service agents either have poor English-speaking skills, are disrespectful or are very unresponsive.  Our searches of BBB customer complaint websites verifies Volaris' deficiencies.   For example, a Central California BBB reports 42 complaints about Volaris over the last three years.  The same BBB site registers no complaints about Southwest Airlines, even though it is a major carrier for that region.  This isn't to say that no one complains about Southwest, but one could reasonably expect a far larger volume of complaints about this far larger airline than about Volaris.   Yet, that doesn't appear to be the case.
The Kinds of Problems We Have Fully Documented
We have documented how Volaris will change flight schedules at the last moment, making the flight unusable and yet refuse to refund the customer's money.  We also documented that if you attempt to change a flight, they won't make direct (nonstop) options available to you.  That's right, if you try to buy a ticket, you'll find plenty of nonstop flights available.  But if you attempt to change a flight, those nonstop options simply won't be made available to you.
Last Minute Schedule Changes
One customer reported that a Volaris flight was cancelled just one week before their scheduled trip from Tijuana to Cancun, which they had booked about five months prior.   No reason was given for the cancellation.  They received an email informing them that we'd been moved to a red-eye flight that left the following day at 1am……a full 16 hours after we were originally scheduled to leave.  Unwilling to lose almost one day of our six day trip, they were lucky enough to schedule a flight with a different airline company — at the cost of about $200.   When they  canceled the flight, the customer service representative refused to send an email confirming the cancellation and informed us verbally that a refund would be charged back to our credit card "within 20-30 business days".   It ended up taking 40 days…..hopefully their on-time flight performance doesn't run as late as their refunds.
The bottom line:  Volaris canceled a flight one week prior to its departure for no apparent reason and took an excessive amount of time to issue a refund to their credit card.  This is no way to run an airline.   As to the 20-30 day refund, essentially, Volaris' position is that after holding on to our money for the few months that we'd made the reservation, they were going to hold on to it for another month or so after cancelling the flight (and the ticket).   Bad form, Volaris.
Inability to Change Flights
Another customer reported that she had to change her flight, due to the coronavirus pandemic.  She was booked on a nonstop (direct) flight but found that she was unable to change her flight to another nonstop flight — Volaris' online change process only made 1-stop flights available to her, despite the fact that if she had just tried to buy the tickets, there were three nonstops available.   We were able to replicate the issue — there were plenty of flights available to Cabo on the day that she wanted to travel.  But when she tried to change existing tickets, no flights were available.
Booking a New Ticket to Cabo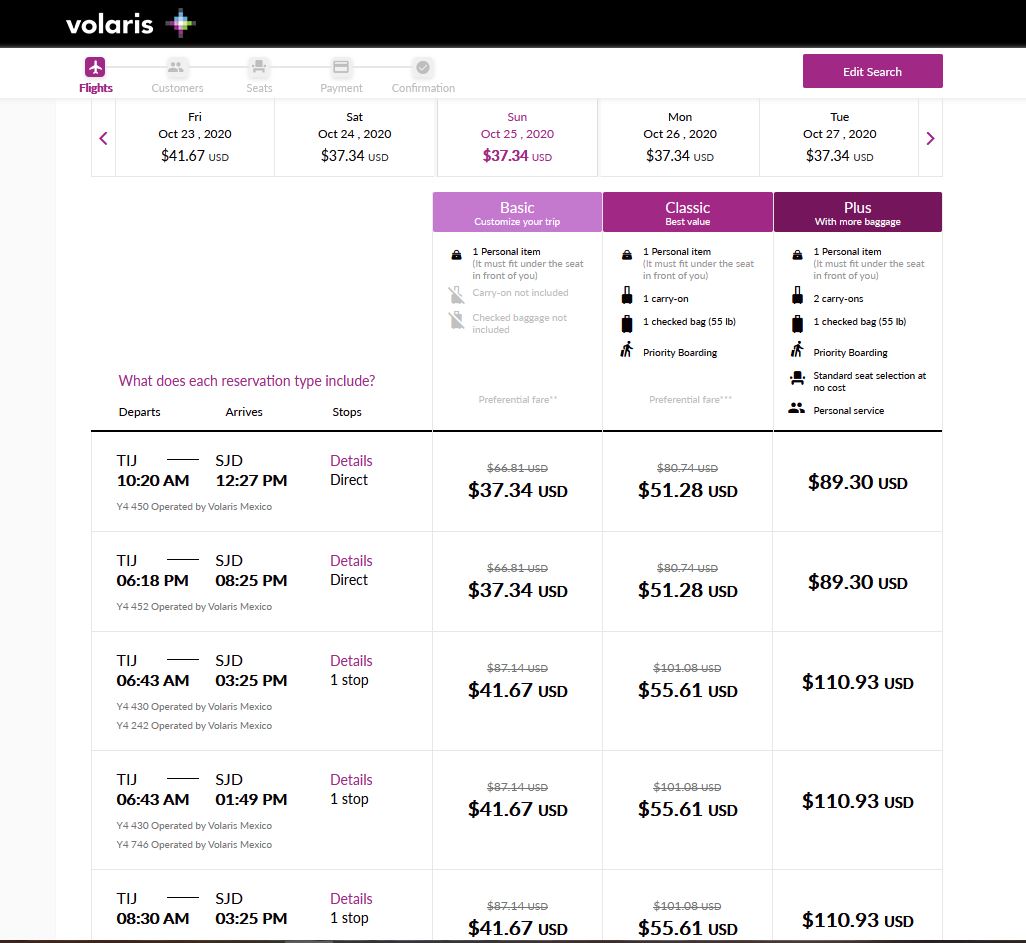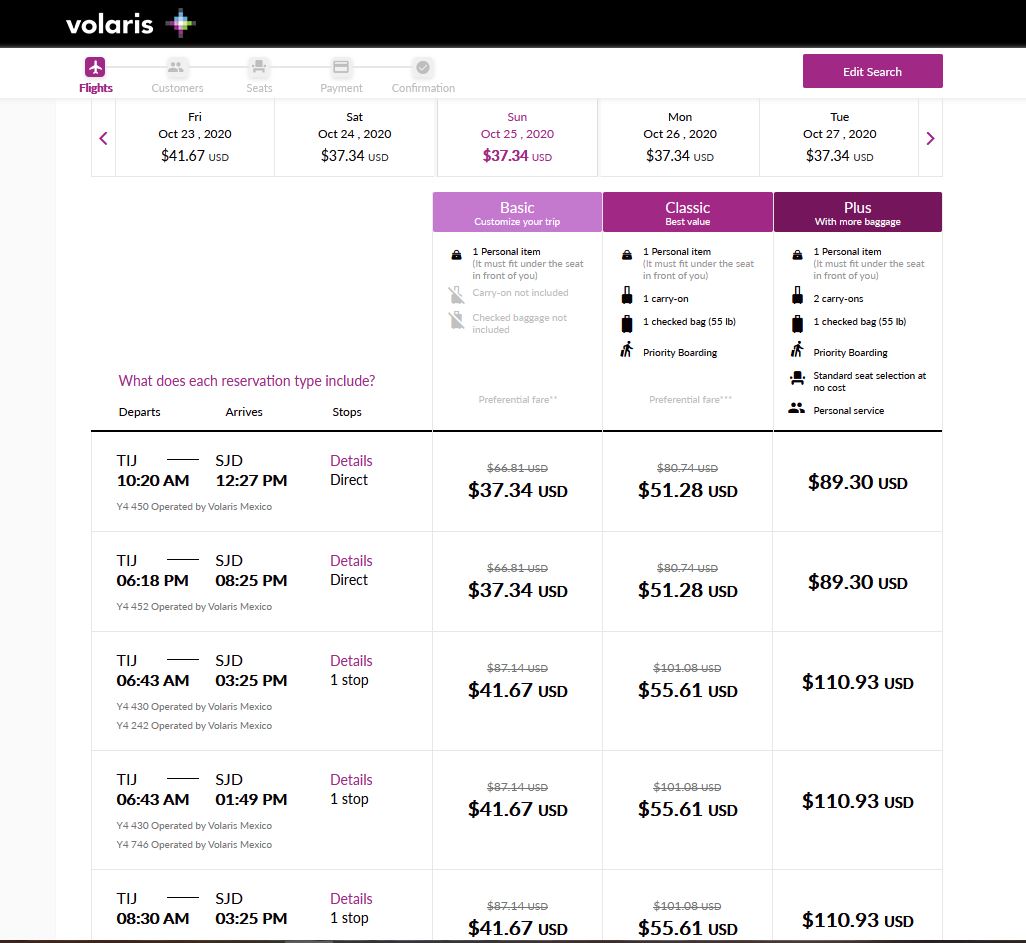 Changing an Existing Flight to Cabo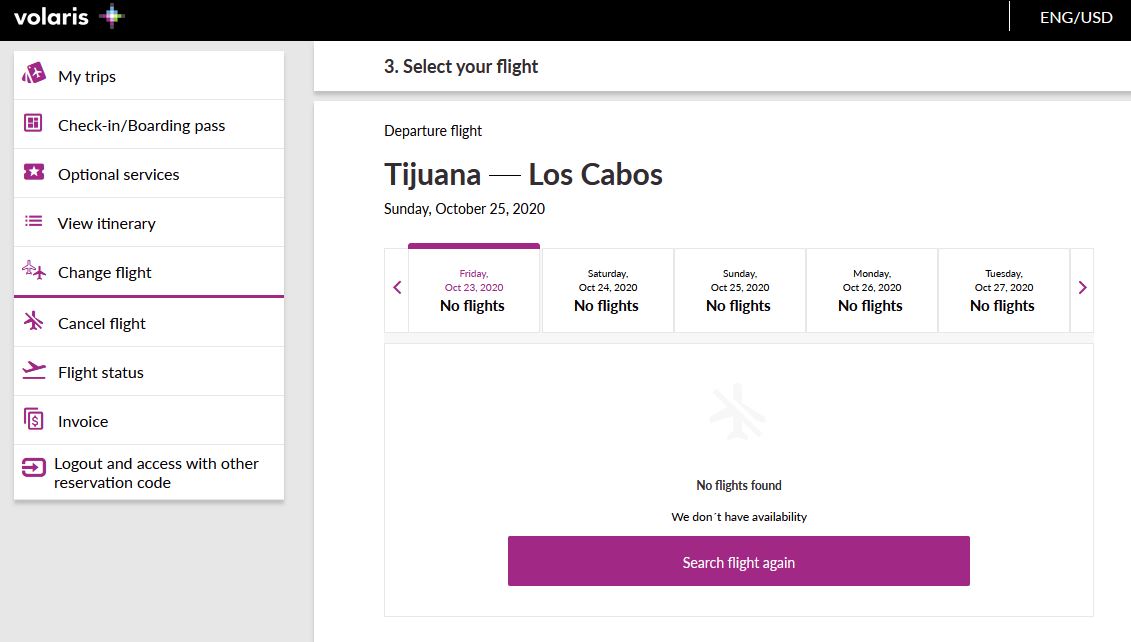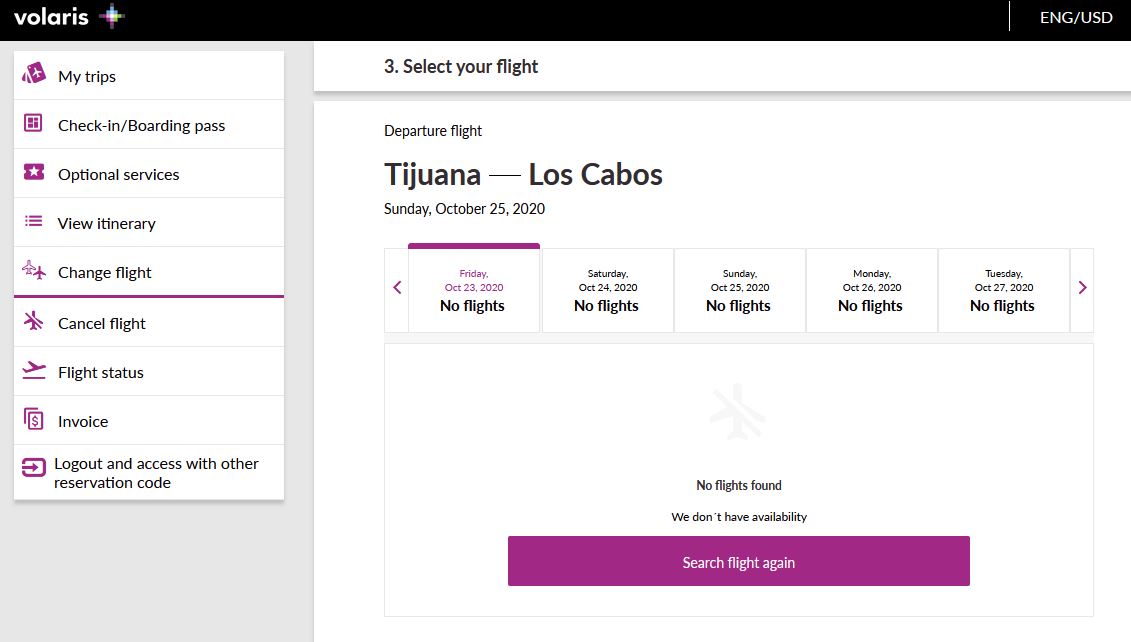 But it got even worse that what we imagined.  Volaris showed no flights available on her selected dates, despite the fact that there most definitely were available flights.  So we tried to find the closest day in October to her selected travel dates.   It turned out that date was October 21st.   However, Volaris showed only two flights available on that day and both were 1-stop flights.  Both flights were red-eye schedules that took 8 hours or 11 hours (for a 2-hour flight).  In short, they were TERRIBLE flight options.
Volaris added insult to injury by charging this customer between $8.18 and $17.73 in addition to the Basic tickets she'd already previous purchased.   (see below)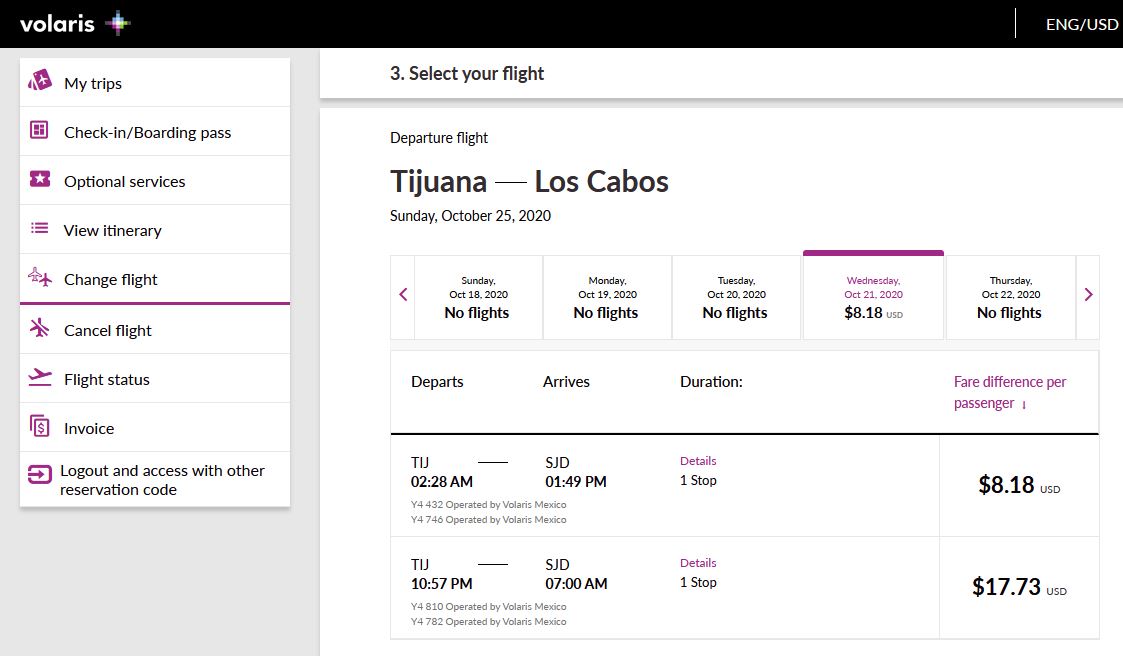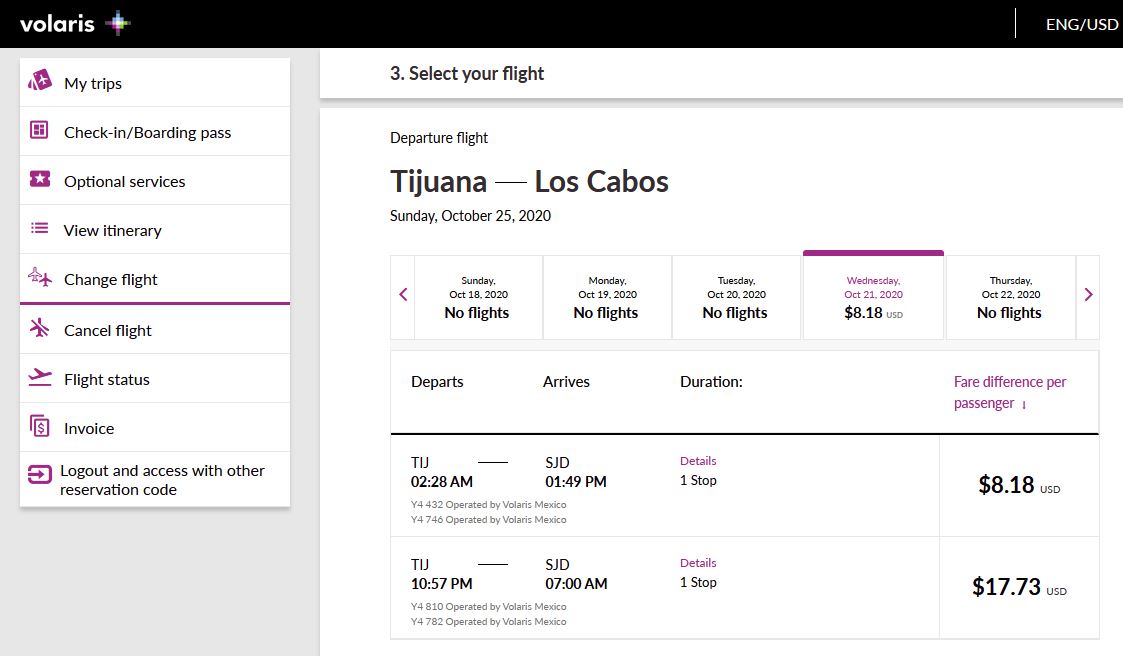 She had paid Volaris $120 each way ($240 round-trip) for the tickets should sought to change.   As we were able to confirm, Volaris was asking $8-17 more from her, making each one-way ticket $128-137 each way if she changed her existing ticket.   However, if she simply bought a new ticket to Cabo, she'd only be $37.34 each way ($74.68 round trip).   Bottom line: this customer was being gouged about $170 per ticket for three tickets, totalling $510 in overcharges if she accepted the change-ticket fares.   Notably, this upcharge was for ridiculously bad flights, compared to the non-stop ticket two-hour she attempting to change.   This isn't just a rip-off, it's airway robbery!
And we confirmed that this wasn't just a glitch.   We search changed-ticket availability from July-October 2020 and found only one day in which a non-stop flight was available to this customer — July 30th.   And that flight would cost her $524 in overcharges.
Inability to Reach Customer Service
Frustrated that she wasn't able to change her tickets to flights that were clearly available to anyone buying a new ticket,  she reported that she attempted to call Volaris' US customer service number for 3 days and, after being put on a short 5-10 minute hold, the call was automatically terminated.  She also tried contacting Volaris using their email address as well as their internal messaging system.   She showed us the 5 messages she wrote over the three day period.   She received no answer.
We attempted to verify.  Indeed, after calling 866-988-3527 over a period of two days, we found that it was worse than the customer reported.   On three of our calls (March 17th) we were placed in a queue and told that there'd be a 15-20 minute wait.   After about five minutes, the call was terminated.   The following day (March 18th)  we called ten times.   Our initial calls were automatically routed to an independent travel agency that only booked flight and was not associated with Volaris.   They complained that they didn't know why Volaris was re-routing customer service calls to them.   Thereafter, we got only busy signals.
We were able to dig up an alternate customer service phone number – 855-865-2747.  It claimed to be Volaris customer service and gave an option to talk to someone to change a flight.  Initially, it sent us into a circuitous routine that kept repeating options but wouldn't connect to any of their services.  Useless.   However, after repeated calls, it finally offered an option to have a customer service representative call us back in "13 minutes".   We input our phone number and waited.   Not surprisingly, the call back never came.
Our Bottom Line
There is no doubt that Volaris' rates are low.   However, anyone lured by these low rates should be aware that they may be getting far less than what they aren't paying for.  Think about it before giving Volaris your money and your travel plans.
https://www.sandiegocan.org/wp-content/uploads/2014/12/volaris-150.jpg
150
150
mshames
https://www.sandiegocan.org/wp-content/uploads/2018/07/Logo4-sm.png
mshames
2020-03-17 05:36:41
2020-03-18 15:12:15
Volaris: No Way To Run An Airline