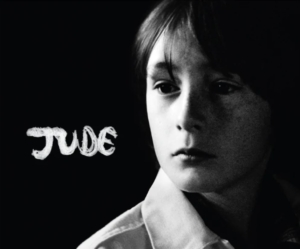 Released on his deceased mother's birthday, today Julian Lennon shared his first album in 11 years.  The title says a lot:  Jude — the name Paul McCartney used in his famous song urging then 6-year-old Julian to "take a sad song and make it better."  Appropriately,  the album contains 11 songs – three upbeat rock songs and the remainder slow ballads.   Many listeners view the album as a confessional or, as Lennon himself described it, a "coming-of-age" project.  But it is more than that.  It is an album that expresses frustration and optimism about society, about the world, and about climate change (a key issue for Lennon throughout his career).
As with all of his albums, Julian's music is habitually compared to that of his namesake.  (Yes, Julian's birthname was John Charles Julian Lennon – he legally changed it to Julian).   This comparison is understandable given their shared nasal voice, their commitment to improving the world and their shared knack for catchy songwriting.   In truth, Julian Lennon might actually be a better songwriter than his father.   If you listen to the totality of his seven albums spanning 30 years, they compare favorably to John Lennon's seven mainstream albums.
No, Julian didn't write Imagine.  But his eco-themed Saltwater has become a classic song for younger poeple, although few of them appreciate that the guitar solo on the song was penned by another famous Beatle – George Harrison.)   His songs are deeply felt, ear worms that stick with you, even after one listen.   Lennon's 1989 album Mr. Jordan is a Bowie-tinged upbeat rocker that may be his most commercially accessible.   (Yes, on some songs, you'd swear the Thin White Duke was singing).    And his last album, Everything Changes, was an album of remarkable craftspersonship and depth.  The man is a truly talented songsmith who has surrounded himself over the years with some very capable producers, including Bob Ezrin (Pink Floyd), Phil Ramone and Patrick Leonard (most of Madonna's albums).
The album's three upbeat songs immediately made it on my Favorites playlist:  Save Me, Every Little Moment and Lucky Ones.   All of them could easily have been written by Mother Nature beseeching humanity to step up and take responsibility for the planet's health.  The latter warns of a "new revolution" and "a change is coming".  Every LIttle Moment, in particular, sounds like it could have been co-written by rhythm-master Peter Gabriel.  They are all great songs that deserve numerous replays.
The remaining ballads are also worth repeated listens — many of them touch directly upon climate change and failings in human leadership.   In fact, you easily imagine that Mother Nature wrote most all of the songs, as they deal with so many of the universal issues with which humankind (and the planet) struggles – betrayal, responsibility, commitment and hope.   In particular,  Love Don't Let Me Down (you can read the title two ways), Not One Night and Breathe all stand out.   Yet, some reviewers think Stay and Gaia are masterworks  (they are well written, but not earworms).   In fact, there are no filler songs in this album.  Mr. Lennon takes his songwriting very seriously.
Are the songs "Beatle-esque"?  The answer is one that can be applied to just about any pop song written in the last 60 years, as few musical artists haven't been influenced by the Beatles' vast catalog.   However, it is not unreasonable to suggest that 50 years from now, more people will be listening to Julian Lennon's songs than the solo songs written by his father — with Imagine being the sole exception.   Jude is a wonderful addition to Mr. Lennon's discography.   We can only hope it won't take another decade for him to grace us with yet another beautifully crafted album.
If you'd be interested in learning more about the songs and the album's genesis, we recommend the following 2022 interview with Mr. Lennon.
https://www.sandiegocan.org/wp-content/uploads/2022/09/Key-Ideas-thumb-1.jpg
200
200
mshames
https://www.sandiegocan.org/wp-content/uploads/2018/07/Logo4-sm.png
mshames
2022-09-10 20:44:29
2023-02-20 11:08:49
Album Review: Julian Lennon's Jude (2022)