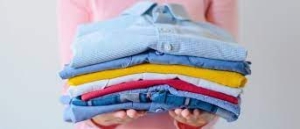 You hate doing laundry.  Or you don't have a washer and dryer.  Or there's just not enough time in your life for washing, drying and folding.  In the last five years, companies offering "laundry delivery services" have popped up.   Often referred to as "Uber for laundry", these companies will pick up and return clothes, bedding, towels and just about any other washable items.   They check at least two boxes:  convenience and time savings.    They include Tide Cleaners, MyLapels, Press, Rinse, SudShare,and Hampr.   The Spruce website has reviewed six of these services, rating Tide Cleaners as the best.  The cost of laundry delivery services can range from $1 to $3 per pound.  Some services are national chains and prices are determined by the local franchise, so there can be variations even within the same company.
But there's a dirty underside to these cleaning companies that you've got to know about.   For example, SudShare in Maryland has over a hundred complaints at the Maryland Better Business Bureau, alone.  And its employees have published scathing reports about Sudshare's work environment.  In fact, one enterprising customer created a website dedicated to exposing Sudshare's customer service problems.   Below, we'll discuss some of the pitfalls of using Laundry Delivery Services.
What Happens If They Ruin Your Clothes?
The first flashing red-light we've found is some of these companies refuse to fully reimburse you for damaged items.   For example, the fine print for SudShare contains the following nasty conditions:
Only cover up to $35 for damage to items unless you upgrade to a more expensive plan
Not entitled to more than 70% of the retail purchase price of the damaged item
Claims must be made within 24 hours of delivery
SudShare will only provide account credit — no refunds or cash payments.
So, if you are dissatisfied with the company's service and don't want to use them anymore, you get NO money for a damaged item, nor will you get a refund for whatever you paid for them to clean your items.   Compare these terms with those of Tide Cleaners:
Cover up to $50 for damage to items unless you upgrade to a more expensive plan
Will pay for the full retail purchase price of the damaged item
Claims must be made within  7 days of delivery
Tide will pay in credits, refunds or cash.
One of the higher-rated app-based laundry services, Press, places no maximum value on a damaged garment and also will reimburse in cash, not just credit.  If you choose to do business with one of the laundry delivery services, make sure you read the Terms of Service before signing up because some of these companies simply won't stand behind their service.
Are They Professional Cleaners?
Another red flashing light is who is doing the cleaning.   Let go back to hapless SudShare.  They won't tell you this, but the actual cleaning is done by the people who pick-up and deliver your clothes.   They use their own washing equipment or can go to a local laundromat.   SudShare doesn't utilize cleaning professionals — that's one of the reasons that their prices are lower AND a reason why they refuse to pay cash for any damaged garments.
In contrast, Tide Cleaners follows the standards and policies set forth by the Fabricare Industry and the International Fabricare Institute.   The people doing the cleaning know what they are doing and they use professional cleaning equipment.   Similarly, Hamperapp uses local professional cleaning services to do their cleaning — not their drivers.
How Do They Handle Disputes?
Qualify of customer service is hugely important and yet, a bit more difficult to ascertain.    Here are some ways of determining the quality of customer service:
Can you talk to a human?  In other words, do they have a phone number or provide online chat that you can call if you have a complaint?
Do they interact with you via email?   If they require you to use their app to lodge a complaint, then that's a problem because you can't document that you attempted to contact them.
Check the Better Business Bureau or your local Yelp and learn about the number and the nature of the complaints against the company.
Are they willing to commit to a specific turn-around time at the time you make the order?
Our Bottom Line
For customers who don't have washing equipment in their homes or for those with very limited time, laundry delivery services are an attractive options.  But, as we've shown above, it is essential to choose your cleaners wisely.   Read the terms of service and check out complaints about the companies before entrusting your valued possessions to these companies.   And, beware of SudShare — their customer service and guarantee are literally worthless.
https://www.sandiegocan.org/wp-content/uploads/2017/01/signpost-thumb.jpg
158
190
mshames
https://www.sandiegocan.org/wp-content/uploads/2018/07/Logo4-sm.png
mshames
2022-09-07 14:50:13
2022-09-07 14:51:50
ANALYSIS: Are Laundry Delivery Services Worth it?