Got a suspicious text from FedEx lately with a hyperlink embedded in it?  Join the untold thousands/millions who appear to have been recipients of an odd text.   It might look something like this: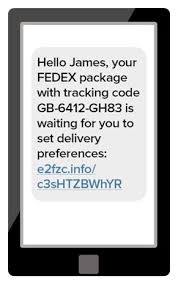 So, here's the quick deal.  FedEx claims that it doesn't send texts to its customers asking for information from them.  It asks that if you receive an unsolicited text from FedEx that you report the occurrence by contacting the Internet Crime Complaint Center (IC3) or your state Attorney General's office. There are similar scams reported for Amazon and USPS, who also do not send unsolicited texts to its customers.
Text Hyperlinks Can Lead to a Malware Infection
The scary part about these texts is that if you click on the hyperlink, it infects your mobile device with malware, Gizmodo reported.  The scammers behind the phony texts are likely seeking out other security information on your device, including a credit card number or social security number.
The scammers are counting on the fact that many of these companies do send out legitimate alerts that look quite similar. USPS, FedEx, and UPS each have SMS update options, though consumers have to specifically sign up for them. Even worse, these companies will also send texts about delivery times and delays, although authentic messages will consistently come from the same number.   So, there's a lot of room for potential confused consumers who might click on the hyperlink.  Then, and only then, the mischief begins.
Our Bottom Line
So our bottom line is that if you receive a text from one of these companies (or a financial institution) that contains a hyperlink, either report it to the IC3 or delete it.   But never feel compelled to click on a hyperlink in a text.  Ever!
https://www.sandiegocan.org/wp-content/uploads/2018/07/Logo4-sm.png
0
0
mshames
https://www.sandiegocan.org/wp-content/uploads/2018/07/Logo4-sm.png
mshames
2020-10-13 11:20:37
2020-10-13 11:20:37
SCAM ALERT: FedEx/USPS Texting Scam