So, you've got an "inside" tip from Paul Mampilly and "The Sovereign Society"  (now called Banyan Hill) that looks something like this?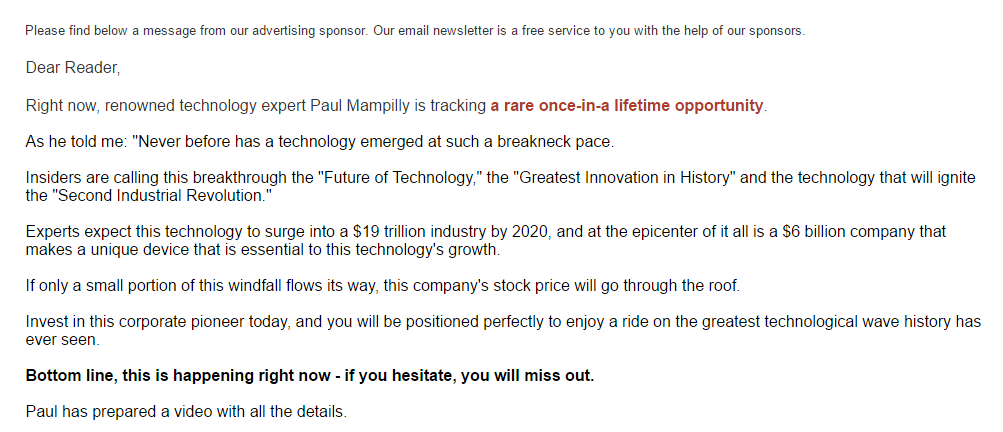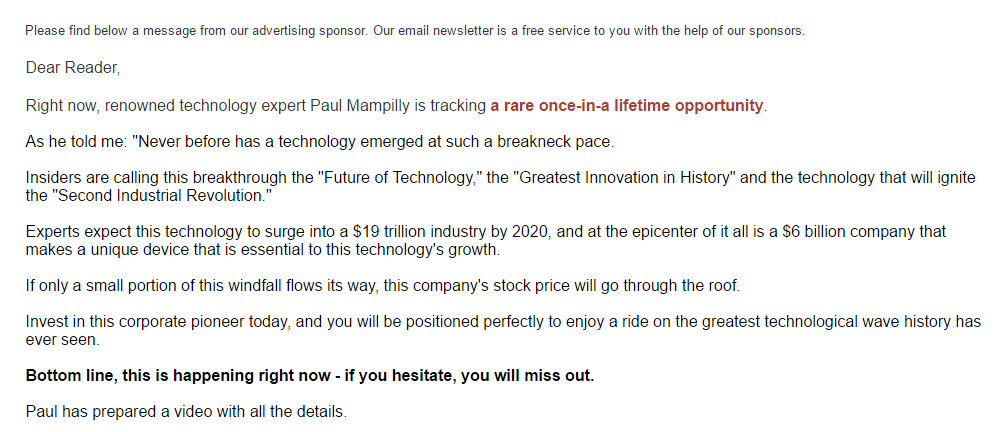 It seems like pretty compelling stuff — and in all likelihood it will compel you out of a lot of money.    Are you prepared to follow his advice to "get in on the ground floor" of  "The Internet of Things"?  Our advice:  Don't do it.   Here's why:
First, about Mr. Mampilly:   Mampilly previously worked on letters for Palm Beach, Stansberry and Agora Financial over the past four years. These are all online investment "advisers" who we've critiqued in other blogs.   Now he's running Profits Unlimited and Extreme Fortune newsletters, the former of which appears to be a new "entry level" newsletter for the Sovereign Society. That's a lot of moving around, which typically seems to happen when newsletters are unsuccessful at quickly building a sustaining level of readership.  He's closely associated with the notorious Bill Bonner and his stable of scare-mongering investment newsletters.   They publish newsletters and bulletins that litter the Internet:  Agora Financial, Common Sense Publishing, Insiders Strategy Group, Laissez Faire Books, Money Map Press, NewMarket Health, OmniVista Health, Opportunity Travel, Institute for Natural Healing, Oxford Club, Sovereign Society, Stansberry & Associates Investment Research, The Daily Reckoning, Banyan Hill.   These are all variations on investment schemes that promote expensive and risky investment propositions.
Second, his pitch is ridiculously overstated:  "The Greatest Innovation In History… 7-Times Bigger Than Computers, Tablets And Smartphones … COMBINED!  "Experts Predict 50 Billion Devices Will Utilize This New Technology By 2020. Early Investors Stand To Reap Tremendous Rewards As Its Growth Surges 8,000%…"   Really?   And Mr. Mampilly's track record is far from stellar.  Note that Mr. Mampilly hawked Yahoo stock claiming it'd increase by 75% back in 2015 when Yahoo's stock value was $37.3 billion. (published by Stansberry Research — a dubious investment outfit).   Mr Mampilly is quoted as stating that Yahoo stock "is still dirt cheap" and recommends that readers buy Yahoo stock.   But, as Yahoo Finance confirms, Yahoo stock was valued at about $50 at the start of 2015 and dropped to under $30 per share in one year.   Even today, on the eve of its purchase by Verizon, Yahoo stock is still below the $50 per share value.  Most of the investors who had followed Mr. Mampilly's advice would have lost money — some by as much as 40% if they'd sold their shares in the intervening months.   This is the kind of dubious stock advice that leads us to question Mr. Mampilly's overstated financial claims.
Third,  the Internet of Things is an important future technology which will have substantial growing pains.  Did you read about the October 21st denial of service attack that took down some very big Internet commerce sites and wreaked havoc on the Net.  It was caused by waves of attacks by a software virus that hijacked devices attached to the Internet of Things.  In other words, IoT is readily exploitable and will be scaled back, in the near term, because of this vulnerability.  The Dyn attack could act as a blueprint for smaller attacks as well. With the source code for the Mirai botnet getting released into the wild in early October, it could make it easier and cheaper for attacks like this one to be conducted. Using that code, or code from the Bashlight botnet will be significantly easier for these kinds of DDoS attacks to be perpetrated.   Until IoT device manufacturers are held to the same standards of security that we hold operating system and application developers to in the tech world, then IoT will not reach its potential.
Fourth, Mampilly has begun to promote geothermal and medical stocks.  Mampilly recently promoted an audacious claim of a possible 1000% return based upon, in part, a stock that is likely to do very poorly.  He states: "Anyone who joins my research service Extreme Fortunes, and invests $10,000 following my recommendations, will have the chance to earn a profit of $100,000… in the next year."   His "guarantee" is a patently rash one that raises our concerns about his over-the-top marketing tactics.   Travis Johnson's analysis of this particular stock is required reading for anyone thinking about jumping into this investment abyss.
In the case of geothermal,  touts in his "Profits Unlimited" newsletter an "untapped ocean of energy".   According to Travis Johnson, Mampilly is pushing a  specific geothermal company (probably Ormat). This is a topic about which we are very knowledgeable and  Mr. Mampilly's assertions are questionable, at best.  Geothermal power is a very challenging business that is, almost by definition, high risk.  Further, solar photovoltaic is now so cheap that it's difficult for renewables which aren't currently commercially mature to chase solar photovoltaic down the cost curve. The speed that solar PV has achieved in reducing in cost and improving battery storage capabilities are so significant, that industries like geothermal simply can't compete.   This is not an investment to take lightly.
Finally, according to Stock Gumshoe Travis Johnson, Mampilly is hawking a company called STMicroelectronics (STM), which has been a slow-motion "train wreck" of a company for most of the past 20 years.   The company currently has a market cap of about $5 billion (according to YCharts, it was a $25 billion company at the IPO in 1994… over the past five years it has fluctuated between $4-9 billion). And it is trying to reorganize and restructure (as it has seemingly done almost continually over the past decade). Johnson reports that STM was very aggressively teased as the maker of the "one device to end all disease" by Michael Robinson back in 2013, and before that it was pitched as far back as 2007 as the company of "Geneva tech wizards" who would dominate the next tech boom (chips that would enable smart houses, the Wii, the first iPhone).
Another big red flashing light:  Mampilly does not appear to have written all the articles about his product.  These articles are called Google bombs. They're flooding search engines with the results they want people to find. Legitimate companies almost never do that (especially not with a bunch of sites hosting basically the same article).  People who have the inside track on how to make a ton of money don't sell it to anyone who has a credit card. They guard it carefully, sharing only with their most trusted friends and family. It's human nature.
We note that websites linked to or touting Mampilly fail to include any type of disclaimer.  It is common practice by investment websites that include disclaimers when giving investment advice.   Interestingly, Mr. Mampilly's past performance is touted at Stansberry's web site.   All Sovereign needs to do is link his web advertisements or webpage to this, already existing, disclosure that makes it clear that the advice you get from Mampilly and other Bonner-funded "investment websites" can be wrong, can be risky and can involve conflicts of interest. But we've seen no evidence that he's done so.  We strongly recommend that if any investment publisher fails to offer a fully-fleshed out disclaimer or disclosure, that you avoid doing business with that publisher.    For example, Motley Fool has a Plain-English disclaimer that could serve as model for an investment publisher's notice.  Yet, we've not seen any links from Mampilly's webpages to any such disclaimer, let alone the one that links to the Stansberry disclosure page.
Why are disclaimers important?   Because they let investors know that they are taking risks with the money!   Notably, Mampilly touts his investment performance at this site designed to make him a credible investment resource.   We note that the Securities Exchance Commission's own guidelines encourage investment advisers to let  potential "investors" know what they realistically could expect to make.  The Stansberry disclosure appears to assert that because Mampilly et. al. aren't investment brokers or fiduciaries, then they have no obligation to comply with SEC disclaimer guidelines.   We disagree.  But, more importantly, you want to be very skeptical of an investment publisher who feels that they have no moral or legal obligation to clearly disclose the limitations of the information they are selling to you.   Motley Fool, appropriately, says:  "The fundamental concept is that you should NOT rely upon the information or opinions you read. Rather, you should use what you read here as starting points for doing independent research on companies and investing techniques. Then judge for yourself the merits of the material that has been shared in our forum."   Mampilly makes no such admission.
Mampilly didn't want you to know about his tactics and unsuccessfully sued SDCAN in 2016.   Their case was thrown out of court by a Florida Federal judge on August 3, 2017.   They also don't want you to know of the likelihood of an economic downturn in the foreseeable future that will trash many of Mampilly's picks.   We've assembled a list of worrying 2017 economic indicators;  it is worth reading before you make any market equity purchases.
Do you really want to throw your money into ownership of a companies with  highly questionable track records in  very volatile technology niches ?    You don't have to give us an answer to this question — but if you are seriously considering this investment, we strongly encourage you to take a moment and tear up $20 bills until the urge passes.  At a minimum, do your homework!
https://www.sandiegocan.org/wp-content/uploads/2015/03/scam-1.jpg
150
155
mshames
https://www.sandiegocan.org/wp-content/uploads/2018/07/Logo4-sm.png
mshames
2016-10-25 20:48:08
2016-10-25 20:48:08
SCAM ALERT: Paul Mampilly's $7 Tech Stock Gamble and Other Risky Businesses