Perhaps you purchased a prepaid debit card from Netspend.  Or worse, you received this prepaid card as a gift.  Either way, you are in for a world of hurt using this card.  Netspend is among the worst of the prepaid debit cards on the market — largely because of their dubious fees.    We aren't alone in this conclusion.  NerdWallet gave it only three stars — largely because of their fees. Similarly, MagnifyMoney condemns Netspend's many fees, which eat into your balance.
Just check out the reviews on Wallethub , ConsumerAffairs or MyThreeCents and you'll see how customers are disgusted with Netspend's debit card.   Consumers detail horror stories in dealing with Netspend's fees and customer service, that include:
Steep monthly fee for basic fee plan and no way to waive the fee completely.
No free network for reloads or withdrawals.
Inactivity fee if you stop using the card, among other fees that many prepaid cards don't have.
Having to choose between paying a monthly fee or paying a fee every time you make a purchase. Either way, you might spend more in fees in a year than you could earn in interest from the prepaid card's savings account.
 Charges of up to 50 cents for "Non-Monetary Transactions – Via Toll-Free Number" and "Non-Monetary Transactions – at ATM.
Our Experience With Netspend
Just to validate the horrible word-of-mouth about Netspend, we purchased a $20 debit card.  It took about 30 minutes to sign-up for the account (it is like opening a bank account) and a few weeks to receive the card.   When it was finally validated, some 90-days later, we noticed a $5.95 fee.   The $20 card was now suddenly worth $14.05.


After another 20 minutes on the phone (much of it navigating Netspend's unrelenting IVR – or interactive voice response – system) we finally got the charge rescinded.  Their excuse:  "if you don't use the card within 90 days, you get this charge.   Within a year, the entire balance of the $20 card would have disappeared.   And if you look for this charge on Netspend's FAQ, you don't find it.  It took another 10 minutes of searching on Google to find this fee — along with a slew of others.  Here's just a sampling: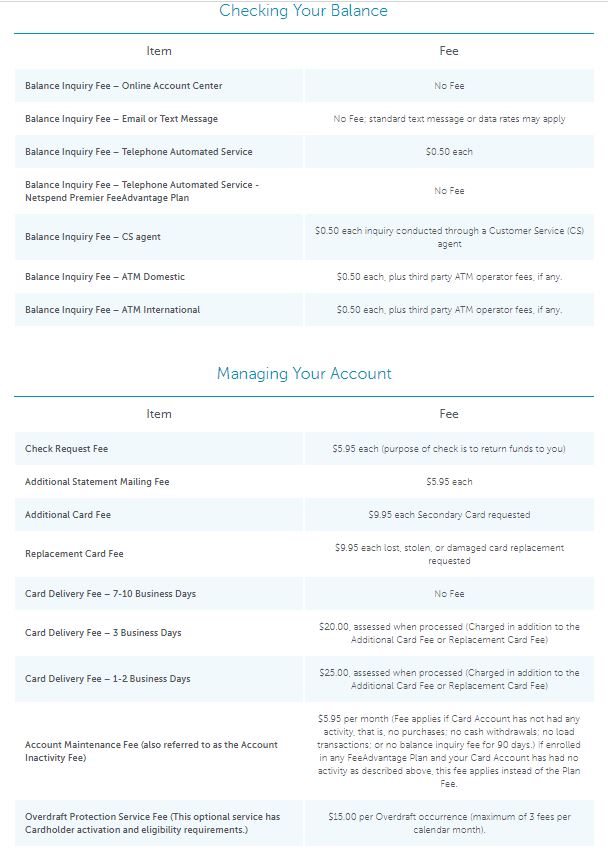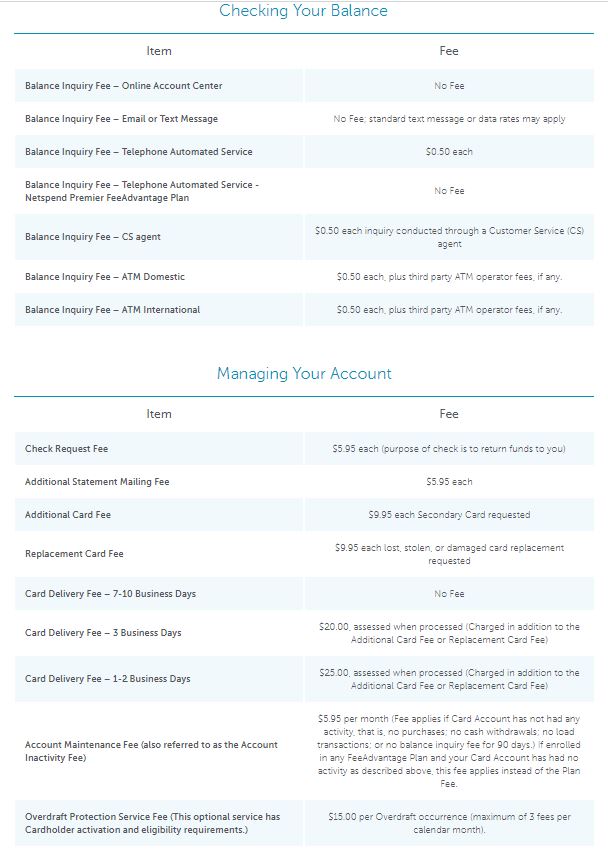 Among some other horrible fees are the fact that NetSpend has no free network of ATMs, so you'll pay at least $2.50 every time you withdraw cash.The card's cash reload fee also limits how you can add money to your card without a charge. And don't think that you can get the card just to take advantage of the high-yield savings account.   Want an example of their ridiculous fees?   Check out the fees they charged for just two purchases:

Even The Government Goes After Netspend
In 2016,  the Federal Trade Commission charged that prepaid card company NetSpend Corporation deceived consumers, many of whom do not have bank accounts, about access to funds deposited on defendants' debit cards.  Netspend subsequently settled the lawsuit at a cost of $54 million.
Past NetSpend lawsuits include failing to refund unauthorized transactions, charge disputes, unreasonable blocks or holds (including tax refund holds and social security SSI holds), hidden fees, excessive charges, deposit issues, account errors, service issues, downtime, balance errors, duplicate charges, and/or transaction problems etc. Recent CFLS verdicts against NetSpend:
Salazar v. NetSpend and MetaBank
Siaki v. NetSpend and MetaBank
Tisdale v. NetSpend and MetaBank
And recently, the  Atlanta Journal-Constitution  detailed the extreme measures Sen. David Perdue (R-GA) has taken to benefit Netspend, a company whose PAC and executives have given Perdue more than $33,000 in campaign contributions since 2014.  In exchange, Perdue has been at the forefront of curbing government agencies who protect consumers from unscrupulous financial companies.
What We Recommend
If you can avoid a prepaid debit card, we strongly urge that you do so.   Unfortunately, some people can't open bank accounts and are stuck with prepaid debit accounts as a checking account substitute.  If you have no other option, please consider a prepaid card option with lower fees, like Walmart's Bluebird by American Express Prepaid Debit Card , Mango Prepaid MasterCard or the Chase Liquid Prepaid Card.  Look for debit cards that have few fees, offers decent interest rates on a savings account,  compatibility with popular digital wallets and a widespread, low-cost ATM network.
https://www.sandiegocan.org/wp-content/uploads/2018/01/Dollar-1.jpg
190
190
mshames
https://www.sandiegocan.org/wp-content/uploads/2018/07/Logo4-sm.png
mshames
2019-10-18 13:16:05
2019-11-01 22:36:52
ALERT: Avoid Netspend Prepaid Debit Cards