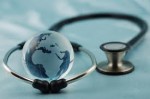 Busted!  We've documented a verified example of Banner Health of Arizona engaging in highly questionable and illegal medical billing practices: balance billing and credit collection practices.    Be alert to Banner Health billing practices, as they likely engaged in the same illegal and unethical actions for other out-of-area patients.   In fact, what you'll read below may serve as a cautionary tale for anyone who is thinking about using Banner Health services.
The misbilling incident involves an out-of-network patient who was treated at Banner University Medical Center in April 2019.   At the time, the patient was advised that his health insurance carrier would be billed for the Emergency Room services — which amounted to about $2000.    Immediately thereafter, the patient began receiving bills from Banner Health demanding full payment.  He checked with his insurance carrier and discovered that Banner had not submitted a "claim" for the outstanding balance.  In short, Banner hadn't sought to collect from the patient's health plan.  In May and, again, in June the patient called and wrote Banner asking why his health plan had not been billed.   Banner's representatives explained that due to a billing mistake, the insurance information for the patient had disappeared!   At that time, the patient was assured that the billing issues had been fixed and the outstanding balance would be processed properly.
Accordingly, Banner submitted a claim with the patient's health plan and was paid about $1500 because of a contract agreement between the two health providers — similar to how Medicare will pay a pre-set amount for services rather than how much the health provider would charge others.   Here's where the illegal part starts.  Rather than being content with the payment made by the patient's insurer,  they attempted to collect the difference between what they billed the patient and what his insurer paid them.  That's called balance billing, which is illegal in California and many other states.    A balance bill is the balance between what the hospital receives from a payor like AHCCCS and what the hospital normally charges for the care the individual receives.
Banner compounded its misdeeds by immediately sending the $400 balance to a Phoenix-based credit collection company called HCI (Healthcare Collections LLC)  It claims to be one of the largest healthcare recovery agencies in the Southwest.   It threatened to report the unpaid balance to credit reporting companies if payment wasn't received within 30 days.
The patient wisely opted to call his health insurance carrier and report these billing misdeeds.  The carrier, appropriately, intervened and "called off the dogs" that had been unleashed by Banner.
https://www.sandiegocan.org/wp-content/uploads/2018/07/Logo4-sm.png
0
0
mshames
https://www.sandiegocan.org/wp-content/uploads/2018/07/Logo4-sm.png
mshames
2019-10-25 10:14:15
2019-10-25 13:48:17
SCAM ALERT: Banner Health Engages in Balance Billing Fraud