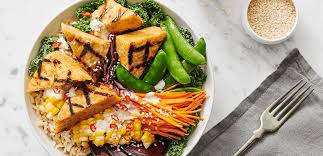 One of the less-advertised uncertainties caused by COVID-19 is food availability.  Tempeh, the soy-based meat alternative, is just the latest in food shortages and price increases that have plagued American consumers this year.    Yup, there appears to be a shortage of tempeh.  Who woulda thought?
Currently, the shortage of this meat substitute is being blamed on supply chain issues.  But it's not just tempeh that is affected.  US food supply chains will be disrupted for the foreseeable future, according to a reputable independent thinktank.   And the food industry itself has sounded the alarm that "the food supply chain is breaking".
Tempeh is just the latest food that has disappeared from grocers' shelves.   Earlier in 2020,  pork and beef products were in short supply due to processing plant closures.  Seafood is also increasingly unavailable because of supply chain challenges, restrictions placed on boat seafarers and the closure of restaurants.   Even the cans and bottles used to store foods are in short supply because of restrictions on Chinese imports.   2021 and 2022 promises more empty shelves, and higher prices will infect just about every item purchased by consumers.
One of the more ominous signs:  The consumer price index, which tracks how much U.S. consumers pay for a basket of goods, rose an unprecedented 6.2% in October from the year-ago period.  That's the highest jump in over 30 years.  Slightly more than half of Americans say they already have or plan to stockpile food and other essentials, says  a recent poll from Sports and Leisure Research Group, Engagious and ROKK Solutions. The main reason cited: fears of a resurgent pandemic, which could lead to disruptions such as new restrictions on businesses.
So why are there shortages, some 18 months into the pandemic?  A lot of reasons:  shipping disruption, supply shortages, labor unavailability and pent-up consumer demand.
Anticipated 2021-2022 Food Shortages
Availability of produce has been impacted by farm worker safety and transportation disruptions.  Among the list of foods that have been in short supply include:
Most, if not all, fresh produce
Canned tomatoes
Canned corn  (due to demand and trucking infrastructure)
Soups
Canned meats, including Spam and hot dogs
Rice
Sugar (due to drought)
Wheat products affected by U.S. drought conditions
Eggs
Peanut butter
Dried beans
Meats (pork, beef and chicken)
Garlic (because most of this crop is grown in China)
Milk  (farmers are dumping because they can't ship this perishable product)
Beer  (due to shortage of aluminum cans)
Mason jars and lids (such as those produced by Ball or Kerr) because of increasing canning.
Coffee  (due to Central and South American droughts)
These spot-shortages are likely to continue through the Fall and Winter of 2020-2021.  Food producers have struggled to keep processing plants open.  Grocery stores are also dealing with increasing illnesses among workers, as well as absences by those afraid to go in to work.  Truck drivers, who were already scarce before the pandemic, can't keep up with demand for food transport.   So, things may get worse before shortages abate.
Other Anticipated Shortages and Price Increases
Housing prices – materials and home supply shortages
Construction materials — including all wood, plastic and steel products
Toys –  resin shortage
Electronics and cars –  semiconductor shortage
Pharmaceuticals produced in China, such as antibiotics, blood thinners and sedatives, are becoming harder to find.
Patio heaters will become more expensive, as COVID-19 drives people outside even during Winter.
Exercise equipment – supplies have been tight in 2020, but will become even tighter as people move their exercise routine inside their homes.
Protective gloves and other PPE is already in short supply due to the looming "third wave" of COVID.
Cleaning sprays & wipes
Paper towels
Price Increases May Be Hidden By Retailers
It might not be easy to detect some of the coming price increases, as retailers will use tricks to hide the increases.  Some of those tricks include using new packaging, selling smaller-size packs for the same price or offering promotions that bring the price down until consumers are used to the higher sticker price.   Sale prices may not be as discounted as they've been previously and price-based promotions will likely be rarer in 2021 & 2022.
Our advice:  Savvy consumers will need to start looking at non-branded items, rather than snapping up nationally-advertised items.  Think also about canning your favorite fruits and vegetables for the coming winter months.  And perhaps it's time to buy a second freezer to store some of your food staples that you don't want to go without.  The coming months are going to be more expensive — like it or not.  Here are some strategies to consider before
Before you shop for produce, check out this website that lists availability and quality of produce.
Come up with substitutions that might work for you.  Beef, pork and fish prices are reaching all-time highs.  So opt for poultry and eggs as your primary proteins right now.  And consider high-protein vegetables, such as quinoa and edamame.
Buy local goods that don't require shipping from distant places.
Start your own garden this winter, for planting in the spring.  Lettuces, carrots, potatoes, tomatoes and other common veggies grow well in pots or raised-bed gardens.
https://www.sandiegocan.org/wp-content/uploads/2020/03/Scream.jpg
298
240
mshames
https://www.sandiegocan.org/wp-content/uploads/2018/07/Logo4-sm.png
mshames
2021-11-13 13:04:03
2021-11-14 15:05:46
CONSUMER ALERT: COVID-Caused Food Shortages Due to Broken Supply Chains