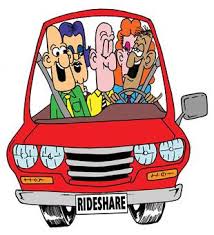 Many seniors have found life without a car to be surprisingly freeing.  They are free of car payments, insurance premiums, maintenance hassles and, most importantly, free of having to swerve away from freaking out-of-their-mind motorcycle drivers.  Jeez, we hate them!   Surprisingly, it is very possible to survive, if not thrive, without a car in San Diego County.     Over the past few years, a number of alternative transport companies (also called "transportation network companies or TNCs) have driven into San Diego:  Lyft, and Uber.    Or, you can also avail yourself of special transport services designed specifically for seniors.
In almost every city within San Diego County, and even in the unincorporated areas, you'll find government or nonprofit programs that provide free or low-cost transport.
SENIOR TRANSPORT PROGRAMS
Your easiest resource is FACT, which is an innovative low-cost San Diego-wide transportation service for seniors.  It coordinates nonprofit services such as Seniors On the Go, On the Go, Elderhelp, Senior Care as well as cities, taxis, the MTS and rideshare companies.  You can call 2-1-1 on your phone and ask for FACT.  Or you can  go to the factsd.org website (or use the phone app) and put in your pick-up and destination locations.  They'll take it from there.  It operates 7 days a week, from 7am until 8pm and is available for anyone over the age of 60.   The fares are based upon miles transported:
There are also other senior transport services that often work well for seniors who use transport frequently and want to be driven by people with whom they are familiar.  For example,   On the Go run by the Jewish Family Service of San Diego, offers affordable and accessible group and individual transportation to older adults residing in San Diego.     SeniorsAGoGo also provides fee-free transport for whatever that client chooses to contribute.   In these cases, you'll often have the same driver taking you to places.
A comprehensive list of senior transport programs can be found at this site.
TRAINS and BUSES
According to the Americans with Disabilities Act (ADA), transit district s must provide accessible services for persons with disabilities who cannot use public transit due to either a physical or cognitive condition. ADA Paratransit Service operates within 3/4 of a mile of all operating train and bus routes.   ADA Paratransit is reasonably priced curb-to-curb transportation service for anyone who has a disability and is unable to use the buses or trains.  In order to ride the ADA paratransit services, you must first apply for the service and become certified. For more information or to fill out an application with LIFT, please contact 
ADA Ride
, toll free at (877) 232-7433, or via the Internet at 
www.adaride.com
. For more information or to fill out an application with MTS Access, please contact MTM at (844)-299-6326 or via the Internet at 
www.rideonmts.com
.
Even if you aren't disabled, you can use the region's 
Metropolitan Transit System at a substantially discounted price
.  Seniors over the age of 60 can travel for as little as $1.10 per ride anywhere on the bus system and $1.25 for the trolley.   A $5 fare lets you travel all day on the light rail routes for as many times as you wish to take the train during that one day.   All you need to do is get a Senior Pass Card 
by filling out this form
 and taking it to a nearby MTS office.
You can also 
buy monthly passes
 that run between $18-$25 per month.   These passes are very low-cost and, if you live near the trolley or a bus stop, could prove to be the lowest-cost transportation option.
RIDESHARING
Ridesharing is becoming increasingly common, especially among millennials, who have figured out that car ownership is not an essential part of life.   The concept is simple: You sign up for an account and provide a credit or debit card for the company to keep on file. Using a downloadable mobile app, you can summon a nearby driver to your location.  It is the 21st Century version of taxi services  (much to the dismay of conventional taxi services).  In fact, Uber and Lyft have become so popular that "uber" has become a verb and Lyft has become an adverb….  (I ubered over using Lyft).   While the ridesharing services are very useful — and probably cheaper than owning a car — they are relatively new.   As a result, consumers haven't quite figured out the tricks and traps inherent in using ridesharing services.    Here's a list of some of the more common mistakes people make in using rideshare services and some secrets about how to maximize the rideshare experience. Each have pros and cons.   Here's a quick synopsis:
Lyft
Pros:    Cars are relatively new
Can access cars using smart phone app
Can track progress of the e-hail in real time.
Charged a standard minimum charge but can tip the drivers if you like the service.
Covers most of central San Diego City
Cons:    Prices vary, depending upon time of day that the car is hailed.
Not cheap for long-distance trips.   Charge $1.75 per mile and $.25 per minute.  Also has pickup and cancellation fees.
Uber
Pros:    Cars are relatively new
Can be picked up after requesting a car.
Covers most all of San Diego County.
Cons:   Possibly more expensive than taxis.  There are three service levels, based on the driver's car: a typical sedan, a town car or a large SUV, like an Escalade. The base fares range from $2.50 to $15, with per-mile or per-minute charges tacked on top, just like a taxi.Base fares range from $2.50 to $15, with per-mile or per-minute charges tacked on top, just like a taxi.   Also has cancellation fees and minimum fares.
Prices vary, depending upon time of day that the car is hailed.
Drivers are not professional; often are self-selected based upon minimum requirements that you are over 23,  own a working four-door car made after 2000, and have a smartphone.   Plus, Uber has been in the news throughout much of 2017 and the news isn't good.  Between mistreatment of women at the company, disputes with drivers, evasion of local laws and potential theft of technology, Uber has been struggling to restore its professional reputation.
Tipping the Drivers
A notable difference between Uber and Lyft is the tipping policies;  Uber's price "includes a tip" whereas Lyft encourages its passengers to add a tip for the driver.  In some markets, Lyft advertises that its prices are lower than Uber, but if you calculate a tip into your equation, those cost savings may disappear.   One fairly reliable estimate is that only 20-40% of Lyft passeners tip their driver  (the figure is much lower for Uber).  Whether to tip or not is a personal choice but savvy consumers should understand that it is not required and, when it comes to Uber, is already calculated into the price.   That said, if a rideshare driver is unusually good and has gone above and beyond what you might expect from them, then you may wish to offer a tip.   Uber allows you to tip a driver, but you have to do it in person, not via the Uber app.
Fare Splitting
Uber's offers a Fare Split feature and Lyft followed with its LyftLine feature. By using a fare split feature, you can share the cost of a rideshare fares with anyone who has signed up for Uber and installed the app. Just select "Split Fare" or "Lyft Line" when it's time to pay, and Uber will send a confirmation message to your ride buddies.   Be aware that Lyft charges a $.25 fee for a fare split, and we've been unable to confirm whether Uber charges a fee as well.
https://www.sandiegocan.org/wp-content/uploads/2013/12/rideshare.jpg
235
214
mshames
https://www.sandiegocan.org/wp-content/uploads/2018/07/Logo4-sm.png
mshames
2019-10-14 21:59:23
2020-01-15 07:37:09
COOL TIP: Transport Options for San Diego Seniors