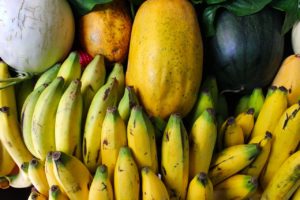 Few San Diegans are aware of how many grocery shopping options are available to them.   Even fewer appreciate how San Diego County's local produce is among the best in the world. Its temperate climate, sunshine and rich soils of the inland valleys makes San Diego one of the nation's most diverse and productive agricultural regions.  Nut trees, fruits and vegetable grow year round and are largely sold to local markets.  Unfortunately, the high cost of water and land limits San Diego's produce output.  Thus, much of the county's produce is imported from California's Central Valley dominated by large agribusinesses or from Baja Mexico, where land, labor and water costs are lower.
To avail yourself of the best grocery shopping in San Diego, we've listed some of the best options for savvy shoppers.   Many of these places are not well known, but they offer the best quality and prices in the region.  Sadly, there's no one location that sells the best produce, meats and household items.  So most shoppers have to go to one or more places, depending upon your needs.
FOR THE BEST PRODUCE
Your own garden –  Most all produce grows in San Diego County.   Consult with San Diego's Master Gardeners or a local nursery and begin growing some of your own favorite crops.
A community garden –  Consult with the Community Garden Network and find out where the nearest garden is located.  Then join…..and reap the bounty produced by you and your neighbors.
Specialty Produce –  This warehouse provides most of the produce for restaurants throughout San Diego.  Unbeknownst to most San Diegans, it'll also sell its A+ quality produce to the general public.  Hours are 8am-5pm daily, seven days a week.   It's quite an experience!  Plus, it's prices are on par with or better than most supermarkets, while the freshness of its inventory is far superior.
Chino Family Farm –  This Rancho Santa Fe vegetable stand is legendary in culinary circles.  They grow for restaurants throughout the Western U.S.   But they also sell to the public.  It's not easy to find (our link offers a Map location) and its a bit out of the way.  But it's a special treat for veggie lovers.
Windmill Farms – Located in Del Cerro, it offers fresh and great variety of produce along with very competitive prices.   We find Windmill to be a bit better than Sprouts, albeit they are close in quality and price.
Frazier Farms –  Vista and Oceanside hosts the last remaining Frazier Farms locations.  They were among San Diego's first produce-oriented grocery and have dwindled over the years to these last two locations.  In the interim, this grocery family spun off Boneys and Henry's (later, purchased by Sprouts).  So they know their produce and their prices are decent.
Sprouts Farmers Market –  Yes, it is a large chain, but they specialize in produce and do a good job of it.  Their sale prices are among the most competitive in San Diego.   The biggest downside is that their cashiers are often overwhelmed by business.  Shopping there at peak shopping times can be frustrating.
Costco –  A combination of expert sourcing and low prices makes Costco one of the better options for produce, if you are buying in bulk.
Ocean Beach People's Food Market –  Unlike all of the other stores, this one is actually owned by its members.  It's a co-op in the best tradition.  Its selection of produce is eclectic and the prices a bit on the high side, but it is a shopping experience unlike any other in San Diego.  You can't help but love it — but it may not be your every week go-to produce option.
Balboa International Market – Located in Clairemont for over a decade, this retailer specializes in Mediterranean groceries, plus prepared Middle-Eastern foods.  Their produce is fresh.  Their prices are competitive and their inventory of dried goods and spices are among San Diego's best.
Whole Paycheck – (aka Whole Foods).  No doubt, their quality is good and their organic selection is among the best in the business (although Specialty Produce is superior in both quality and price).  The good part:  they pay their workers well.   The bad part:  they overcharge their customers.  Recently purchased by Amazon, so pricing and inventory is changing.  Time will tell whether Whole Paycheck loses its pricey reputation.
FOR MEATS AND SEAFOOD
Catalina Offshore Products –  Like Specialty Produce,  Catalina Offshore sells most of its inventory to restaurants.   However, it also sells to in-the-know shoppers who trek to its Bay Park location in an out-of-the-way warehouse district.  It offers the best, freshest seafood and a staff that knows its fish!   It's not the cheapest seafood option, but it is surely the best in San Diego.
Tuna Harbor Dockside Market –  If you live downtown, THDM is the place for fish.  Open only on Saturdays from 8am to 1pm, you can purchase fresh-caught seafood and farmed seaweed directly from local aquafarmers.  The prices are competitive, given the high quality.  Parking is a bit of a pain, though.
Siesel's Meats –  Another Bay Park gem is Siesels.  They offer fresh butchered meats and poultry, along with some seafood.  Their meat is of the highest quality and their prices are competitive.   Just located off the I-5, near Mission Bay.  If you are a meat-lover, you've got to experience Siesels.
Iowa Meat Farms –  Like Siesels,  Iowa is one of the County's last true butcher shops.  In fact, this Mission Valley butchery merged with Siesels, so they now operate as one company, with two different locations.  Iowa just celebrated its 50th anniversary last year.  Let's hope there are many more.
Cardiff Seaside Market –  Serving much of the North County for decades, Cardiff Seaside offers outstanding seafood and meats (along with good produce).  Their sales are competitive, but generally, their prices are in the Whole Paycheck stratosphere.   Worth trying, for that special foodie occasion.
Costco –  A combination of expert sourcing and low prices makes Costco one of the better options for meats, again, if you are buying in bulk.   They are one of the only sources of Prime-grade beef in San Diego County.  And their prices are hard for others to beat.
FOR HOUSEHOLD ITEMS
Costco –  Sorry to be a broken record, but Costco is a phenomenon that can't be ignored.  It'scombination of expert sourcing and low prices makes Costco one of the better options for household goods, again, if you are buying in bulk.   Their prices are hard for others to beat and their return policy is the gold standard in the retail world.
GTM Stores –  This discounter finds large bulk inventory and liquidates it…….often you'll find Costco returns sprinkled in among their inventory.   Located in the South Bay and East County, it is worth checking out.   It also has a Warehouse Outlet stocked with second-quality goods located in Otay Mesa on Corporate Center Drive.
Daiso Japan –  This is a Japanese-based discount chain with a large store off the Clairemont Mesa Blvd and 163 interchange.  It carries over 70,000 household products — many of which you've likely never seen before in your life.   It's Oriental origins are on full display, but much of its inventory is suitable for any American home.  Think of it as a Japanese dollar store.  Packed on the weekends, but decent shopping on weekday evenings.  It also has a location on Mira Mesa Blvd, which is a bit smaller.
Grocery Outlet –  A large West Coast chain of discount items, including food, produce and household goods.  There are a number of them scattered throughout San Diego County.  Among other things, they offer their own selection of very affordable wines.
Aldi –  Like Grocery Outlet, except even larger.  This is an international household discount store that offers foods, alcohol and household items.   If you've never been to one, you should check it out and see how European grocery chains have evolved.  Their own-branded wines frequently win awards as some of the best wine values on the market.
Trader Joe's –  How can you not like TJ's.  Their prices are reasonable and some of their items are iconic.  Try the Mediterranean Hummus, if you are looking for a new addiction.
https://www.sandiegocan.org/wp-content/uploads/2018/07/Logo4-sm.png
0
0
mshames
https://www.sandiegocan.org/wp-content/uploads/2018/07/Logo4-sm.png
mshames
2019-04-24 14:37:29
2019-04-24 14:49:05
COOL TIP: Grocery Shopping Secrets in San Diego County