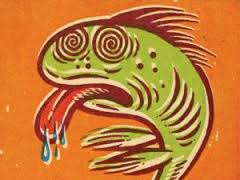 Is a tiger shrimp a white shrimp or wild-caught or farmed or local or Chinese or what?    Or, as Hamlet once might have asked:  "To sea or not to sea?  Is that the question?"    It turns out that American consumers can't be sure what kind of seafood they're buying if they simply look at the label or menu at supermarkets, grocers and restaurants.   Consider the following March 2019 findings by the ocean protection non-profit Oceana:
One out of every five fish tested by Oceana (20%) were mislabeled
26% of restaurants and 24% of seafood markets mislabeled their fish with sea bass and snapper being most frequently misidentified
Fish labeled as "wild caught" are 35% likely to be farm raised.
Misleading and illegal labeling of food is considered a major problem among food purists because it cheats consumers and puts them at risk of tainted foods, hurts honest vendors and tarnishes an industry's product.  And if you see fish labeled "organic", this means absolutely nothing because the label doesn't mean anything when applied to seafood.   Moreover, even the names of fish are confused:
Butterfish is also sold as black cod or sablefish, but Oceana found stores selling escolar but labelling it as butterfish
Cod is either Atlantic cod or Pacific cod.  Yet, other types of fish (largely related to grouper) are sold as cod, including rock cod, black cod or blue cod.  None of them are cod.  Worse yet, Oceana found that haddock or pollack were sold as cod.
Sea bass is particularly tricky.   Grouper, perch, croaker and cod are often legally sold as sea bass. The Hawaiian, Blue spotted and black sea bass ar all groupers. To add insult to injury, the endangered Chilean Sea Bass isn't a bass at all.  It's a toothfish. And it's overfished.   In Australia, barramundi is an Asian sea bass, which is actually a type of perch.  Much of the barramundi sold outside of Australia is actually a perch farmed in Thailand or Indonesia.  Worst of all, Oceana has found that Asian catfish is often illegally substituted for sea bass.
Shrimp Labeling Is A Big Problem
Shrimp mislabeling has gotten worse in recent decades, and coincided with a growing appetite for shrimp among Americans. For more than a decade, shrimp has become the nation's most popular seafood, according to federal data. The craving for shrimp has been accompanied by a major uptick in imported farm-raised shrimp, which are considered inferior to shrimp caught in the open ocean.  But it turns out that not all shrimp are created equal,  as George Orwell may have once been tempted to write.
Oceana released results of a DNA-based survey of shrimp sold at outlets in New York City; Washington, D.C.; Portland, Oregon as well as various spots around the Gulf of Mexico. The well-regarded ocean-protection non-profit  said it found about 30 percent of 143 shrimp products bought from 111 vendors were not what the label said. Cheap imported farm-raised shrimp is being sold as prized wild-caught Gulf shrimp, common shrimp sold as premium shrimp and shrimp of all kinds sold with no indication whatsoever about where they came from.   The report said that because of mislabeling, consumers are not guaranteed they are eating shrimp that meets high, chemical-free standards.      But it gets worse.    According to Oceana:
The most common species substitution was farmed whiteleg shrimp sold as "wild" shrimp and "Gulf" shrimp.
Forty percent of the 20 shrimp species or categories collected and identified were not previously known to be sold in the U.S.
No samples labeled as "farmed" were mislabeled, while over half of the samples labeled simply "shrimp" were actually a wild-caught species.
A banded coral "shrimp," which is an aquarium pet not intended to be consumed as food, was found commingled with another unidentified shrimp in a bag of frozen salad-sized shrimp purchased in the Gulf.
Overall, 30% of over 400 shrimp products surveyed in grocery stores lacked information on country-of-origin, 29% lacked farmed/wild information and one in five did not provide either.
The majority of the 600 restaurant menus surveyed did not provide the diner with any information on the type of shrimp, whether it was farmed/wild or its origin.
Shrimp Farming Is More Problematic Than The Labeling Mess
Shrimp farming has been practiced for centuries by some cultures.  Yet, in recent years, "modernization" of shrimp farming has led to worrisome practices.  In 2015, Bloomberg News conducted an investigation to shrimp farming practices that should not be read before eating……or after eating….shrimp.    It found that that it is common practice in some parts of Asia to feed fish pig waste. It describes, for example, the sanitary conditions at a fish factory on the southern coast of Vietnam. "Flies," it says, "crawl over baskets of processed shrimp."  The shrimp at some plants are packed in ice. That's good. What's bad: it's ice made from water often found to be contaminated with bacteria and unfit for human consumption.  Vietnam ships 100 million pounds of shrimp a year to the U.S., about 8 percent of the shrimp sold in America.  Thailand is infamous for using excessive antibiotics at its shrimp farms.
In 2015, Consumer Reports dedicated much of its June issue to the diminutive crustacean.  It was troubled by the high bacteria counts, the use of antibiotics by shrimp farmers and the absence of effective government oversight.    And it was concerned about food safety.
Lax Inspection by Government Agencies
While the FDA is responsible for ensuring that seafood is safe to eat, the agency rarely inspects foreign fish processors: in 2010 it inspected only 5 of the 801 fish processing facilities in Vietnam that export to the US.  FDA likewise only inspects 0.1 percent of the fish coming in at the border. The FDA's sampling program may also miss certain drugs and chemicals not approved for use in aquaculture in the U.S. because it doesn't know to test for them.  China, for example, which provides some 25 percent of the fish imported into the US. Only 1.5 percent of Chinese seafood processing plants have been inspected there in the last 6 years.   Specifically, through targeted sampling from October 2006 through May 2007, the FDA repeatedly found that farm-raised seafood from China contained antimicrobial agents not approved for use here: nitrofuran, malachite green, gentian violet and fluoroquinolone. The first three have been linked to cancer in laboratory animals; the last may increase antibiotic resistance.
According to the New York Times,  one reason store owners might not know their requirements for imported seafood is that the Department of Agriculture has $1 million for enforcement of country-of-origin rules nationwide.  That money was meant to cover seafood, but for now, at least, it must also cover the new commodities. Lloyd Day, administrator of the department's Agricultural Marketing Service, estimated last week that full rule enforcement would take $9.6 million. Stores are not required to label fish if it has been processed in any way, like marinated catfish or shrimp on a skewer.  Similarly, stores are not required to label shrimp that has been peeled and cooked.
How to Cut Through the Fish Confusion
To help find the best choices, there's a new free iPhone application offered by the Seafood Watch Program that lets you share the location of markets and restaurants nationwide where there's ocean-friendly seafood.  Consumer Reports recommends wild shrimp, even though it is more expensive and, arguably, causes more environmental damage.    Other organizations have mixed feelings about both sources of shrimp;  but all strongly recommend that they be properly handled and cooked.
In San Diego, we urge fish lovers to shop at reputable fishmongers.  Among the best is Catalina Offshore Products, located in a warehouse district in Bay Park.  It supplies many local restaurants, but also retails to "shoppers in the know".    Tuan Harbor Dockside Market, near Seaport Village, offers just-caught fish from offshore San Diego.   There's also Point Loma Seafood, the venerable seafood purveyor located on Emerson St.  It's fish is fresh, but the prices are steep — higher than most.
But the best protection in shrimp shopping is also to use reliable and expert fishmongers.   Large retailers like Costco and major supermarkets are also more likely to have accurately labeled shrimp.   Costco, in particular, is notable not only because its labeling is more reliable, but it also refuses to sell unsustainable fish species.   As of 2013, Costco has imposed very specific requirements upon shrimp suppliers that include siting shrimp farms in environmentally suitable locations, not impacting neighboring farms, using responsible labor practices, managing broodstock and complying with World Wildlife Federation management rules.   In a 2012 move,  the retailer stopped selling 12 overfished  fish species. The company announced its intent  to work with the World Wildlife Federation to improve seafood selection while buying farmed fish from companies with sustainable standards and tuna suppliers working with the International Seafood Sustainability Foundation.  The list of 12 fish that will no longer be sold at Costco include:
Atlantic cod: Criticized for trawl fishing methods (which drag a net along the sea floor and impact habitat) and overfishing that has depleted stocks.
Atlantic halibut: At low levels after heavy fishing pressure, also caught mainly with trawl nets.
Chilean sea bass: Severely overfished and caught using trawl nets that also impact bycatch stocks. However, there is a certified sustainable alternative.
Greenland halibut: Another trawl fishery that impacts bycatch stocks; the alternatives to trawl-caught halibut are

 

Pacific halibut

 

caught on longlines in Alaska (best choice) and on the West Coast.
Grouper: Grouper from the U.S. Atlantic, the Gulf of Mexico and the main Hawaiian Islands are red-listed by the Monterey Bay Aquarium. They are short-lived with short reproductive cycles, which makes them vulnerable to overfishing.
Monkfish: Also caught with nets that carry bycatch concerns.
Orange roughy: Worldwide populations have been heavily overfished using bottom trawls.
Redfish: Several species of fish sold as red snapper are on the decline or have been overfished in the past.
Shark: Shark populations are severely depleted worldwide for a variety of reasons. They're caught as bycatch in some fisheries, they're targeted by fishing gear that incidentally kills marine mammals and sea turtles, and they're killed for their fins to make shark fin soup.
Skates and rays: Several species of the low-growing and long-lived Atlantic coast

 

skates

 

are overfished
Swordfish:

 

Imported swordfish is red-listed largely because the gear used in international fisheries can harm marine mammals and sea turtles.
Bluefin tuna: Around the world, bluefin tuna are being caught faster than they can reproduce. They have very long life spans and grow to very large sizes, which also leads them to accumulate toxins such as mercury and PCBs that can be harmful to humans at higher concentrations. Environmental Defense Fund has a health advisory on bluefin tuna because of their elevated levels of mercury and PCBs.
For more information on why these fish are considered unsustainable, check out the website maintained by the Monterey Bay Aquarium.
https://www.sandiegocan.org/wp-content/uploads/2014/10/fish-150x150.jpg
150
150
mshames
https://www.sandiegocan.org/wp-content/uploads/2018/07/Logo4-sm.png
mshames
2019-04-22 05:33:27
2019-04-22 12:00:49
The Baffling Case of the Elusive Shrimp: Is Labeling Meaningless?