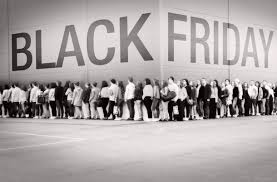 We regret  impugning turkeys in expressing my dismay over Macy's decision to open many (or most) of its stores on Thanksgiving, but there, we said it.  According to a number of news outlets, Macy's will be opening about 800 stores on Thanksgiving evening — 8pm, to be precise — so that shoppers can begin their Black Friday bargain hunting four hours early. Macy's isn't alone:  in recent years, Target, Wal-Mart and even the Gap have opened their stores a few hours before midnight. Macy's is expanding this trend of commercial intrusion into our Thanksgiving holiday and I, for one, am not happy about it.
We suppose that we can't really single out Macy's, because a few weeks later, Target, Kohls and JC Penney followed suit;  all are opening on Thursday at 8pm. But Macy's started it.  Toys R Us upped the ante further and announced it is opening at 5pm on that day……perhaps this is why ToysRUs is no longer in business..
Call us old-fashioned, but Thanksgiving is one of the very few national holidays that have a very deep meaning for us. It is the one day of each year that our nation has set aside for everyone to give thanks for our freedoms and prosperity. It is nationally-shared observation imbued with gratitude and, hopefully, contemplation about the sacrifices that so many of our predecessors made in order to make America such a wonderfully privileged country.    It is regrettable that the retailers are intruding upon that united observance.
GameStop, Nordstrom and Costco have pushed back against this trend, announcing they will remain closed on Thursday and open for Black Friday on, well, Friday.  Costco said its employees "deserve the opportunity to spend Thanksgiving with their families."   Thank you Costco!  Other large retailers, such as IKEA, Sam's Club, Home Depot, Home Goods and others will join Costco in giving their employees a needed day with their families/friends/community.
We don't blame the Macy's employees — times are tough and they are just trying to make a living.  In a world of on-line retail competitors, it's not surprising that the bricks-and-mortar stores  feel that they need to compete with web-based retailers who are open for business 7-24-365.   But here's something the retailers need to consider:   what is the line of propriety both for their employees and their shoppers?
And while we are pointing fingers, we shoppers need to accept some responsibility for this unsettling trend.  That's why those of us at SDCAN have committed to avoid shopping on Thanksgiving Day (other than a quick run down to the local supermarket for that ingredient we forgot to purchase earlier in the week)  Thanksgiving  is the one day that should be dedicated to good times with family, good food, good conversation, good thoughts about our good fortune and good vibes — not about getting good deals on Christmas gifts.   Good grief!
https://www.sandiegocan.org/wp-content/uploads/2018/02/Goodorbad-thumb.jpg
178
190
mshames
https://www.sandiegocan.org/wp-content/uploads/2018/07/Logo4-sm.png
mshames
2017-10-17 06:21:32
2018-10-06 06:45:04
Macy's is a Turkey