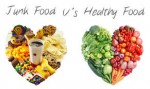 As you age, your body changes in lots of ways, including how you digest food.  For example, according to the National Institute for Heath, people over 50 will find that their bodies:
produces less fluid necessary for digestion, making food absorption more difficult. B6 and B12 supplements along with folic acid helps to improve nutrient absorption, as does regular water intake. Drink even when not thirsty.
needs food to be as nutrient dense as possible. Seniors who eat little, should make sure all foods consumed are packed with sufficient protein and nutrients to keep their bodies strong.
may alter its sense of smell and taste. If this is the case for you, now is the time to experiment with different seasonings so you can learn to enjoy more foods.
is more vulnerable to the bacteria that grows in old food which can sicken you. More, its harder for seniors to fight of infections that can be caused by food past its prime.
Adults 60 and older who are homebound due to illness or disability can ask to have meals delivered to them if they are registered with a County of San Diego nutrition provider that offers this service.  Studies conducted by Brown University researchers have shown that meal deliveries can help elderly people stay out of nursing homes, reduce falls and save states money. The  Brown University School of Public Health, estimated that if all states increased the number of older people receiving the meals by 1 percent, they would save more than $100 million in health care costs. Research also has shown that the daily meal deliveries helped seniors' mental health and eased their fears of being institutionalized.
County-Funded Programs
San Diego County has an organized nutrition program that assists seniors in getting home delivered meals.  Any senior who is over 60 and homebound can ask to have meals delivered to them.  Not only will low-cost meals be delivered, but a representative from the nutrition program will visit the home to assess and monitor the results. If appropriate for the program, a hot meal is delivered each week day and frozen meals are provided for the weekends. Meals are made to accommodate the physical needs of the senior.
And even If you do not qualify for home-delivered meals but you are age 60 or older, you may be eligible to go to a senior dining center for meal. Visit the Senior Dining Centers page for more information about the programs.
Meals on Wheels
Meals on Wheels is the long-standing go-to for low-cost food delivery.  It has served seniors for more than 60 years through a network of independent nonprofits, However, it is undergoing a dramatic overhaul as government and philanthropic funding fails to keep pace with a rapidly growing elderly population.
The cost of Meals on Wheels service is based upon need.  84% of its customers are considered extremely-low to moderate income according to the income guidelines by the Department of Housing and Urban Development (HUD) for all cities in San Diego County. Thanks for government and charitable contributions, it subsidizes 60% of the costs for meals, delivery, and other services provided, regardless of a senior's ability to pay. Further subsidies are provided for seniors who are experiencing severe financial difficulties.   However, most seniors are charged an initial $35 fee to apply for and receive its services.   You may typically start and/or stop service, schedule vacations or non-deliver days with a 48 hour notice.
Lunch and dinner, plus beverage –  $7.00 per day
Lunch only, plus beverage – $4.00 per day
Dinner only with roll and beverage – $4.00
Extra beverage .50 cents each
The Trump Administration's recent proposed budget intends to phase out Meals on Wheels subsidies, which could cause some real pain to the nationwide non-profit.  The increased demand has resulted in lengthy waitlists and a need to find other sources of funding. And at the same time, for-profit companies are creating more competition……which is good, up to a point.
Meals on Wheels San Diego County offers the choice of one or two nutritious meals for seven days a week, including holidays.  Deliveries are made by caring volunteers between 10:45 am and 1:30 pm. Sunday meals are delivered on Saturday. All meal offerings are healthy and tasty with controlled sodium, fat, carbohydrates and calories. The menus are prepared by a registered dietitian to ensure balanced meals throughout the week. We offer Healthy Choice, Healthy Latino Cuisine and easy-to-chew menu options. Its menu changes monthly.   Its Nutrition Hot Line can be reached at at (619) 858-1006 or your nearest Service Center.
Martha's Senior Gourmet
Martha's is just one of an increasing number of private competitors to Meals on Wheels.  The cost is higher, but so is the quality and healthfulness of the meals.  Its senior meal delivery service includes a variety of meal plans.  Its healthy low sodium menus include several specialized options for home food delivery including, healthy life style, diabetic, renal, renal-diabetic, congestive heart failure (dairy free, Ultra-low sodium), gluten sensitive, vitamin K restrictive, and pureed food meal plans. It also offers meals for those who need high fiber, low residue diet, diverticulitis, or extra soft diet. Breakfast and Dessert menus are available as well. Meals are delivered daily by its delivery personnel, who also complete (upon request) a monitoring report at the end of each visit.
Each plan is available from 3-7 days a week and is based on a four week rotation. Lunch will rotate every two weeks. Prices are for a 28 day cycle. Its costs range between $400-700 per month per person (essentially, about $6-$9 per meal).   So while not cheap, it is affordable and customizable to your specific dietary preferences.
MOM's MEALS
Mom's Meals Independent at Home Program offers "fresh-made, nutritious and great-tasting home delivered meals".  Its service is targeted for those seniors who are:
Managing chronic disease
Looking for convenient meals
Desiring independent living
Recuperating at home
Mom's Meals' tagline is "Nourishing Independence". They provide fresh-made home delivered meals nationwide. Several of the Medicaid managed care providers contract with Mom's Meals to provide meals for the elderly clients they serve. Mom's Meals are used in an array of situations: healthcare providers may recommend Mom's Meals after a hospital stay, family caregivers might purchase them (or gift certificates) for loved ones, or older clients might order them for convenience or health reasons (special diets).
They offer over 60 meal choices. Mom's Meals has gluten-free meals (not prepared in a seprarate gluten-free kitchen, though) and meals for special diets (such as diabetic and heart healthy). They also offer pureed meals for those with swallowing difficulties. They do offer vegetarian and some vegan selections.
Meals stay fresh for up to 14 days in the refrigerator.
The meals are all prepared; they just need to be heated in the microwave or oven (see more on this in our comments).
Most meals are $6.99 each (pureed meals are usually $7.99). Shipping and handling is $14.95 per order of 7, 10, 14 or 21 meals (flat rate).
You can order via phone or their website. There are different options for ordering and billing (for example, a family member can pay for the meals for a loved one and you can have meals auto-shipped) and they deliver to all 48 states in the continental U.S., even remote/rural areas.
Reviews of the meals is mixed, at best.  Gourmet Reviews, created by Chef Piquanti, was quite critical of Mom's Meals.   It may be worth trying, but the food quality appears to be uneven, at least in some areas of the country.
Love2Live Home Preparation
Love 2 Live Care Services is another private company which offers both meal preparation and attention to seniors.  Claiming that over a meal that seniors often open up, tell their stories and enjoy company, it distinguishes itself from other food deliver services by helping to meals for seniors.  Love 2 Live Care Services targets seniors who want to stay in their homes by making grocery shopping, meal planning and preparation easier. It offers to sit with you and let you take the lead about what meals you like, how you organize your kitchen and meal times. They focus more upon helping seniors prepare their own meals rather than serving as a traditional delivery service.  So they'll take you grocery shopping or get the food you need and help you prepare your own food.   It's this focus on client priorities appears to have contributed to it being awarded San Diego Union Tribune's "Best Of San Diego" competition six years running.
Love2Live doesn't cite prices on its website;  you have to submit to an evaluation of their highly customizable service.   But it may be an option for seniors who still enjoy to cook and shop but want some assistance.
JFS Foodmobile
The Jewish Family Service Foodmobile provides hot, kosher, home-delivered meals to homebound older adults and younger adults with disabilities. Volunteers deliver meals daily and sometimes even deliver pet food when requested. Its volunteers are trained to conduct a safety inspection and report any concerns back to our professional and caring staff.
Frozen meals are available for weekends and holidays, and for areas that do not receive delivery service on a daily basis. Meals are delivered between 10:30am–1:30pm.  Meals are $7 for a 3oz protein portion and $8 for a 5oz protein portion, including frozen meals. Meals must be cancelled by 8:00am to avoid charges. Fees are available on a sliding scale for those who qualify. For specific service regions and individuals who meet specialized criteria, the home delivered meals program is partially sponsored by the Older American's Act with a grant from the County of San Diego, Aging & Independence Services. Those meals are provided for a suggested donation of $4 for adults 60+.
Other Food Delivery Services Highly Rated on Yelp
Some San Diego-based companies offer healthy meals that aren't necessarily targeted for seniors.   However, they can be quite healthy and highly customized.  Two of them which rated highly on Yelp are:
The Lean Machine Meal Prep – healthy and customized meal delivery for $11-15 per meal
HealthGrub – also offers customized meals that run $11 or more per meal.  Delivery Fee varies from $7.50 to $12.50. Minimum Delivery is $38.85 + fee.
Community Supported Agriculture that delivers to your door
Finally, there are some local farms that offer delivery of locally-grown fruits and vegetables to San Diego residents.   The food is fresh and organic.  While not cheap, it is high-quality and affordable.  It would be of special interest to seniors who still enjoy cooking, but have difficulty shopping.
NeighborFood – fresh produce delivery service for $30-35 per week with 10 week commitment
Suzie's Farm – fresh produce delivery service for $40-60 per week with no commitment
Seabreeze –  fresh produce delivery service for $40-60 per week with 1 week commitment
For more information about nutrition services supported by the County of San Diego and Aging & Independence Services, please contact it via email or by phone at 800-510-2020, Monday through Friday from 8 a.m. to 5 p.m.
https://www.sandiegocan.org/wp-content/uploads/2013/05/dollars-150x150.jpg
150
150
mshames
https://www.sandiegocan.org/wp-content/uploads/2018/07/Logo4-sm.png
mshames
2017-05-11 10:49:11
2017-05-11 10:49:11
San Diego: Food Delivery Services for Seniors