Quick!   We need your help to solve the Mystery of the Missing Trader Joe's Mediterranean Hummus.  This isn't just any hummus, this is the best prepared hummus in the world and it's gone missing!  This country has enough problems and the last thing it needs is its best hummus to mysteriously disappear.  Here's a report from our crack detective at the scene of the crime: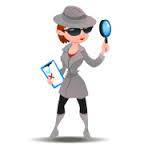 Here's what we know.  Throughout southern Southern California (e.g. San Diego) and perhaps around the world, Mediterranean Hummus has disappeared from the refrigerator cases of Trader Joe's.  It was here last week and now it's gone.
It's been reported missing in other locales earlier this year.   So this hummus is an elusive creature.  We have deployed all of our undercover cameras, drones and spies to uncover the causes for this shocking shortage.  So far, here are our theories behind the investigation:
Taken by the aliens from the movie Arrival in exchange for their "gift" for future vision.
Banned by the in-coming Trump Administration because it is more orange than The Donald. 
The global garbanzo bean shortage triggered by the little-known European Garbanzo Beetle infestation.
Subject to a secret recall by a secret office in the secretive Federal Food Recall Administration. 
Due to Brexit,  anything from the Mediterranean is no longer being shipped to any English-speaking countries.
The secret factory that produces this hummus was shut down by a secret strike by Local 42, Union of Hummus and Guacamole Chefs. 
TJ's secret recipe for Mediterranean Hummus was stolen by hackers and is being held for ransom, which Trader Joe's appropriately refuses to pay.
Sadly, we can't rule out any of these possible theories.  But we can report that a global not-quite-so-secret recall was involved.    The day after we posted this blog, the mainstream press reported that Trader Joe was recalling all of its Mediterranean Hummus and White Bean Hummus.   The recall includes packages of white bean and basil hummus and/or Mediterranean hummus with "use by" dates up to and including Dec. 15 and a printed plant identification code "C," according to a statement from the U.S. Food and Drug Administration. The voluntarily recalled products come in 16-ounce tubs and were sold in as many as 30 states.  So far, no illnesses tied to the hummus have been reported but the manufacturer found bacteria in a product made using the same equipment as the hummus and has addressed called for the recall.  It took almost a week for the recall to occur, but we're glad no one fell ill.
Moreover, the recall was global.   Hummus makers in Israel notified customers of possible listeria contamination just one day before our post. And Sabra hummus products were also voluntarily recalled just a week earlier, making details of this hummus disappearance increasingly murky.   Trader Joe's hummus maker blamed the recall on equipment used to make other products.   Yet, New York-based Sabra and the Israeli manufacturers don't use the same equipment as Trader Joes.  The more likely culprit is probably a bit more sinister (see the list above).   And it appears that almost all pre-made hummus may have been affected.  By years' end, Trader Joe's Mediterranean Hummus has not yet reappeared in refrigerator cases.
As of January 30, 2017, it appears that Trader Joe's Mediterranean Hummus had reappeared  No comments are forthcoming from the company about the two month absence.  Needless to say, it was a tough two months for many of us.  To fill in the gaping void, we created our own homemade recipe for Mediterranean Hummus.  It may not be quite as good as the real thing but it was pretty damn good!  TJ's better be careful about any future absences — we might get used to our substitute:
1 can garbanzo beans, drained
1 garlic small garlic clove
juice of 1 lemon +its zest
pinch of crushed red pepper (or more if you like it spicy)
small handful of fresh parsley, or a pinch of dried parsley
1 tablespoon chopped sun-dried tomatoes
1 tbsp pine nuts, quickly toasted in a saute pan.
Directions: 
Add all the ingredients except for the hot water, pine nuts and tomatoes to a food processor. Pulse until smooth. Gradually pour in the hot water while the processor is running. Continue running the food processor until the hummus is creamy and smooth. 
Chill for a few hours in order for the flavors to set. If desired, serve topped with extra olive oil, fresh parley, and crushed red pepper.  Hmmm good.
https://www.sandiegocan.org/wp-content/uploads/2016/12/mystery.jpg
152
152
mshames
https://www.sandiegocan.org/wp-content/uploads/2018/07/Logo4-sm.png
mshames
2016-12-01 19:30:11
2016-12-01 19:30:11
Solving the Global Hummus Disappearance