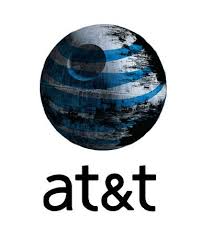 Your typically blazing U-verse internet speed suddenly slows to a Los Angeles rush-hour-traffic-in-a-rainstorm crawl.  WTF!   So you do what any thoughtful troubleshooter would do — you check U-verse's network status to see whether there are any problems with the network causing your 20mbs speed to drop to dial-up modem speed.  WRONG!
One recent Sunday afternoon, we noticed our entire WiFi network was gummed-up-beyond-belief.   Over 10 websites were either unreachable or loading so slowly that we could raise a family and then die before the sites fully loaded.  We used the website tool at DownforEveryone and it confirmed….the sites were functioning.   So we cleared our DNS, which may have gotten scrambled  (for Windows users, open a command prompt windown and type the command "igconfig/flushdns".   No luck.
We tested our Internet Speed using AT&T's own Speed Test.  It showed our Internet speed had dropped by about 98%.  We used Google's Speed Test Lab to confirm — yup, our Internet speed was crawling.  Our first thought was that there must be a network problem so we went to AT&T's own Network Status page.   After a lengthy iterative process of checking for outage information, AT&T informed us that there were no network problems…….but, for a fee, one of its technical support people would help us fix the problem that appeared to be caused by our WiFi routers. No thank you.   We rebooted the Net Gateway but there was no improvement.   The problem clearly wasn't on our end. We switched to OpenDNS to see if we could load pages that previously wouldn't and the link worked.  Interesting.  The we tested our connection quality at Pingtest.net. There was no packet loss which indicated a problem on the Network.  Same with DSL Reports ping test.
The next step was the "reality check".   Were we the crazy ones or was AT&T lying about its network status.  We checked out some other third-party Network Status pages.  Down Detector indicated that it had received some complaints — a few from San Diego U-verse users who indicated that they had no service at all.   However,  Outage Report didn't indicate any issues in San Diego, although not many people were using the Web that day.
We resisted the temptation to reboot our WiFi router — all indications were that the problem was not on our premises.  So we did nothing……for about three hours.   When we returned to the Net we found that the problems had magically vanished.   Suddenly, our Network speed was back up to normal levels!   Yup — you figured it out.  The problem was with AT&T.   Little wonder that AT&T's Uverse in San Diego is rated by DSL Reports as plagued by no customer service and poor performance.
Unfortunately, we have concluded that AT&T's Network Status functionality is almost useless.   This isn't the first time we've noticed AT&T failing to acknowledge network problems and it likely won't be the last.   The regrettable takeaway is that if your AT&T U-verse service suddenly deteriorates, the best thing you can do is………….nothing.   At least, wait for a few hours and go get some errands done.   AT&T won't admit that they have network problems and there isn't much else to do until the AT&T techs fix the unrevealed glitch.   However, while you are waiting for the non-network network glitches to be corrected, it might be worth your time to check out any other ISPs serving your area……although you'll have to do it with your smartphone.
https://www.sandiegocan.org/wp-content/uploads/2015/03/ATT-150x150.jpg
150
150
mshames
https://www.sandiegocan.org/wp-content/uploads/2018/07/Logo4-sm.png
mshames
2016-11-28 17:03:45
2016-11-28 17:03:45
AT&T U-Verse Network Status Snow Job