Echo.  Dot.  Tap.  Alexa.  OK Google.  Cortana. Siri.  These names may be more commonly used in homes across America than the evergreens: "Sweetheart", "Dear" or "Hey".   That's because Americans may find themselves talking more frequently to their voice-powered personal assistants offered by Amazon, Google and Apple than to their spouses, children or pets.   So are these new personal assistants really as impressive as your technophile friends might suggest?    Uh, yeah!   They are.  And they are positioning themselves to take control of your home!
Controlling home automation modules is one of the most important features of Amazon Echo or Google Home; these are personal digital assistants, after all, effectively the head butler or major domo of the digital household. Echo and Home work with the Nest family of smart thermostats and other home automation devices; Nest is owned by Google, so that may give Google an edge in developing new tricks for Home and Nest to perform together.
Amazon currently has three offerings.   Its first offering, the tall, speaker-rich Echo ($179) was followed by the  then the hockey puck-sized Echo Dot, priced at just $99.   Now, Amazon is offering an upgraded Dot that does everything the original Echo did, and more, for only $50.  The Dot 2 includes 7 microphones and advanced noise-cancelling technology, so it can hear your voice commands from across the room, even in the midst of a chatty party or while music is playing. (Among the 3,000 "skills" or apps that the Dot 2 has are Spotify, Amazon Prime Music, and TuneIn.) The Dot 2 can read the day's news to you, provide weather conditions and forecasts for specified locations, and access other information service.
Google is racing to catch up with Amazon.  In early October, it unveiled its Google Home products, headlined by "Google Assistant".  What used to be known as Google Now, the predictive assistant inside Android, has been broadened into a bigger initiative to bring those capabilities further into the real world, bolstered by years spent building out its extensive Knowledge Graph and honing its ability to parse human language.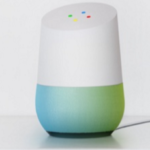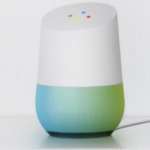 Just like Amazon Echo, Google Home is a bluetooth speaker on steroids. It lets you use voice commands to make it perform an impressive array of tasks. Using a Wi-Fi connection, it will play your music, and fetch album notes from the Internet. It will change the temperature of your thermostat before you get home. It will add events or appointments to your Google Calendar and set reminders to go off hours or days earlier. It will read Bible verses aloud or order an Uber car. Google claims that Home is better at understanding spoken commands than Echo.  Amazon Echo touts over 900 functions, and it's certain that Google Home will match virtually all of them, then add a few of Google's own making.   Google's well-established suite of online services makes it easy for its Home to access services you use regularly, such Calendar, Contacts, and Play Music. If you're an avid Android user, you're already plugged into the Google ecosystem, and Home is just another way to tap into some of Google's most-used services.  Google Now also draws from Google's already stellar smart media offerings and lets you connect the device to Google Chromecast-based speakers, so you can listen to audio throughout your home or office. Google Home will be initially priced at $129 and will ship on November 4th.  (Each Home device comes with a free six month subscription to YouTube Red.)
You can pretty much bet that Apple will see Google and Amazon, and then try to raise them.   In May 2016,  Apple announced that offer official Siri APIs to developers, thus paving the way for third-party integrations, such as the ones that Amazon and Google rely upon.  These will be things like ordering an Uber or pizza which are currently impossible, because Siri is locked down by Apple.   Currently, Apple refers to them as ' Siri integrations' but it will have a catchier name when it is offered.  Apple has been lacking any kind of smart home hub until now, but a Siri-powered device would be a serious play to get Apple into our homes.
https://www.sandiegocan.org/wp-content/uploads/2013/05/breakingnews-150x150.png
150
150
mshames
https://www.sandiegocan.org/wp-content/uploads/2018/07/Logo4-sm.png
mshames
2016-10-03 21:00:49
2016-10-03 21:00:49
Voice-Activated Personal Assistants Poised to Police Your Home