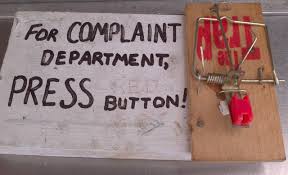 You opened a web chat with a company and it responds only with pre-prepared template messages – until you notice the personal information of another customer pop up on your screen.  When you bring this to the CSR's attention, she typed, "Oh, sorry… hehe… I am typing in 2 other windows, and got confused."
You call to cancel service that had originally been ordered in your spouse's name. But the CSR requires that your spouse call……even if he/she had died.
You call to ask about a company's bundling offers with cable TV, and the agent tries for more than 30 minutes to sell you a home security system. After the call ends, during which the customer did order cable, a technician arrives a few days later to install the cable – and the home security system that was never ordered.
If none of these have happened to you, perhaps you can relate to the Comcast  customer who, in 2014,  tried to cancel his service. He was placed on hold…for three-and-a-half hours. After enduring that wait, the customer finally hung up and tried again, only to find that the service center had closed. At about the three-hour mark, our exasperated customer began recording his reactions. That video ("Comcast put me on hold until they closed") has been viewed more than 1.8 million times on YouTube.    This video echoes a study released by TalkTo which found that the average American spends about 13 hours on hold every year. Over the course of a typical lifespan, that adds up to 43 days of listening to "Thank you for your patience – your call is important to us". No wonder customers hate to call complaint desks of large companies.   But we think that rather than get mad, you should get what you want.   Towards that end, we offer 10 cool tips about how to deal with customer service so that you get results….and not a headache.
1. Make sure you have an actual problem that customer service should be able to address.
You don't like the color of the company's logo? Deal with it. You are mad that you have to pay money to watch HBO when you're already paying for 95 channels that you don't watch. Me too, but Comcast Customer Service can't change that. Suck it up pay ten bucks a month. Or just wait for the Blu-Ray.
Now, did your service go out for three days? Did they miss an appointment? Did you order a product from a company and it showed up in a box that looked like it became sentient mid-transit, fought off a galactic invasion of space monkeys only to be delivered to your front door a tattered hero? Those are good times to call. Once you've established why you're calling, before you pick up the phone decide…
2. Know Exactly What You Want
One of the biggest mistakes people make when they call customer service is not knowing exactly what they want. If you want to cancel your service, ask to cancel your service. Practice your ask — as if it were an elevator pitch.   Boil it down to two sentences so that you can be very clear about what you need.  Don't wait for the customer service rep to offer you your hand-picked solution because most of the time they won't. They will go with the most common and inexpensive way to fix your problem – an apology.
Because you engage with the company, it might help to do a little research.  See how other people have fared when presented with the same problem.  And then arm yourself with facts: Make sure you have copies of necessary documents and confirmation numbers from your order   Have numbers! Numbers help. CSRs can tell if you are making them up. Have dates, names, prior promises etc.
3.  Call at the Right Time
Monday. So call centers are usually jammed, meaning you'll have trouble connecting to a representative or that representative will try to work quickly to move on to the next caller. Your better bet would be to call in the middle of the week.
Studies suggest that the best time to call customer service is between 9 and 11 am.  When you call in the morning, you're dealing with CSRs who are just starting their day and have a clean slate. And the "call" part is also key –   ZenDesk reported that using the phone gets much faster results than email or social media.   However, you may also wish to try the chat function, if offered, as it'll get you through to a CSR more quickly AND it allows you to document your experience….which leads us to:
4. Document, Document, Document
Ask for the representative's name and or employee number each time you call and write it down. If they sell you something, be sure to write the confirmation number down as well. Keeping detailed notes will help you build a case down the road.  At the end of the phone call get a resolution reference number that documents your phone conversation. That way, in case there are further problems, you can prove that you've already spoken with Customer Service.   Save any "chat" correspondence that you have.
5.  Get to Yes
By asking questions that can only be answered "yes," you get the CSR in a pattern of agreement. "So, this is the deal I have right now? And you say I've been with you for six years? And I am considered a loyal customer?" Yes. Yes. Yes. Then you slip in something that you want them to say yes to. "And is there something you can do for me, today, because I'm a valued customer?" That's a really tough one to say "no" to.
6.  Ask The CSR to Wear Your Shoes
The CSR knows way more about your options than you do – which means that they might know of a way to help you that you weren't aware of. Explain the situation, and then say "What would you do in my position?" Now they're thinking about this from your perspective, but with their incredible knowledge of the system.  They've now been able to see your perspective and, hopefully, become a member of your problem solving team….which leads us to:
7. Civility Rules
If you want your problem fixed, treat the customer service agent like a human being.  Be nice.  People don't call customer service when things go right. So all the rep hears ALL day long is how horrible their company is. Ask them their name and how they're doing. You'll be amazed at how quickly the mood lightens when you initiate a friendly conversation. Where are they in the country? What's the weather like? Did they see that nail biter football game? If it's the holiday season, are they looking forward to the New Year? Get a conversation going, and get them smiling and laughing. Make sure you reciprocate, and be genuine. The CSR is now dealing with someone they like, not someone they want to get rid of. And when CSRs deal with people the like, they treat them well.
You want to form a team with the person on the other side of the phone. You want it to be the phone rep and you vs. the problem. You don't want it to be you vs. the phone rep.  If you've called previously, ask the agent if they are able to see a record of your previous calls. If they do, ask them to recap what they have in their system. This serves a couple purposes. First and most obvious, it lets you know how far you've gotten and what you need to repeat. Second, it lets the agent walk through your journey and catch up with you emotionally.
8. Know When to Ask For A Supervisor
If you aren't getting anywhere, try going further up the chain of command.  Sometimes agents say "no" because they are told to say no initially and only give in to those who persist. Sometimes they are told to say "no" without exception. These are cost saving measures. Try not to take them personally. Instead of taking the time to argue with the agent and feel out which are the soft "no's" and which are the hard "no's" just escalate the call. You'll find out which is which a lot quicker at level two.This could mean asking nicely to speak to a supervisor, or you could use what's often called "Executive Customer Service." Utilizing this usually takes you to people who have a lot of power within the company you have an issue with. Google it for the company you want to contact, and you should find the name, phone number, and/or email address of someone who might have more power to assist you.
Let the supervisor know that you didn't feel like you were being heard and just preferred to speak with someone else. This gets your conversation with the supervisor off on the right foot.  Instead of feeling like a principal who's being tattled to, the supervisor will feel like someone of authority who has been called in to save the day, just like a… well… a supervisor.
9. Take it to Where The Buck Stops
If you don't get satisfaction in dealing with the supervisor, then go directly to the President of the company. This may take a little research, but Google can make it pretty easy to find access to these folks.  Usually one of these two searches will work for you:
(Insert company name) Corporate Office Phone Number
(Insert company name) Office of the president
Now that you've found out where to call, or where to write, you're probably going to talk to their administrative assistant or a team of individuals that handle top level escalations. Don't get hung up on getting above these people because one, you probably won't, and two, this level of customer service manager is generally imbued with magical override powers that the rest of the company doesn't have.
10. Going Past the Buck Stopper to the Show Stopper.
If you make purchases, do business with companies with retailers that will stand behind your purchase and compel merchants to accept returns where the goods or services were not satisfactory.   It is no coincidence that Amazon has become a force in retailing;  it really does offer excellent customer support.     Similarly, Costco also offers some very effective customer protections, including an excellent return policy.
Second, use a credit card (and NOT a debit card), where possible, for the purchase of a good or service.   Credit card companies are obligated, by law, to refund your money and deal directly with any merchant that has not delivered on what it promised.   The credit card companies enjoy leverage and professional intervenors who will take your fight to the company for you.    They aren't "consumer advocates" and will do as little as possible to resolve the matter, but because of their size, we've found that contesting a charge through a credit company is very effective.
Finally, we recommend you write and send a complaint to the retailer and then post your letter at a few of the sites listed below.    An effective demand letter should be concise and clear.    For example,  it should address the following points:
Do you want a refund….full or partial?
Do you want an admission of error by the company or just a fix?
Do you want to prevent the company from doing the same wrong to other customers?
Writing such letters requires precise, cool-headed engagement.  Leave your anger, angst and strong emotions at the door; letters or e-mails should be written with a tone of professionalism and determination. When writing, consider that a judge or some other third party may read the letter.    If you sound like a hot-head, they'll perceive you as such. Keep focused on your objectives and do not allow the company to divert your objectives. Their "preserve the sale" defenses often include strategies to change your plans and add services or goods by touting "special deals".
We encourage you to use our battle-tested HIGHLY EFFECTIVE COMPLAINT LETTER FORM.  It will provide you with a structure of how to present your arguments as well as some tips about how to get the right peoples' attention.   And then send that letter to both the company and any of the following social media websites:
Rip-Off Report –  Is one of the longer-operating and most frequently used complaint websites on the Net.  Its focus is largely upon getting your gripe out into the public.   Allegedly, companies read the reports posted on Rip-Off Report and then will try to resolve the issue.
Measured Up –   Like Rip-Off Report, it is a gripe site that shares your experience with others.    It is a well-designed and easy-to-use site.   However, while it claims that it send your complaint directly to the company, because it doesn't ask for account information it is unlikely that the company even knows your identity, let alone how to fix your problem.
Better Business Bureau –  Where Rip-Off Report focuses upon sharing your rip-off experience with the public, the BBB (a long-time business-supported organization) is more oriented towards getting your complaint resolved.   It views itself as an intermediary between you and the retailer.    It is fairly good in ferreting out fly-by-night or unusually bad local businesses, but is largely ineffectual with the large national retailers.   We tried using it for our complaint with Time Warner Cable but it didn't not have the company in its complaint database!    It's pobably best to use the BBB only if you feel you've been scammed by a local company, if at all.
Get Human –  Boasts most immediate access to company complaint departments.  It offers phone numbers, emails and other contact information.
Yelp –   Like Angie's List and the BBB,  this is a fairly useful site for airing your complaints (or compliments) about a local company, but it is less useful for getting a problem resolved with a large national retailer. We love Yelp and use it a lot to find local restaurants or service providers.
Gripe-0 – Appears to largely focus on disseminating your brief gripe about a company to others using social media networks.   It claims that it send your complaint directly to the company, but because it doesn't ask for account information, it is unlikely that the company even knows your identity, let alone how to fix your problem.   The website claims that it will be creating a process where you fill out a form with which they contact the companies using the optimal accounts and hashtags, and try to get a response.
Call Red –  It is largely a referral service to various national retailers.  It doesn't disclose the nature or number of the complaints it has received to the public  (even though its site suggests that it has a comparison feature).
https://www.sandiegocan.org/wp-content/uploads/2014/05/complaints-150x150.jpg
150
150
mshames
https://www.sandiegocan.org/wp-content/uploads/2018/07/Logo4-sm.png
mshames
2016-05-06 10:59:58
2016-05-06 10:59:58
How To Get Service From Customer Service