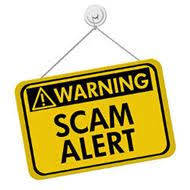 Beware a phone call from  "SAT/ACT Scholastic Achievement" or "College Level Exams" (or probably any of a number of other names).  It could lead to some scholastic sorrow.   If you get the call, you'll be told that  (presumably pulled from marketing lists of kids who have taken the PSAT or similar)  their organization is offering "free" test preparation services "in partnership with the district" and your child already consented at school to participate in their program. All you have to do is give them your credit card info, which they won't charge unless you don't return the test prep materials.   If you don't want to give them the info over the phone, no worries, the caller will direct you to their website (including collegelevelexam.org and SATACTCOLLEGETESTING.ORG, which are currently identical, or the first redirects to the second).  You are repeatedly assured that if, for any reason, you aren't satisfied by the materials, you get a full refund.  In fact, their website states their refund policy " All students will receive a 30 day money back guarantee with no questions asked. Simply return the materials within 30 days, and you will receive a refund!".  Don't believe it.   Numerous consumers have complained that this company won't honor its refund policy.   Another tip-off:  30 days is hardly enough time to find out whether the $216 worth of prep materials actually work.
We urge caution about buying anything from this website.  The company is not affiliated with the Educational Testing Service, the company that owns Scholastic Achievement Test.  It's allegedly owned by a guy named Joseph Tu.  He has created a site that makes it look official — with information about Student Aid, Student Loans and SAT exam schedules.  But it is all boilerplate info ripped from other sites.   Another red flag:  it has literally no information about the study materials they are selling.  It's designed to lure you into believing that you are dealing with an officially sanctioned exam service.
Alert: It's not an officially-sanctioned service.  Once they have your credit card info, they immediately charge $216.32 (not a hold a charge). If you call to complain about the charge, they will try to claim it is only a hold. but it's definitely a charge.   According to numerous complaints to the BBB, they  routinely refuse delivery of people's attempts to return the materials (DVDs) for a refund.  You will likely find that the package you receive will have a return label with a different PO Box number than the +4 on the ZIP code, both of which are different than the PO Box listed on the websites. It appears that they hide behind their ability to avoid returns of the materials to provide legal cover for not refunding the charges to those that (try to) send the materials back to them.   It would appear that this company makes it as difficult as possible for customers to return the materials as a basis for keeping the credit card charges.
It seems like your best bet is to avoid this firm completely.   If you get victimized by them, we recommend that you take the unopened package (be careful – they will address it the student, not the parents) to YOUR local post office (i.e. the one that serves your ZIP code) marked "Refused – Return to Sender" and explain to the postal clerk about the fraud, and asked them to scan it in as refused and that USPS accepted it back and give you a printed receipt to that effect.  We also strongly recommend that you dispute the charge with your credit card carrier.   Even if SAT/ACT refuses to accept your return, you can successfully dispute the charge by citing their "return policy" and showing the postage receipt of your attempt to return the materials.   That should be sufficient to get the charges reversed.
https://www.sandiegocan.org/wp-content/uploads/2015/03/scam-1.jpg
150
155
mshames
https://www.sandiegocan.org/wp-content/uploads/2018/07/Logo4-sm.png
mshames
2016-05-04 23:14:10
2016-05-04 23:14:10
SCAM ALERT: SAT/ACT Scholastic Flunks the Scam Test