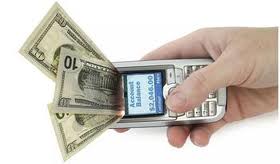 The cellphone market continues to be fairly competitive here in the U.S. and some decent plans are available to the savvy consumer.  But it's not easy.  As Consumer Reports accurately noted:   "……cellphone carriers' shell-game-like pricing practices have become so convoluted, you need an accounting degree to decipher them. They continually shift prices up or down according to the number of phone lines you need and the amount of data you're purchasing. They further complicate matters with "special" short-term offers to lure customers from rivals."
Here's the information that we (and others) have compiled about the best value plans for cellular service. At the end of this post, we revealed the carrier and plan that we use …….it was the best deal for our needs.
Republic Wireless
Republic may be offering the best wireless phone values in the U.S.  It charges $25 per month for a 1GB unlimited plan and $40 per month for 2GB monthly service. (It also offers a $10 monthly plan for don't need data access when they are on the road and don't have WiFi access). Pretty sweet pricing.  The unusual wrinkle in the Republic offering is that if you don't use all of the data that you've paid for, then you get a refund for that unused portion.
Republic is also unusual in that all of its text and data services are handled by WiFi and, if there's no WiFi signal available, the phone switches over to a cellular network. Currently, you are limited to the use of only two phones: the Moto X and Motorola Defy. Both are decent phones: the X is a highly rated smartphone that Republic is offering for $249.  If you are OK with lower-end Moto phones, they'll cost between $129-199.
To the extent that there are downsides, it is that Republic uses the Sprint wireless network, which is among the weaker wireless networks. The other bad catch is that if you exceed 5GB of Sprint data per month for three consecutive months you will be cut back to lower speeds.
Cricket Wireless – Lowest cost for limited talk but unlimited data/text
For an inclusive plan that covers all the basics, the $35 per month option from Cricket Wireless is well worth considering. It includes 300 minutes, voicemail, caller ID, unlimited messaging, and 2.5GB.   Cricket also offers an attractive family plan:   four or five family members with 2.5GB each (with the carrier's group discounts applied, the fifth line ends up being free) for just $100 a month.  MetroPCS, in comparison, charges $175 for five lines with 3GB each (and $140 for four lines).   H2O Wireless and Consumer Cellular also offer decently priced data-talk-text-voice plans.  Also, check out Virgin Mobile's "Beyond Talk" plan is $35. It includes unlimited anytime minutes and unlimited mobile and text, as well as 1GB of high speed data. Importantly, it is available for Android smart phones , unlike the recently announced Verizon prepaid mobile phone plan and some of the other prepaid low-cost plans.    Virgin Mobile is offering some reasonably powerful smartphones, such as the Samsung Galaxy S and the iPhone 5.   The one catch is that Virgin's "unlimited data" plan is capped at 2.5GB per month after which data speed is reduced significantly.
MetroPCS
If you use data only occasionally, the best prepaid deal is MetroPCS' $30-per-month plan for unlimited talk and text plus 1GB of data. MetroPCS' only competitor at this level is Boost Mobile, which offers double the data — 2GB of LTE service — for the same $30, if you enroll in its Auto Re-Boost autopay plan. Boost also increases your data allotment if you pay your bill on time. Average data users, though, should consider MetroPCS's $40 plan, especially now that MetroPCS has increased the size of the plan to 3GB of LTE data.
Airvoice Wireless – If you only want voice or text
If data isn't a biggie for you and you don't need a lot of voice minutes, the $10 talk and text plan from Airvoice Wireless may represent one of the best values around. $10 per month gets you 250 voice minutes or 500 text messages over a period of 30 days.  Regular anytime minutes are $0.04 each, while regular text messages – both sent and received – are $0.02 each. Cell phone plans that include data start at $35 per month.
TracFone Wireless – Senior plans for emergency cell phones.
TracFone Wireless is the one service we recommend to seniors who are looking essentially for an emergency cell phone to use periodically. Tracfone offers a special deal that bundles large-button phones (not smart phones, though) with one year of service for $99 per year for 400 minutes (essentially, $8.25 per month). Tracfone offers this at its website and through resellers. In fact, we found the same deal offered through HSN for the too good to be true price of $64.45. If you don't need a one-year commitment, TracFone's Pay-as-you-go airtime cards start at $9.99 for 30 minutes with a 30 day expiration period, but the rate gets less expensive with larger refills. The $79.99 card, for instance, includes 450 minutes with a 90-day expiration period.
Safelink –  cell service for low-income customers
SafeLink Wireless offers free phones & free minutes to low-income people who are currently enrolled in programs such as Medicaid, Food Stamps, TANF/Welfare, or SSI. SafeLink offers up to 250 minutes and 1250 text messages per month. SafeLink Wireless is a U.S. federal government program, funded by those "Universal Service Fund" fees you see on your phone bill each month
THE BIG FOUR
Unfortunately most Americans appear to go with the safety of the "big four" carriers:   Verizon, Sprint, T-Mobile and AT&T.     T-Mobile and Sprint have begun to offer some pretty decent value propositions with their plans.   Currently, according to Bob Rankin, "unlimited data" plans have become a lot more complicated. You can still use as much data as fast as you wish, but it will cost you  – more than $10 per gigabyte on AT&T if you exceed the allowance of data included with your base monthly fee. The other carriers have similar penalties for using too much unlimited data. But customers get very upset if their monthly bill is several times larger than expected, so now carriers are limiting the quality of the experience you get, hoping you won't notice any difference worth complaining about.
T-mobile recently announced its 12th "un-carrier" initiative, dubbed T-mobile ONE. That means one price ($40/month per line) and one speed (4G LTE) for all the data you wish. No more guessing how many bytes per month you'll use. No more budget-busting overage charges. No more throttling down to 2G speed (100 to 300 Kbps) when you exceed an arbitrary number of bytes. You can also roll over your unused data to the next month, to use for 12 months, up to a max of 20GB.   However, T-Mobile's plan costs are only slightly cheaper than those offered by telecom behemoths Verizon and AT&T.  T-Mobile subscribers can get their own bucket of 10GB each for $140. That's a nice chunk of data at a very attractive price, pushing T-Mobile ahead of Verizon.  Also, T-Mobile is courting the streamers: content from Spotify, Netflix, and a plethora of other popular music and video providers won't count against your data allowance.   Verizon's 3GB $65 monthly plan is a decent individual plan, but users with heavier data demands should consider T-Mobile, though, since it offers 6GB of data for that same amount.
Sprint's Unlimited Freedom plan costs $60 per month per line ($100 total for two lines). Streaming video is in standard definition and there's no option to buy HD quality. Streaming music maxes out at "extreme quality," or 500 Kbps. Online gaming is limited to 2Mbps. Sprint does not offer rollover data, so use it or lose it. AT&T's Mobile Share Advantage plan keeps monthly data allowances but has eliminated overage charges. Instead, customers who exceed their monthly data allowances will be throttled down to 128 Kbps, a speed that was state-of-the-art back in 2002. Multiple tiers of data allowances range from 1 to 30 GB and cost $30 to $135 per month, plus $10-$40 per line access fees. Unused data can be rolled over, but it must be used in the next billing cycle. Verizon doesn't offer any "unlimited" data plans. (The company stopped offering unlimited data in 2011, so only those customers who were grandfathered in, and have not switched plans since then retain that benefit.) Verizon has five data plans (S-2GB, M-4GB, L-8GB, XL-16GB and XXL-24GB) ranging from $35/month to $110/month. Unused data can be rolled over, but it must be used in the next billing cycle. The S, M and L plans have an optional "Safety Mode" which costs an extra $5/month, and lets you go beyond your data allotment without any penalty fees. But speeds are limited to 128 Kbps while in Safety Mode. There Safety Mode feature is included with the XL and XXL plans at no extra charge, but your data speeds are still throttled.
As to service quality,  three of the four carriers pretty much share the same network quality — none of it is particularly outstanding, according to JD Power's most recent survey.   The one exception is Verizon, whose service in the West is clearly superior.    Of course, that higher quality comes at a cost;   Verizon charges premium prices for its service.   AT&T also charges premium prices for clearly inferior service and we continue to discourage consumers from using AT&T if they live in California.
Consumer Reports' end-of-the-year survey of its members found that T-Mobile nudged past Verizon for the top cell carrier. Its readers were most satisfied with T-Mobile customer support and value, though they ranked the network's call and data quality below that of Verizon and AT&T. Only Sprint was found to have more Web problems and slower data speeds than T-Mobile.  So while T-Mobile may not have the best coverage or speed, it offers the best "value", as viewed by Consumer Reports' members — we agree. But keep in mind that these same savvy consumers rated  Consumer Cellular, Ting, Jitterbug, Credo, Virgin Mobile and U.S. Cellular as offering even better values than the top-4.
Some more good news is that most of the mainstream carriers have adopted no-contract plans, which separate the purchase of the phone from the service charges. So when you've paid off the phone, your monthly bill goes down accordingly with no termination fees. You just pay any remaining balance on the phone.  In Consumer Reports' survey of about 90,000 subscribers, nearly half of the people who switched cell phone carriers in the past year saw their monthly rates drop by $20 or more, which is why, perhaps, more should consider shopping around.   If you can't wait until your deal is up with your current carrier, the major carriers are all willing to pick up some of the cost to get you to switch. Verizon, Sprint, and T-Mobile all offer up to $650 for each phone you switch over to pay off your phone purchases and early termination fees; AT&T offers a $100 bill credit for switching over plus $200 for trading in an eligible smartphone.  Some carriers offer other incentives to switch over. As of this writing, Sprint is continuing a "Cut Your Bill in Half" promotion for AT&T, T-Mobile and Verizon customers. In the case of T-Mobile, the offer only applies to tiered-data Simple Choice plans and not the Uncarrier's unlimited data offering. There's also a $36 per phone activation fee, and T-Mobile switchers who go over their data limit will be throttled to 2G speeds. (AT&T and Verizon switchers are charged 1.5 cents per MB if they use more data than Sprint's giving them.) You do have that $650 per line credit when you switch, though.
As to the phone service that we use? Well, we need a smart phone with unlimited texting and data, but we don't use it much for voice (voice quality on cell phones is marginal. (We use Ooma VOIP phone for most voice calls )  As we discussed above, we went with Google's Project Fi (only available for Nexus 6 phone owners) for $30, but with 10GBs of data and which includes unlimited domestic talk and text,unlimited international texts, low-cost international calls, Wi-Fi tethering and coverage in 120+ countries.   It is a compelling offering and includes some free gifts, including an external battery, Nexus 6 case and earbuds for sharing music.   We've received about $5 per month in unused data credit since September 2015.
Like other MVNOs (also called Mobile Virtual Network Operators) such as Republic, Freedom Pop, Ting, Consumer Cellular and TracFone,  Google will be buying spectrum from T-Mobile and Sprint.  The catch: Google's Project Fi service is  available for Nexus 5& 6 customers.  It offers a special SIM card which gives access to TMobile or Sprint networks as well as any nearby accessible wifi.   Prices will start at $20 a month for "the basics," or voice service, texting, Wifi tethering and international coverage. After that it's $10 per gigabyte of data you use in the U.S. and abroad and you do get to sell back what you don't use.  That $30 comes with 10GBs of data and which includes unlimited domestic talk and text,unlimited international texts, low-cost international calls, Wi-Fi tethering and coverage in 120+ countries.  Like some other carriers,  at the end of each month, you'll get your unused data credited in dollars and cents, so you only pay for what you use.
Insiders view it as unlikely that Google is going to go head to head with AT&T or Verizon. Instead, Google seems to be more interested in forcing the wireless market to make changes that would free-up customers to use more data for less money — which gives Google more opportunities to show advertising to consumers and mine customer data.   Google's motivations matter less than the fact that its threat to enter the wireless markets as a retailer will continue to put downward pressure on wireless rates.  Combined with Google's Nexus line of smartphones that help make the price of high-end smartphones more affordable,  Google is putting substantial outside pressure on the wireless industry. Naturally, we went for this "best value", since we already had a Nexus 6.  It's worked quite well although coverage in rural areas was spotty.  We've been pleased with the quality of the service and the average $25 per month that we've paid for the last 8 months.
https://www.sandiegocan.org/wp-content/uploads/2013/12/cellcosts-150x150.jpg
150
150
mshames
https://www.sandiegocan.org/wp-content/uploads/2018/07/Logo4-sm.png
mshames
2016-04-20 20:09:32
2016-04-20 20:09:32
The Best Cellphone Plans for 2016