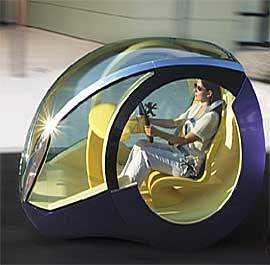 Quick answer:  Nope.   But for some "cars of the future", the window for the lucrative tax credit is closing within the next year or two.  Specifically, for Tesla purchasers, the window might have already closed.  (more about that below)   The Federal Plug-In Electric Drive Vehicle Tax Credit is a somewhat unusual tax incentive in that it has no expiration date.   The qualified plug-in electric drive motor vehicle credit phases out for a manufacturer's vehicles over the one-year period beginning with the second calendar quarter after the calendar quarter in which at least 200,000 qualifying vehicles manufactured by that manufacturer have been sold for use in the United States.  So, unless a manufacturer has sold more than 200,000 electric vehicles, the tax credit remains applicable.
And, the tax credit is effectively like a check from Uncle Sam for $7500.  This  income-tax credit is taken when the buyer files his or her U.S. income tax return for the year in which the electric car was purchased. 16 kWh (or more) battery-pack vehicles eligible for the $7500 tax credit include the Chevrolet Volt and Bolt, Nissan Leaf, Tesla and other pure electrics. (go here for a list of the cars)  Qualifying vehicles manufactured by that manufacturer are eligible for 50 percent of the credit if acquired in the first two quarters of the phase-out period and25 percent of the credit if acquired in the third or fourth quarter of the phase-out period. Vehicles manufactured by that manufacturer are not eligible for a credit if acquired after the phase-out period.
In reality, General Motors and Nissan are closest to that limit. According to Green Car Reports, through December 2015, GM had sold 95,403 Chevy Volts, Chevy Spark EVs, and Cadillac ELRs, and Nissan had sold 89,561 Leafs.  Ford comes fourth, with a total of 58,918 split among its Fusion Energi, C-Max Energi, and Focus Electric models. Toyota is fifth, with 44,783 Prius Plug-In Hybrids and RAV4 EVs.  Tesla is an entirely different story.  The Model 3 is a wake-up call for buyers motivated by the tax credit because Tesla reports that over 400,000 people have reserved the Tesla 3.  Only buyers who pick up a Model 3 before Tesla sells its 200,000th vehicle in the United States will be eligible to get the cheapest deal.  If most of the reserved cars end up selling in 2018, this will mean that for most of 2019 Tesla buyers won't likely have much federal incentive to buy cars.  By 2020, the Federal Subsidy will have completely run out. Put simply, if you're interested in the Model 3 and want to get it at the cheapest price available, you'd be well advised to get your order in as soon as possible.
So, unless you are aiming to buy a Tesla, you still have some time before any other car manufacturer starts to get close to that 200,000 total–so you can safely keep shopping. And for California residents, you also want to factor in the state's Clean Vehicle Rebate Project (CVRP) offers rebates for the purchase or lease of qualified vehicles. The rebates offer up to $2,500 for light-duty zero emission and plug-in hybrid vehicles that the California Air Resources Board (ARB) has approved or certified. The rebates are available on a first-come, first-served basis to individuals, business owners, and government entities in California that purchase or lease new eligible vehicles. In periods when funding exceeds current budgets, waiting lists can form. For more information, including a list of eligible vehicles and other requirements, see the CVRP website.
https://www.sandiegocan.org/wp-content/uploads/2015/09/car-tax.jpg
152
152
mshames
https://www.sandiegocan.org/wp-content/uploads/2018/07/Logo4-sm.png
mshames
2016-04-15 11:43:16
2016-04-15 11:43:16
Is It Too Late To Get the $7,500 Tax Credit for Electric Vehicles?