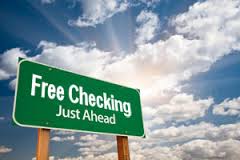 While the number of free checking accounts are dwindling, there are still some free checking accounts out there — most of them are online banks.  Of course, there are catches or gimmicks that plague many of these "free" offers.   Still, checking accounts with no fees are out there (some even pay interest, albeit nominal) and they are pretty decent deals.   Anyone with a checking account   (which means just about everyone) should be comparing their checking services against some of the low-cost or free options still available in the market.   We strongly recommend online banking;  we've been using it for over a decade and the industry has developed nicely. Due to the nature of online banking, there are some distinct advantages that online banks can offer over traditional banks. Here are a few:
High Rates – Because online banks typically don't have the same overhead costs of traditional banks, they are able to pass the savings on to their customers in the form of higher rates. Many banks are able to offer savings account and CD rates that are 0.5% higher (or more) than their traditional counterparts. Depending on the size of your balance, that can mean a lot of interest being put back into your pocket.
Low Fees – Again, because they have much smaller overhead expenses to deal with, online banks are typically able to offer lower fees than traditional banks. At most online banks, many of their account types offer zero fees.
Ease of Use – Since their entire business structure is based online, it makes sense that online banks would provide their customers with easy to use platforms. Additionally, most online banks now have mobile apps to help meet their customers banking needs even while they are on the go.
On the other hand, making the switch to online banking presents some challenges as well. Here are a few disadvantages of online banks:
No Branch Locations –  Online banks are able to keep their overhead low due to the lack of physical branch locations.  That's a problem for customers who want face-to-face meetings with tellers or desiring personal interaction.
Difficulties with Cash – Online banking makes it difficult to deposit and withdraw cash. Cash deposits are not allowed, and withdrawing cash must been done at an ATM machine. While online banks have agreements with ATM companies that eliminate processing fees, cash withdrawals are subject to daily limits.
Limited Product Offerings – Few online banks provide other products – especially debt products – that can be obtained from a traditional bank. Customers typically are unable to obtain home loans, personal loans, or brokerage accounts from an online bank.  And they don't have safety deposit boxes.
If you decide to go with online banks, here are some worth your attention:
NBKC –  Offering some of the highest rates in checking and money market accounts along with a simplified array of services, this is one of the more attractive current online banking options available.
Aspiration – offers an Summit Account interest-bearing checking account with a 1% return and free access to every ATM in the world.
Radius  – This is a relatively new entry into the online world and they are making a splash with high returns and mobile-friendly services.
FNBO Direct –  offers .95% interest on its savings account and .65% on its no-fee, no minimum checking account.
Ally Bank offers a checking account with no monthly fees or minimum balance and a decent 1% interest return for large balances.   It is a large, well capitalized on-line bank that used to be GMAC Banking.
Capital One 360 has no monthly fees or minimum-balance requirements—and pays interest of 0.2% to 0.8%, depending on your balance.
Schwab Bank  doesn't offer much in the way of interest, but has no fees for ATM, checks or minimum balance.
There are some other online banks that also deserve your attention.  We recommend the comparisons offered at My Bank Tracker and Go Banking Rates.   Most all of the banks listed above offer interest, free ATM, free bank-to-bank transfer and relatively low fees.
To find a local bank that offers free checking, we recommend you log into Bankrate and do a search for banks in your area that offer "free" checking services.
Some of the more attractive interest rate propositions come in the form of prepaid cards that let consumers load money onto a debit card that they later can use to get cash from an ATM or to pay for items at a store, on the phone or online. Deals, like the one at Consumers Credit Union, are linked to debit card usage.   In addition to our preference for credit cards,  you also need to be aware of the high fees on some cards, including a monthly service fee, purchase transaction fees and ATM fees that can eat up the accrued interest you earn. Also, you need to sign up for a monthly direct-deposit program. Consider using the prepaid card only as a savings account, especially if there are high transaction and ATM withdrawal fees.
https://www.sandiegocan.org/wp-content/uploads/2014/11/checking-150x150.jpg
150
150
mshames
https://www.sandiegocan.org/wp-content/uploads/2018/07/Logo4-sm.png
mshames
2016-04-01 10:37:48
2018-09-17 16:30:36
Finding Free, Gimmick-Free Checking