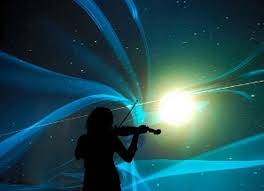 If William Shakespeare lived today, he'd likely write:  "If music be the food of love, then stream on."  But, being the ethical writer that we'd love to think he would have been  ('Shakespeare in Love' notwithstanding), he wouldn't have ripped his friends CDs or downloaded illegal uploads from BitTorrent.   Instead, Shakespeare would have used a number of free streaming options that provide excellent song selections at the right price.
Our favorite is Amazon Prime.   Yes, it isn't "free" because you need a Prime account.   But if you've made the jump into the Amazon biosphere (and we recommend it) then Amazon Prime music is part of that package.   Amazon's music app is very useable and powerful.   You can upload your own music, use Amazon's free music and create all of the playlists that your heart desires.  Plus, you can play your Amazon music library on up to 10 different devices.   Its library of free music is large, although not on par with iTunes or Spotify.
There's also Spotify, although it too has generated some controversy over the paltry payments it makes to the musical artists.  But if you aren't Taylor Swift's BFF, you may want to consider using it.  It  supports streaming a wide variety of music on desktop, Web, and tablet apps and you can create playlists of your favorite songs, but on a phone you can only listen to your playlists in "shuffle mode;" songs from the list are played in random order, and the number of times you can skip an undesired song is limited. Spotify's strategy for smartphone users is to bludgeon them into paying for premium service by insisting that they listen to other music than what they've selected  (see Pandora, below).  Also,  free phone users cannot download and listen to tunes offline, so if your phone's Internet service is spotty, Spotify may be the wrong choice for free music.
Rhapsody boasts a large library of over 32 million songs, good user interface, good mobile device support and the possibility to buy many songs also as MP3 files. Rhapsody is compatible with a large selection of home audio systems and receivers. You can access Rhapsody via any browser on the desktop, with a windows desktop application or with mobile apps for mobile devices with iOS, Android and more.
Pandora offers a good selection of "radio stations" but no libraries in which to store your own music files, no on-demand titles.  If you want to listen to your favorite artists….sorry, Pandora won't give that to you.  However, Pandora's Music Genome technology analyzes the melody, harmony, rhythm, instrumentation, lyrics and vocal styles of songs. This enables Pandora to suggest a playlist of artists and songs that you'll probably enjoy, even if you've never heard them before.
Slacker, like Pandora, is all-radio. You pick an artist, song, or genre, and it will play a sequence of songs that are related. With the free version, you're not guaranteed to hear the specific song or artist you selected, but usually it rolls around before long. You also can't skip commercials, and song skips are limited in the free version. One of Slacker's perks is it offers several ways to discover music: Slacker Stations are genre stations; My Music contains your playlists, custom stations and recently played stations of about 12 million songs. But there's no saving of playlists or your own tunes for offline listening.  Similarly, iHeartRadio includes a library of 15 million on-demand songs, as well as live streams from over 1,500 radio stations. You can create "custom stations" based on songs and artists; essentially, these are playlists of songs streamed from the library. Custom stations are ad-free. We aren't hot on iHeartRadio because there is only rudimentary control; no pausing, skipping, or rewind.
Google Play Music debuted in June 2015, with an interesting mix of features in the free version (ad-supported, of course).  Google Play Music has more than 30 million songs to choose from and an unlimited amount of time to stream music users couldn't be happier. Google Play Music users can also upload music from their own libraries. Also, you can store up to 50,000 of your own songs in your online "locker".  We like that you can listen to Google's radio stations or  upload up to 50,000 songs that you have purchased anywhere else, and roll your own playlists from them.  We left off Apple Music because it has no free plan — but its library is tremendous.
https://www.sandiegocan.org/wp-content/uploads/2016/03/music-thumbnail.jpg
152
152
mshames
https://www.sandiegocan.org/wp-content/uploads/2018/07/Logo4-sm.png
mshames
2016-03-17 22:03:42
2016-03-17 22:03:42
Best Free Music on the Internet