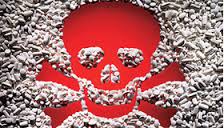 Roca Labs is a controversial company that sells weight-loss food supplements and has been heavily criticized by the FTC for its sales practices.   But the company's repugnant "gag-clause" is perhaps more offensive than its overblown sales practices.   Last year, Roca Labs has sought to enforce a highly dubious "you-can't-criticize-us" clause in their contracts, going so far as to sue a consumer complaints website for daring to allow mean things to be posted about Roca Labs.
Roca Labs offers consumers a "gastric bypass" alternative which is essentially a substance that you consume to fill your stomach.  If you don't believe us check it out yourself.   The claim seems, on its face, dubious.  However, the real rip-off involved here is Roca's assertion that if you buy any of its products, you cannot speak ill of the company.  In other words, you can't share your experiences with anyone else if you are dissatisfied with their product.  Put simply:  they want to take away your First Amendment rights if you buy their product or do business with Roca Labs in any fashion!   It gets worse.
In 2014, Roca Labs actually sued customers and a consumer website that posted negative reviews about the company's weight-loss products.   In an attempt to trash the protections of Section 230 of the Communications Decency Act, (which generally immunizes sites from suits over what their visitors post),  Roca Labs is even sought a preliminary injunction to force PissedConsumer.com to take down the critical posts.    Fortunately, the company lost……badly.   A Florida court ruled overwhelmingly that Roca Labs had no legal basis to pursue a complaint against the website and it went even further — criticizing the legality of its alleged "gag clause".
We are very dubious about the effectiveness and healthfulness of "diet pills" sold on the Internet.   As a general rule, we urge consumers to be very careful about buying such products.  But we are incensed by a company that would seek to prevent consumers from sharing their experiences in using such dubious products.   That is outrageous and, for that reason alone, you could avoid using Roca Labs products.   It is not your friend……..Roca Labs is your nemesis.
https://www.sandiegocan.org/wp-content/uploads/2014/04/warning-150x150.jpg
150
150
mshames
https://www.sandiegocan.org/wp-content/uploads/2018/07/Logo4-sm.png
mshames
2015-10-22 16:18:56
2015-10-22 16:18:56
Roca Labs - the consumers' nemesis