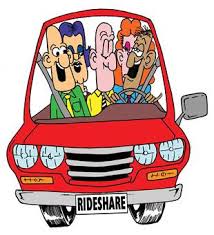 Ridesharing is becoming increasingly common, especially among millennials, who have figured out that car ownership is not an essential part of life.   The concept is simple: You sign up for an account and provide a credit or debit card for the company to keep on file. Using a downloadable mobile app, you can summon a nearby driver to your location.  It is the 21st Century version of taxi services  (much to the dismay of conventional taxi services).  In fact, Uber and Lyft have become so popular that "uber" has become a verb and Lyft has become an adverb….  (I ubered over using Lyft).   While the ridesharing services are very useful — and probably cheaper than owning a car — they are relatively new.   As a result, consumers haven't quite figured out the tricks and traps inherent in using ridesharing services.    Here's a list of some of the more common mistakes people make in using rideshare services and some secrets about how to maximize the rideshare experience.
Believing The App Map 
When you open up the Uber app, it'll display a screen showing your location and the number of available cars in your area. Many times, you'll notice that there are a fair number of cars, meaning that you won't have to wait long to be picked up. However, we've noticed that once you issue a request for a car, suddenly those many cars disappear and the wait is a lot longer than you'd planned….but then, you've already ordered the car and you don't want to cancel.    Our observations were confirmed recently by a well-constructed study about Uber's "phantom cabs".   It found that the Uber passenger app can be deceptive.
Disregarding Surge Pricing
One of ridesharing's complicating factors is the industry's use of "surge pricing" that can often double or triple the cost of the ride.  However, the companies do not alert you to the changed price of the ride.  So if you request a car during a high-demand period…..or if drivers are in short supply….you may be unwittingly subjected to a much higher price than you'd anticipated.  To its credit, Uber allows customers to get a fare estimate  (Lyft does not).   Savvy consumers have figured out some strategies to deal with surge pricing, such as placing their pick-up location outside of a surge zone, and then call drivers to direct them to where they really are.   Others  avoid surge pricing by anticipating so as to avoid the crowds. Or, during price surges, use a normal cab or public transportation.  However, the majority of consumers appear to ignore surge pricing and then get surprised by the higher fare.
Tipping the Drivers
A notable difference between Uber and Lyft is the tipping policies;  Uber's price "includes a tip" whereas Lyft encourages its passengers to add a tip for the driver.  In some markets, Lyft advertises that its prices are lower than Uber, but if you calculate a tip into your equation, those cost savings may disappear.   One fairly reliable estimate is that only 20-40% of Lyft passeners tip their driver  (the figure is much lower for Uber).  Whether to tip or not is a personal choice but savvy consumers should understand that it is not required and, when it comes to Uber, is already calculated into the price.   That said, if a rideshare driver is unusually good and has gone above and beyond what you might expect from them, then you may wish to offer a tip.   Uber allows you to tip a driver, but you have to do it in person, not via the Uber app.
Fare Splitting
Uber's offers a Fare Split feature and Lyft followed with its LyftLine feature. By using a fare split feature, you can share the cost of a rideshare fares with anyone who has signed up for Uber and installed the app. Just select "Split Fare" or "Lyft Line" when it's time to pay, and Uber will send a confirmation message to your ride buddies.   Be aware that Lyft charges a $.25 fee for a fare split, and we've been unable to confirm whether Uber charges a fee as well.
Renting a Car If When You Travel
A common mistake that people make when they travel to a city with which they are unfamiliar is that they rent a car at that city's airport.   If you plan on doing a lot of driving, then a rental may make sense.   However, car rentals are complicated and often expensive.   Using a rideshare service when you are traveling to another city often makes more sense, especially given the fact that you are unfamiliar with the roads in that area and the rideshare drivers may be very familiar with places for you to go or ways to get there.   So if you are about to travel and impulsively think about renting a car, think again.   Ridesharing may not only be a superior alternative to taxis, but it may also be a better choice than car rentals.
https://www.sandiegocan.org/wp-content/uploads/2013/12/rideshare-150x150.jpg
150
150
mshames
https://www.sandiegocan.org/wp-content/uploads/2018/07/Logo4-sm.png
mshames
2015-07-29 16:16:42
2015-07-29 16:16:42
Tips and Tricks of How to Use Uber & Lyft Without Being Used