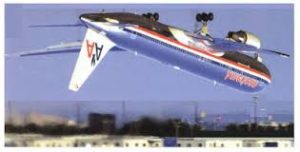 The AP released an analysis today that bodes poorly for U.S. airline passengers;  the wave of U.S. airline mergers is leading to higher fares.   Over the past decade, mega-mergers reduced nine large U.S. airlines to four — American, United, Delta and Southwest — with the result that travelers are increasingly finding their home airport dominated by just one or two players, according to this study.   It found that over the same period, domestic airfares rose faster than inflation, and analysts believe one leading factor is the decline in competitive pressure.  So how can one find the best airline prices during a period of decreased competition?   It isn't as easy as it once was, but it is still possible.
The AP analysis found that at 40 of the 100 largest U.S. airports, a single airline controls a majority of the market, as measured by the number of seats for sale, up from 34 airports a decade earlier. At 93 of the top 100, one or two airlines control a majority of the seats, an increase from 78 airports, according to AP's analysis of data from Diio, an airline-schedule tracking service.  Overall, domestic fares climbed 5 percent over the past 10 years, after adjusting for inflation ( that doesn't include the $25 checked bag fee and other nickel & dime charges that many fliers now pay).  Meanwhile, in the past two years, U.S. airlines made a record $19.7 billion in profits, even though air travel is growing only modestly.The big losers appear to be consumers flying out of  Indianapolis, Dayton, Philadelphia, Atlanta, JFK and Newark.     There are a scant few markets where airlines appear to be competing.  They include Seattle-Tacoma and Denver.
For consumers looking for the best airline fares during this period of waning competition,  consider the following strategies:
1.  Sign Up for Airfare Alerts
We agree with Airfare Watchdog that this is perhaps the best way to find lower airfares. Many travel websites, including our favorites — Kayak and Google Flights — offer emailed airfare alerts that let you know when fares go down, and they all have something to offer. Do a browser search for "airfare alerts" and you'll see what's available. They all work a bit differently, so sign up for more than one.  One thing to note: These sites use essentially the same airfare data provided by the airlines' computer systems or ITA Software (which is now owned by Google), so they won't include discounted promo-code fares, and they don't include Southwest Airlines.    Southwest often offers competitive prices and….remember…it doesn't charge those irritating baggage fees.
2. 

 

Search Airline Sites as Well as Online Travel Agencies
We recommend that after you've done fare analysis using online travel sites like Kayak, Google Flights, Expedia, Travelocity or Orbitz, then check the airline's own sites for the most attractive flights that you found.  Many airlines have "private" sales, reserving their very best fares for their own sites. These are different from promo-code sales. Expedia and Travelocity, because these sites will tell you if it's cheaper to fly out on one airline and back on another.  So-called "hacker fares" are lower cost options where you combine flights among different airlines  (something the airlines' own sites won't tell you about.   Finally, if you have flexibility in your schedule,  Kayak, Adioso and Google offer flexible date searches.   And bidding sites like Priceline and Hotwire offer lower cost "name your own price" fares but you won't know the exact flight times or airline you're flying until you pay for your trip.  We are particularly fond of Google Flights because of its flexibility.  For example, it gives consumers the option of searching for the least expensive travel dates by using the "calendar" function.
3.  Look for Airlines that Offer Refunds if Fares Drop
Southwest, Alaska and Signapore offer some fare protections that don't trigger change fees.   Moreover,  the US Department of Transport requires that all domestic and foreign airlines offer a 24-hour free cancellation policy for tickets purchased at least a week in advance of departure.  This federal rule requires airlines to give passengers a full refund if they choose to cancel their flights within 24 hours of booking, provided they book more than seven days before their trip.    According to a knowledgeable blogger, over two out of three ticket prices will drop at some point within 24 hours of the original search or booking with an average saving of 14%. And about one in six times the airfare will drop by at least 20% during the cancellation window.   Websites like Yapta offer information about how to renegotiate fares as well as provide refund alerts.
4.  Try Finding Flights on Partner Airlines
Because of airline partnerships and mergers, a single airplane trip might be listed as two different flights on two different airlines—and the fares charged by these airlines could differ by hundreds of ­dollars.  For example, Airfare Watchdog reports that some US Airways and American Airlines flights are listed separately as flights on each of those airlines…a Delta flight to Europe might also be listed as an Air France or Alitalia flight…a United flight to Canada might also be listed as an Air Canada flight.  Before booking any flight, use a fare-comparison site such as Orbitz.com, Cheaptickets.com or Kayak.com to scan for a flight on other airlines that feature exactly the same airport, departure time and arrival time—there's a good chance that it's the same plane. You often can opt to earn miles in a particular airline's frequent-flier program even if you purchase your ticket through one of its partner airlines, though in some cases you might earn miles at a lower rate.
5.  Search fares to a Region rather than a Specific Airport
Most airfare-finder sites require that you enter a specific airport or city as your destination with perhaps an "include nearby airports" option.   But with Google Flights, you have the option of entering a state, country or even a continent (along with specific travel dates). When you do this, a map appears displaying the lowest fares available to each of the major airports in or near the specified region. This is especially useful when you intend to tour a wide area and are not concerned where this trip begins…or when you haven't decided precisely where you want to visit.  Kim Komando reports that if you wanted to see both France and Germany on a 14-day August trip departing from Washington, DC. The least expensive round-trip tickets available to most airports in these countries cost more than $1,100. But this Google Flights feature would have pointed you to a savings opportunity—flights to Frankfurt costing as little as $925