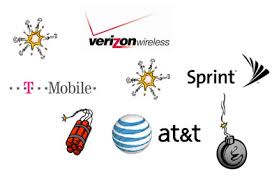 PRICE WAR!   Attention shoppers:  cell phone plan prices continued to drop in 2015, even after a prolonged 2014 price cutting.   As we had predicted, phone companies are fighting for customers.  Let's first survey the landscape  and then  talk about when to time your next cellular purchase.   The price war was just what regulators hoped would happen when they blocked attempts by AT&T and later Sprint to buy T-Mobile.  Sure enough, it happened.   The price drops have continued into 2016, so if you are looking for the best current plans, we recommend you check out our 2016 Cellphone Plan blog.  But if you want to better understand what led us to the 2016 pricing landscape, we invite you to read on.
The price war is being fueled by "uncarrier" T-Mobile's aggressive pricing strategy that started in 2013 and is continuing unabated.   Thanks, in large part, to the Federal Government's wise rejection of the AT&T/T-Mobile proposed merger,  T-Mobile is taking it to its former beau like a Taylor Swift song.   As part of its "Un-Carrier 4.0" initiative,  T-Mobile did away with ironclad wireless contracts and overages. It relaxed upgrade policies and made international roaming free. It added the iPhone to its product lineup, along with tablets.   In April, 2014, T-Mobile released a "Simple Starter" plan which caps a 500MB data plan (along with unlimited talk and text) at $40 per month.   This represents a rather significant price reduction – about 20% lower than T-Mobile's lowest offer, but it has some restrictions that make a strict comparison difficult.    This plan not only undercuts anything that Sprint is offering, but gets close to competing with Boost, VirginMobile, Freedom Pop and other data-limited offerings by resellers.   It primarily addresses customer resentment towards other capped plans that push customers into exceedingly higher costs if they go over the cap.   However, the primary targets of T-Mobile's initiatives are AT&T and Sprint. AT&T's $45 plan offers a 300MB cap and Sprint's comparable plan is $55 with a 1GB cap.   In late 2014, T-Mobile struck again with an unlimited 4G family plan that offers 2 lines for $100, along with a $100 for 4 lines and 10GB of LTE data.  It is also attacking with a rollover data program that becomes very attractive to those on data-limited plans.
Meanwhile, Sprint has also begun fighting back.   Its first counter-punch is the regrettably-named "Framily" plan that offers a healthy discount for customers who muster a group of 7-10 lines.   The Sprint plan is a bit confusing, but for each line that you add, the rate goes down for everyone.   Of course, Sprint's knock-out punch attempt is its behind-the-scenes effort to buy T-Mobile.   Government regulators balked and Sprint dropped the pursuit of T-Mobile in July.   Now Sprint has come out swinging, recently dropping its unlimited data plan price to $60 per month. Sprint's second attempt to compete came with its March 2014 announcement of a more affordable Sprint Prepaid smartphone offering.   However, comparable offerings by Virgin Mobile and Boost, who both use the Sprint network,  are still less this Sprint Prepaid plan. So it would appear that Sprint's primary goal is to keep up with T-Mobile's price-cutting.
Unfortunately most Americans to still likely unlimited data plans.  T-Mobile and Sprint have begun to offer some pretty decent value propositions with their unlimited plans.  Sprint's offers an $80/month All-In plan which includes $60/month for "unlimited" service plus $20/month to lease one of three eligible handsets: the Apple iPhone 6 (16GB), Samsung Galaxy S6 (32GB) and HTC One M9 (32GB).  Not a bad deal for an all inclusive, although Sprint tacks on some options, like Early Upgrade and Easy Pay, which can create confusion.  No down payment is required on the hardware, but there is a $35 activation fee.   T-mobile also offers "unlimited" data at 4G speeds, not-so-coincidentally priced at $80/month ($50 base price with a 1 GB cap, plus $30 for truly unlimited data and speed). But on top of that $80 you'll pay $27.08 per month for a phone. AT&T and Verizon don't even bother to offer unlimited data in their plans.
As to service quality,  three of the four carriers pretty much share the same network quality — none of it is particularly outstanding, according to JD Power's most recent survey.   The one exception is Verizon, whose service in the West is clearly superior.    Of course, that higher quality comes at a cost;   Verizon charges premium prices for its service.   AT&T also charges premium prices for clearly inferior service and I continue to discourage consumers from using AT&T if they live in California.
Finally, alternative carriers are starting to make inroads.  Consumer Reports recently ranked Ting and Consumer Cellular as the highest in cell carriers offering value and network quality.   And Republic Wireless is also making a splash by offering hybrid wifi/cell service at substantially discounted prices.   By automatically routing calls over your home Wi-Fi network, then handing off to the cellular network when you're out of range of a hot spot, it has begun to attract wireless customers located in urban areas who have access to home wi-fi.
Consumer Reports' end-of-the-year survey of its members found that T-Mobile nudged past Verizon for the top cell carrier. Its readers were most satisfied with T-Mobile customer support and value, though they ranked the network's call and data quality below that of Verizon and AT&T. Only Sprint was found to have more Web problems and slower data speeds than T-Mobile.  So while T-Mobile may not have the best coverage or speed, it offers the best "value", as viewed by Consumer Reports' members — we agree. But keep in mind that these same savvy consumers rated  Consumer Cellular, Ting, Jitterbug, Credo, Virgin Mobile and U.S. Cellular as offering even better values than the top-4.
As to the phone service that we use? Well, we need a smart phone with unlimited texting and data, but we don't use it much for voice (voice quality on cell phones is marginal. (We use Ooma VOIP phone for most voice calls )  So we went with the $99 Amazon Fire smart phone  (it's now selling for $59 if you exclude the Amazon Prime membership) and the T-Mobile $30 month plan and the Google Nexus 6 with a Consumer Cellular $25 per month plan.   We were able to sign up for Google's Project Fi (only available for Nexus 6 phone owners) for $30.  It is a compelling offering and includes some free gifts, including an external battery, Nexus 6 case and earbuds for sharing music.
Another recent development fueling wireless price reductions is Google's  entry into the wireless service markets.  Like other MVNOs (also called Mobile Virtual Network Operators) such as Republic, Freedom Pop, Ting, Consumer Cellular and TracFone,  Google will be buying spectrum from T-Mobile and Sprint.  The catch:  Google's Project Fi service is only available for Nexus 6 customers.  It offers a special SIM card which gives access to T-Mobile or Sprint networks as well as any nearby accessible wifi.   Prices will start at $20 a month for "the basics," or voice service, texting, Wifi tethering and international coverage. After that it's $10 per gigabyte of data you use in the U.S. and abroad and you do get to sell back what you don't use.  That $30 comes with 10GBs of data and which includes unlimited domestic talk and text,unlimited international texts, low-cost international calls, Wi-Fi tethering and coverage in 120+ countries.  However, at its launch, it is invite-only, so get on the waiting list.    (it includes some free gifts, including an external battery, Nexus 6 case and earbuds for sharing music.)  Insiders view it as unlikely that Google is going to go head to head with AT&T or Verizon. Instead, Google seems to be more interested in forcing the wireless market to make changes that would free-up customers to use more data for less money — which gives Google more opportunities to show advertising to consumers and mine customer data.   Google's motivations matter less than the fact that its threat to enter the wireless markets as a retailer will continue to put downward pressure on wireless rates.  Combined with Google's Nexus line of smartphones that help make the price of high-end smartphones more affordable,  Google is putting substantial outside pressure on the wireless industry. Naturally, we went for this "best value", since we already had a Nexus 6.  It's worked quite well.
Bottom line:  It's not time to lock into any long-term contracts. 2015 is shaping up to be the year to find in some decent prices for carrier plans as well as discounted/subsidized smartphones.   Occasionally it is nice to be a cellular consumer; this is the year!   As to the phone service that we use? Well, we need a smart phone with unlimited texting and data, but we don't use it much for voice (voice quality on cell phones is marginal. (We use Ooma VOIP phone for most voice calls )  So we also tried out the $99 Amazon Fire smart phone and the T-Mobile $30 month plan;  it worked well and is a good value, but the Amazon Fire's reluctance to integrate Google services relegated it to an insurance phone — we use it when we don't want to risk using the Nexus 6.

https://www.sandiegocan.org/wp-content/uploads/2014/01/pricewar-150x150.jpg
150
150
mshames
https://www.sandiegocan.org/wp-content/uploads/2018/07/Logo4-sm.png
mshames
2015-06-15 17:02:55
2015-06-15 17:02:55
The Cellular Price Wars of 2015