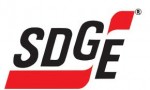 It turns out that, according to historians,  Nero never actually fiddled while Rome burned.   In contrast, SDCAN has now documented that while San Diego residents have been burned by record high rates stemming from a 2013 regulatory decision, SDG&E's executives have been whooping and a'hollering, if not fiddling, about the company's record profits — profits that have doubled in less than 10 years.  In late 2014,  SDG&E filed a request with the California regulators to increase electric and gas rates by more than $300 million over the 2016-2018 time period.
SDCAN has submitted rebuttal to SDG&E's request in the form of expert testimony filed with the Public Utilities Commission.  In this testimony, SDCAN offered the following charts to demonstrate the disconnect between SDG&E's rates and its profits.   Since 2008,  SDG&E's rates have jumped 30% and are now 15-20% higher than two other California utilities.
A comparison of the average residential electric bill is even more disturbing.
While SDG&E's rates have jumped, so has SDG&E's profits — by double digits.   In fact, over the past 9 years, SDG&E's profits have almost doubled:
The SDCAN testimony lays out this disconnect between rates and utility performance so that the post-Peevey Public Utilities Commission can rectify some of the agency's questionable past ratesetting decisions.   It also evaluates a number of SDG&E's proposed customer service initiatives as well as the absence of a cost-cutting or operational efficiency culture within the company.   In its showing, SDCAN proposes that the Commission reject SDG&E's $300 million ($116 million in 2016 and then subsequent increases afterwards) rate hike request and, instead, to reduce SDG&E's rates by $100 million — or more.
A pdf version of SDCAN's 60-page expert testimony is available for download, but ingesting antacids is highly recommended for those with a weak stomach.   The regulatory and utility misdeeds are not pretty.  A summary of the testimony recommendations is as follows:
The Commission must reduce SDG&E earnings to comport with industry norms and should be tied to the prices it charges to customers (relative to other similarly situated utilities).
As a condition for receiving any rate increases, the Commission must require utilities, such as SDG&E, to demonstrate in future applications specifically how it promotes operational efficiencies within its operations.
In light of its current application's deficiencies, the Commission should adopt the recommendations of ORA and TURN, unless the company is able to quantify and demonstrate with specificity how it has achieved operational efficiencies and how it encourages its employees to pursue such efficiencies.
SDG&E failed to quantify web-based efficiencies, in violation of the Commission's order in the 2012TY GRC. The 10% imputed efficiency achieved by web-related investments that the Commission deferred in D. 13-05-010 should be applied in this proceeding.
SDG&E request for increased funding of its CCC operations and customer outreach on the basis that customers will have questions about new rates that will be implemented should be rejected on the basis that funding for much of this effort was provided in A. 10-07-009.
SDCAN recommends that SDG&E invest in E-mail with Artificial Intelligence, functionalities for helping consumers find a rate plans that fits their needs, and online customer surveys as a means of improving customer service while also reducing staffing and associated costs.
The numbers of missed appointments and customer credits paid out in Service Guarantees to residential customers should be dropping, not increasing. SDG&E should be required to split the costs of the program between its customers and shareholders until the next SDG&E GRC, at which time, if it provides evidence of reduced mission appointments, the program might, once again, be fully funded by ratepayers.
SDCAN recommends SDG&E receive no more than $683,000 funding for the Regional Public Affairs department. This is an appropriate recommendation in light of the historical context for these operations and SDG&E's failure to offer a "detailed justification" that this expense outweighs corporate image enhancement, as required by the Commission in D. 13-05-010.
As a result of credit card overuse by SDG&E employees, SDCAN recommends disallowance of 50% of all of SDG&E forecast travel costs.   In seeking ratepayer funding to pay for air travel and lodging, SDG&E failed to engage in regular reviews of employee expense reports to ensure that employees are booking reasonable, low-cost air travel and lodging accommodations. The Commission should require SDG&E to meticulously tracking its use of ratepayer funds particular where its internal policies allow for significant lodging and air travel costs to be incurred. Appropriate tracking of these expenses would allow SDG&E to update and revise the policy if it found that lodging and air travel expenses had become excessive because of the vagueness of the policy allowing too many employees to book overly expensive air travel or lodging. This tracking would include, but are not limited to, tracking and limiting employee first-class air travel and five-star lodging booking, placing an expense cap on employees air travel and lodging requiring review of the accounts that exceed the cap, and requiring employees to book lodging and air travel with preferred partners when available.
https://www.sandiegocan.org/wp-content/uploads/2014/04/SDGE1-150x150.jpg
150
150
mshames
https://www.sandiegocan.org/wp-content/uploads/2018/07/Logo4-sm.png
mshames
2015-05-15 20:54:56
2015-05-15 20:54:56
SDG&E Reaps Record Profits While Its Customers Suffer Record Rates