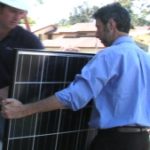 THAT really is the question for any San Diego-based Hamlet with a south-facing roof on his home. San Diego is the solar capital of the nation, with more solar power rooftops and capacity installed than any other city in the United States. Still, even in San Diego, less than one percent of our energy is from solar energy. So should the average San Diego household invest in photovoltaic (PV) installions?
We examine that question and find that many, if not most, residential customers would benefit from the installation of solar PV.  It is far-and-away the best home improvement investment that a household can make and, if you are considering purchasing an electric car,  it may offer a full payback in five years……….after which it can offer decades of "free" electricity for your household.   The economics are compelling!
Yes, investment payback can be less than seven years
First some background: if you thought that the cost of electronics (like computers, smart phones etc) have dropped, just compare it to the dramatic decline in PV costs. Since 2009, the price of PV arrays had dropped by almost 70% down to anywhere between $.85 to $1.00 per watt (In 2009, the cost was closer to $3.50 per watt) and is predicted to drop by another 10% by 2015.  When you factor in installation costs for PV, the total installed cost is closer to 30% less than 2009. Currently,  the cost for a 3kW system averages about $12,000 out of pocket (after rebates and credits) with a payback within 7-10 years.  In 2008, when we installed our 3kW system, we paid close to $17,000 out of pocket.
Don't forget that the  very lucrative 30% Federal Government Investment Tax Credit available for your solar energy system expires at the end of 2016. Currently,  the California Solar Initiative rebate for cash purchase solar installations is has dropped from $2.50 to the extremely modest  $0.25/watt and is no longer a major incentive for PV.   To calculate the projected savings that you can expect with a PV investment,  check out some of the solar calculators compiled for California. 
If you decide to take the plunge and buy an electric car, the payback time can be reduced even further.   In our case, the payback for the PV investment without using an electric car was about 11 years.    However, with the estimated $500 per year in gasoline savings we reap from fueling our Chevy Volt with solar-generated electricity,  the total PV investment payback dropped to 8 years.    Newer PV installations could expect to see paybacks of closer to 6 years or less.     The Federal Goverment is documenting paybacks as low as 1 year!
How to go about deciding upon PV
The process of evaluating whether your home is PV-worthy is not overly difficult.    This video (recognize the customer?) summarizes it.
Just this year,  we did a PV evaluation for another person's house.  He wanted a 6kW system that would produce about 800 kWhrs of electricity each month.   We had four contractors bid on the job — Stellar, Sullivan, Solare and Carlson/Real Goods.   All of them are reputable solar installers with decent track records.   The price range for the bid:  $13,000-$16,000 after the Federal Tax Credit deduction. By way of comparison, that is the price range for our 2008 installation but for almost twice as much power generation as what we had installed previously. Estimated payback:  6-7 years. And because this couple plan on buying electric cars in the near future, the payback might be even quicker.
We also got a bid from Solar City, who largely appeals to customers who want to minimize their out-of-pocket payment, want hassle-free generation and don't plan on staying in their house for over 20 years.  That niche of customers may be attracted to Solar City's (and other solar lease companies) business model. It's sorta like leasing a car:  if you don't want to drive your car for more than three years, perhaps leasing is for you. But as a pure economic play, it isn't an attractive one.(see more below about leasing)
This isn't just about solarizing homes.According to industry sources,  U.S. companies are turning to solar power more than ever, with more than 1,000 megawatts of new photovoltaic capacity installed in the past year.  Reportedly, the top five companies for installed capacity in the last year were Wal-Mart, Costco, Kohl's, Apple and IKEA.  The reasons that large companies are going solar:    a 30% drop in the average installed price for commercial-scale solar since 2011,   reduceing electricity price volatility and the continued availability of a federal investment tax credit for solar.
Other steps you'd want to take if you explore a PV system for your home:
Use the worksheet created by the folks at the Center for Sustainable Energy.
Ask companies to quote the likely system output in AC wattage, ideally using the California Energy Commission's so-called CEC-AC rating. Bids in DC wattage could lead you to believe your system will be more powerful and cost-effective than it really will be.
In addition to the product warranty offered by the manufacturer, explore getting a workmanship warranty.
Check out the Better Business Bureau and Yelp for reviews and look up the licenses or certifications their workers have. Search the Contractors State License Board site to see if workers have one of the following licenses: A (general engineering contractor), B (general building contractor), C10 (electrical contractor) and/or C46 (solar contractor).
Additional Benefits of a PV investment
Add an Electric Car into the mix
A typical gas-powered car currently costs about 20¢ per mile in fuel cost. Drive an EV plugged into the power grid and your cost-per-mile could be more than cut in half — to 5.7¢. Plug that EV into your solar-powered home and your car fuel cost drops down to as little as 2¢ per mile! That's equivalent to 40¢ per gallon gasoline in a gas-powered car!    With SDG&E's high prices, our cost equivalent to gasoline is closer to 80¢ per gallon.    But then, we've prepaid our electricity with our PV investment, so our actual out-of-pocket cost per gallon is 0¢.    That's not bad!
Electricity for your lifetime
Solar energy systems last as long as you live in the home and even include a 25-year warranty on top of that.   Analysts estimate a useful life of a PV system is 30 years.    However, those in the industry know that PV systems function well for up to 50 years.   The government estimates a 1% per annum loss of output from solar cells.   In theory, you could operate your PV array for 50% and it'd still be producing almost half of the power that it did on day one.   Of course, in 50 years, PV efficiencies will be so much higher that the economics would compel you to replace the array earlier.   We plan on replacing our in less than 20 years in light of the greater efficiency of upcoming PV panels.
Investment in House that Pays Itself Back
Studies show that an investment in a PV system in which you paid $15,000 out of pocket will increase the value of your home by over $20,000. So you can actually recoup the entirety of your investment PLUS get "free" power for the period in which you own your home.  
Perhaps the most important most important aspect of installing PV is that it is the only home improvement investment that pays for itself immediately.   Unlike any other upgrade you can make in your home, a PV installation boosts the value of your home by more than what you paid for it.   PLUS, you get "free" electricity for probably as long as you live in the home.  It really is a remarkable investment.   If anyone ever asks us about the "optimal"  home improvement,  we always insist they they consider PV before any other home improvement.
You are helping to save the earth
We won't belabor this, but an investment in PV is an investment in this planet's future.    You don't have to take our word for it.   The Federal Government has conducted significant amounts of research and has published the results.   PV is good for the nation's energy security, it reduces greenhouse gas emissions,  it is non-polluting and good for the U.S. economy.   The biggest downside to photovoltaics is that it is so darned hard to pronounce.    We wish they'd have come up with a spiffier name.   'Solar cells' was OK.   But 'Sun power' would have been better.
Lease only as a last resort — Purchasing is best
Should you do an outright purchase of a PV system or should you lease?   In the last four years, solar contractors have begun offering "nothing down" or "a modest down-payment" solar lease as an alternative to an outright cash purchase.   In these arrangements,  you pay a monthly payment to lease it for the lease term (usually 10-15 years). Sometimes the lease payment escalates (increases) over time.   The contractors justify the lease payments as being wholly or partially offset by lower electric utility bills, so your monthly electricity bill is technically lower than what you would have paid to the utility had you not installed PV.  A recent analysis of San Diego PV leases was conducted by a local news organization.  We agree with their findings;  leasing should be a last resort. 
Our answer:   Purchase.    The big problem with leases is that while they are a decent economic proposition (meaning, they likely won't push your monthly bills higher)  most residential customers who sign a solar lease are missing a huge investment opportunity. So we urge consumers to view a PV installation as an investment.    A solar energy system is an asset.  If you lease, then you do not have this asset on your balance sheet (meaning:  it has not increased your wealth). Rather, a lease is just another expense you pay to use someone else's asset. most cases you may be better off owning the solar energy system, even if you use a loan to procure the system. When you own the solar energy system it is your investment, and utility savings act like dividends; earnings on your investment.
A lease is not an "investment" — with a lease you do not have ownership of the solar assets.  A solar lease is a financial commitment to a long stream of lease payments and adds no value to your property.   We played with the numbers and found that taking a 7% loan will only add 2 to 5 years to the payback period. This is money that the system is paying off your loan for you. After the loan is paid, all the energy the system produces yours. You will hedge yourself against further increases in utility rates.  Even those leases that allow you to buy your system at the end of a lease don't work.    You don't receive the full value of the depreciation of that array.   In 10 years,  you can own your PV system outright and all of the power from it will be "free".   With a lease buy-back, you'll still be paying off that PV system after 10 years.
According to Constant Solar, a leased system will generate roughly $4,000 total savings over the 15 year lease term. Over that same period, the owned system would have paid for itself, plus earned you more than $5,000 additional. By the end of the 25 year warranty period of the solar panels, you would save nearly $25,000 above and beyond the initial cost of system.
One enterprising blogger reported that leasing can be almost twice as expensive to a consumer than outright purchase of PV.   He reported one large leasing company's prices under the California Solar Initiative for residential projects installed in 2011 was US$7.91/W. Another large leasing provider in California reported an average cost of US$8.28/W.  This compares to the first company's average cash, non-third-party owned system, cost of US$6.40/Wp.  Meanwhile, many firms install residential projects on a cash basis for a cost of US$4-5/W.   Property owners who have purchased and installed their own PV systems reported an average installed cost of US$4.56/W in 2011  (that is closer to $4.00 in 2013).
Leasing may sound good at first and many companies that lease you a system do little for reducing your utility bill. Some programs save you 20% off your bill.   Our PV investment reduced by utility bill by 100%.
Other leasing plans still charge you for your current utility rate, but give you the peace of mind of using your roof to offset your carbon footprint.   While no money down is attractive and it is doing the responsible right thing it offers you little monetarily. The leasing companies are pocketing your money as you continue to pay your normal bill.  And never accept a lease with escalator clause — it should be 0% escalation so your energy costs become "fixed", and do not continue to inflate over time.
Additionally, some of the lease agreements are tricky.   An April 2014 evaluation of PV leasing  (third-party installations)  found that transfers of leases to new owners could be financially burdensome,  re-roofing responsibilities during the term of the lease are ambiguous and system removal and roof repair at the end of the lease need to be clear and fully understood by both you and the installer.
Our bottom line:  Solar leases should only be considered by  homeowners who do not have access to the upfront capital needed to purchase the solar system outright or who do not qualify for a low interest home equity loan.  If you can afford to buy, you really should make every effort to purchase, rather than lease, your solar system.
Utility Pushback
The utilities are not happy about their customers switching to self-generation.   SDG&E, in particular,  has not hidden its hostility towards PV and, in particular, to the Net Metering arrangement enjoyed by residential customers.   Under net metering, a system owner receives retail credit for at least a portion of the electricity they generate.    In other words,  when you are producing power from the sun, your meter is figuratively running backwards allowing you to receive the full per kwhr cost of power that SDG&E charges you.     It allowed me to install a 3-kilowatt system on our house and effectively pay nothing more to SDG&E since 2008.   In fact, last year, we received a check from SDG&E for the difference between what weproduced and what we consumed!
Our assessment that changes are coming that may impact PV economics is based upon a recent full-press effort by California utilities to get rid of net metering.   They claim that it amounts to a "cross-subsidy" of "wealthy" homeowners by poorer ones.   Of course, they've had a lot of difficulty backing up this assertion with straight-faced numbers.   Back in 2012,   SDCAN successfully convinced California regulators to reject SDG&E's effort to impose a special charge on PV customers.  And Governor Brown has been very supportive of solar.    But you can expect that SDG&E will try again in the future.     So the landscape in which PV customers pay or get paid for the electricity that they produce or consume may be changing in the coming years.    In the meantime, those customers who invest in PV now may be shielded from any future changes in rates that would negatively impact PV customers.
Other Resources
Click here to a  primer about San Diego PV installations from a reputable nonprofit.
Click here to find a San Diego contractor who will install residential PV.
Click here for more information about our PV installation in 2008.    The video can be found here.
https://www.sandiegocan.org/wp-content/uploads/2013/04/PV-150x150.jpg
150
150
mshames
https://www.sandiegocan.org/wp-content/uploads/2018/07/Logo4-sm.png
mshames
2015-05-11 07:14:37
2015-05-11 07:14:37
To PV or Not to PV?