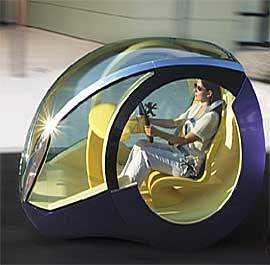 OK, they may not be quite as cool as this "bubble car"   (if this really is a car),  but the  2016 models that are starting appear in showrooms this summer offer some very interesting designs and new accessories that warrant your attention.   2015 may be  year may be the year of the "compact cross-over".  It is also marks the unveiling of fully-connected carsx.   This is a group of cars that are sized as a compact but have many of the functions associated with a sport utility vehicle.    They are taking showrooms by storm:
THE MOST INTERESTING NEW CARS
The Compact Cross-Overs will include the new 2016 Fiat 500X, Honda HR-V and a very sporty Mazda CX-3 will reach showrooms by summer.  They'll be competing with the Chevrolet Trax,  Jeep Renegade, Buick Encore, Mini Countryman and Nissan Juke, all of which have already been introduced.  They all have the versatility and optional all-wheel drive of an SUV with the affordability and fuel-efficiency of an economy car.  Most of these cross-overs are going to start in the $20,000 range.
Other promising new cars are the Value Hybrids.  On the top of the list is the redesigned Volt, which we discuss at greater depth here.   Hyundai is introducing a plug-in hybrid Sonata that should be very affordable and stylish.    And after many years as an EV,  Toyota's RAV-4 will be available as a hybrid in 2016.  This well-regarded car should fare well with a new hybrid engine.
The "connected car" has been discussed in great depth, but few are fully realized.   2016 models take some large steps towards fully-connected.  For example, the Chevy Volt  (our favorite auto value) is permitting consumers to pair up with their smartphones through USB to allow hands-free calling and messaging. The Volt's rear camera and onboard sensors offer driver assistive safety features such as Intellibeam headlamps, alerts for side-blind-zone, lane-change, and rear-cross-traffic, and forward collisions.  This "connected" Chevy Volt has integrated 4G LTE internet service where up to seven devices, from smartphones, game devices and laptops, can be freely connected to the in-car internet. AT&T is the wireless carrier and coverage includes free roaming throughout the US and Canada. Both Apple iOS and Android can be extended to the MyLink dashboard system for compatibility with mobile apps.  (Apple's Carplay integrates iPhone apps into the car's dashboard system once the iPhone is plugged in via USB, enabling music playlists through iTunes, watching videos, email, messaging, and navigation through MyLink. Google's Projected Mode will similarly bring Android smartphones functionality to the dashboard system. Pandora and Sirius are also available.)
New styling features heavily in the redesigned 2016 Mazda MX-5 Miata.  It promises to be sporty, solid and reasonably priced.  Plus Mazda's Skyactiv engine technology should offer decent fuel economy and power.   The Suburu Impreza WRX has been earning great reviews and the 2015 model is offering excellent economy and driving specs at a very reasonably $25,000 price range.   It may be one of the best sedan values on the market in 2015.  The 2016 Ford Edge uses the highly-rated Fusion sedan platform but has better fuel economy and refinement.  The big question is whether Ford deals with the Edge's poor reliability and low customer satisfaction.
THE VERY COOL COMING ACCESSORIES
Driving assist devices are becoming more commonplace in automobiles.  In addition to the lane departure warning, backup cameras and parking assist technologies, new cars will come with advanced parallel parking systems, night vision systems and adaptive cruise control which automatically slows down your car if traffic patterns require it.
Another big development in car accessories is the integration of smartphones into automobile control panels.   Both Apple (CarPlay) and Android (Auto) are being developed to replace/enhance the automakers' control interfaces.  In short, if you know how to use your smartphone, you'll have most all of the automobile's functions available.   In short, your car's functions become an extension of your phone;  you'll just plug your phone in and everything you were just doing on your phone, you'll be able to do in your car.   Most usefully, you'll be able to use your phone's navigation systems as well as its contact lists, phone calling, and music library.  So if you're attention is diverted while driving, your car automatically slows down if you get too close to the car in front of you.
THE CONNECTED CAR
The exciting part of the 2016 Volt is that it is a big step towards the long-awaited fully-connected car.   With the Internet of Things (IoT) enabled, connected cars offer an ecosystem of useful connected services.  For example, GM's OnStar network provides services for safety and security to vehicles on the road. Through the Volt's 4G LTE mobile hotspots, the always-on IoT enables premium content providers, brick-and-mortar retailers, and vehicle manufacturers to extend trial offers for their services.
As our lives become increasingly digital, these connected cars offer some significant and promising developments.  Some examples include:
Via the use of satellite internet and built in Wifi hotspots, passengers in  connected cars can switch on home heating or cooling as they near home.
Over-the-air firmware updates can be pushed to cars to fix software glitches as has been done by Tesla. Automatic 24/7 crash notification services can notify emergency services in case of an accident.
Health monitoring apps on our smartphones might someday warn emergency services of a medical crisis such as a heart attack, as our connected cars reroute to the nearest hospital emergency room.
Connected cars will one day self-organize into "flocks" headed for a common destination, drafting one another for energy savings.
Fuel and energy will be saved by navigation services that are aware of traffic conditions and reroute to avoid congestion, and to avoid time wasted at stop lights.
Smart parking will become possible, sending cars to available spaces to eliminate aimless circling.
Smart buildings can be aware of their occupants' comfort, and smart cities will arise that optimize transportation flows, entertainment, commerce, access to goods and services as well as resources for residents.
https://www.sandiegocan.org/wp-content/uploads/2015/05/future-car-150.jpg
147
150
mshames
https://www.sandiegocan.org/wp-content/uploads/2018/07/Logo4-sm.png
mshames
2015-05-08 16:13:50
2015-05-08 16:13:50
Exciting New Developments in 2016 Automobiles