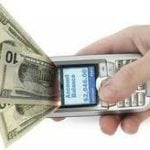 Getting tired of $1000+ annual cellular bills? How does $300 per year for unlimited talk, text and data sound? Sounds too good to be true, but it is true….and ingenious. There are three wireless phone services worth your attention. Perhaps the most interesting one is Republic Wireless; its phones use a clever hybrid communications concept, which minimizes use of the expensive cellular networks, and maximizes use of free WiFi in your area or in your home. Google has made its special hybrid service available to its Nexus 6 customers.  The other three services are Consumer Cellular, Freedom Pop, which offers free packages for low-usage customers, and Ting, which offers low-cost service for customers who monitor their usage closely.
Republic Wireless
Republic may be offering the best wireless phone values in the U.S.  It charges $25 per month for a 3G unlimited plan and $40 per month for 4G monthly service. It also offers a $10 monthly plan for don't need data access when they are on the road and don't have WiFi access. Pretty sweet pricing. The catch — and its not a bad catch — is that calls, text and data are handled by WiFi and, if there's no WiFi signal available, the phone switches over to a cellular network. Currently, you are limited to the use of only two phones: the Moto X and Motorola Defy. Both are decent phones: the X is a highly rated smartphone that Republic is offering for $299 (it sells for over $500 on Amazon).
To the extent that there are downsides, it is that Republic uses the Sprint wireless network, which is among the weaker wireless networks. The other bad catch is that if you exceed 5GB of Sprint data per month for three consecutive months you will be cut back to lower speeds.
Currently, I have an unlimited data/text and limited talk plan with Virgin Mobile that costs $35 per month. For $10 less, I can buy can get Republic. The savings would allow me to buy the Motorola Defy and pay it off in less than a year. From then on, I get pure savings. The Moto X phone would take me over two years to pay off. However, if I had a more expensive Verizon or AT&T plan (typically $80 per month), the Moto X upfront cost would be paid off within six months with the monthly savings. For anyone paying over $50 per month for unlimited talk/text/data, Republic is worth a gander.
Project Fi
Another hybrid offering that entered the market is Google's Project Fi.  Like other MVNOs (also called Mobile Virtual Network Operators) such as Freedom Pop, Ting, Consumer Cellular and TracFone,  Google will be buying spectrum from T-Mobile and Sprint.  The catch: Google's Project Fi service is only available for Nexus 6 customers.  It offers a special SIM card which gives access to TMobile or Sprint networks as well as any nearby accessible wifi.   Prices will start at $20 a month for "the basics," or voice service, texting, Wifi tethering and international coverage. After that it's $10 per gigabyte of data you use in the U.S. and abroadand you do get to sell back what you don't use.  So, if you're on a 2GB plan but only use 1.5GB, you'll get $5 off your bill.   However, at its launch, it is invite-only, so get on the waiting list.  It is a compelling offering and includes some free gifts, including an external battery, Nexus 6 case and earbuds for sharing music.
Insiders view it as unlikely that Google is going to go head to head with AT&T or Verizon. Instead, Google seems to be more interested in forcing the wireless market to make changes that would free-up customers to use more data for less money — which gives Google more opportunities to show advertising to consumers and mine customer data.   Google's motivations matter less than the fact that its threat to enter the wireless markets as a retailer will continue to put downward pressure on wireless rates.  Combined with Google's Nexus line of smartphones that help make the price of high-end smartphones more affordable,  Google is putting substantial outside pressure on the wireless industry.
Consumer Cellular
This highly-rated company has done a great job at combining good customer service with very reasonable prices for its service.  (Consumer Reports rated it among the best of all wireless companies)  We use it and have been very pleased.   This carrier is offering a very affordable $20 per month plan and provides a free nano-SIM chip to use with your smartphone.   We used the Anywhere 200 Voice Plan along with the Connect Ready data plan of 1000 messages and 500MB per month.   It works excellently and at $25 per month is a very affordable second phone.   It uses AT&T's network and the reliability/signal strength has been superior.
Freedom Pop
Looking for an emergency cell phone service that you don't use very often or just want Facebook and e-mail access? Check out FreedomPop, which offers completely free mobile phone service. Yup — it's really free. The catch is that you are limited to 500MB of mobile internet access plus 200 voice minutes and 500 texts every month. If you go above your allotment, you can pay for more data as you go or buy specific data packages (e.g., 1GB of data for $10). There are also two paid plans with higher allotments: $8 a month increases the voice minutes to 500 a month and makes texting unlimited or for $11 a month, you get unlimited voice and text.
Another catch is that is you only get one phone to use on the service: an HTC EVO 4G. The phone costs $149. While it's not the latest and greatest Android smartphone, that might not matter to you if you're spending absolutely nothing for your wireless service. It is a decent phone and, at $149, is a decent deal, although better ones can be found on Amazon and other sites.  Like the other services, Freedom Pop uses the Sprint Network, so coverage and reliability will be issues.
Ting
There are some of us who can count calories as well as bytes. My hat's off to them; I wish I had their patience. If you are a byte counter, then Ting may be the wireless phone service for you. It offers an entirely unique form of cell service; you pay for what you use. Oddly, this applies to just about everything else we buy, but someone we've been conditioned by the cellular companies to view cell service differently. Ting goes old school. Your rates are based upon minutes you use, messages you send and receive, and megabytes you access. So, for example, if you only use text messages, you'll just be changed for that — for example, $6 for 200 messages) plus the line ($6 for one line). One cool aspect of the service is that voicemail, multimedia messaging, and even tethering and mobile hotspot are included for free.
There are downsides, though.   Ting's phone selection is large, but so are the costs.   The Moto X will set you back $565  (almost $300 more than Republic Wireless).   Its plans are affordable if you don't use the phone much for data or voice, but get expensive once you exceed 500MB of data per month and 200 minutes of voice.   By that point, you are probably better off going with the Virgin Mobile $35 plan which, sadly, is also on the Sprint Network.
https://www.sandiegocan.org/wp-content/uploads/2013/12/cellcosts-150x150.jpg
150
150
mshames
https://www.sandiegocan.org/wp-content/uploads/2018/07/Logo4-sm.png
mshames
2015-04-30 07:33:51
2015-04-30 07:33:51
Hybrid Cellular and other Cool Low-Cost Cell Plans