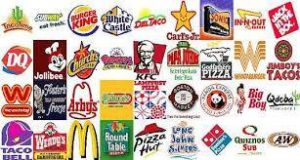 It's fast, it's convenient and it doesn't cost an arm and a leg.  But, usually, it really isn't that good for you.   Besides, some of the fast food restaurants are really quite disappointing.   So which are the best ones at which to stop for your convenient, reasonably-priced meal?  Two relatively authoritative publications have identified the best and worst and we'll share them with you.  But first,  consider the following:
Most all fast-food restaurants offer plenty of healthy options. More and more chains feature salads and soups, they've have cut down on sodium and offer nutritional information about their offerings.  Chipotle Mexican Grill offers a taco or burrito with naturally-raised pork, beef or chicken.  (Chipotle's website defines "naturally-raised" animals as those that are "raised in a humane way, fed a vegetarian diet, never given hormones, and allowed to display their natural tendencies.")   However, you also need to consider calories.  That burrito bowl, filled with chicken, brown rice, black beans, fresh tomato salsa, cheese and guacamole totals about 850 calories, 44.5 grams of total fat, 11.5 grams of saturated fat and 1510 milligrams of sodium. That's 42.5 percent of a 2,000-calorie-a-day diet and 66 percent of the recommended daily allowance of sodium.
Elevation Burger, Bareburger and Burger Lounge are other  restaurants that offersustainably-prepared foods that are "better for you and the environment."   However, their 100 percent organic grass-fed beef still stuff 650 calories (along with up to 25 grams of total fat, 8 grams of saturated fat and 1,440 milligrams of sodium. That's 63 percent of the recommended daily allowance of sodium – again, without any sides or beverages).  Blaze Pizza offers pizza (not a particularly healthy food) with no preservatives, chemicals or additives.  Meanwhile,  Taco Bell and Pizza Hut have recently announced their intent to remove artificial colors, flavors and additives from their food.
According to the latest Dietary Guidelines Committee Report, Americans eat too much saturated fat, with 90 percent of men and women in all age groups exceeding the recommended daily limits of solid fats. The report pinpointed sodium as another excessive nutrient.   It's great that more and more fast food restaurants are offering environmentally-friendly choices but they aren't necessarily the healthiest of foods.
With that consideration firmly in mind, here are the most recent fast food restaurant findings by Consumers Reports and Nation's Restaurant News:
Consumer Likes
In-N-Out Burger
The Habit
Jet's Pizza
Jason's Deli
Boston Market
El Pollo Loco
Five Guys Burders
Fuddruckers
Chick-fil-A
Rubio's Fresh Mexican Grill
Chipotle Mexican Grill
Pei Wei Asian
Tropical Smoothie Cafe
Papa Murphy's Take 'N' Bake Pizza
Penn Station East Coast Subs
Charley's Grilled Subs
Potbelly Sandwich Shop
Panera Bread
Schlotzsky's Deli
Consumer Loathed
Panda Express
Wendy's
Long John Silvers
Arby's
Hardee's
Taco Bell
Del Taco
Jack in the Box
Little Caesars Pizza
Sbarro
KFC
Church's Chicken
Pizza Hut
Quiznos
Burger King
McDonald's
Chuck E. Cheese's — considered the worst of all fast food restaurants. But then, consider the criteria of their targeted customers.
And, in case you can't be bothered with all of this, consider the following.  In February 2018, a University of California investigator, Dr. Claudia Kawas, presented findings from The 90+ Study at the American Association for the Advancement of Science's annual conference this past weekend, highlighting the link between moderate alcohol consumption and longevity. In an observational study of participants age 90 and older, Dr. Kawas and her team found that consuming about two glasses of beer or wine daily was associated with 18% reduced risk of premature death. In fact,   seniors who drank a moderate amount of alcohol each day had lowered their risk of premature death more than those who exercised daily.  Her findings also suggest regular exercise, social and cognitive engagement, and a few extra pounds in older age are associated also with longevity.  But it looks like alcohol and coffee are associated with longevity.  Who woulda thought?
https://www.sandiegocan.org/wp-content/uploads/2018/07/Logo4-sm.png
0
0
mshames
https://www.sandiegocan.org/wp-content/uploads/2018/07/Logo4-sm.png
mshames
2015-04-29 18:45:25
2015-04-29 18:45:25
The Best and Healthiest Fast Food