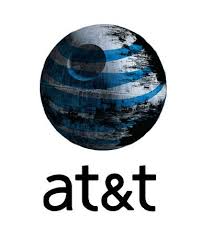 There's nothing new about AT&T Uverse's horrible customer service.  One need only have been a Uverse customer or have conducted a quick Internet search to see that complaints about Uverse are almost as common as griping about the weather…..perhaps even more so. In fact, we apologize for the "Death Star" graphic to the left, as between AT&T and the Death Star,  the Death Star had at least some positive qualities. Alas, AT&T and its fellow broadband carriers have few, if any, redeeming qualities.  We recently had our own AT&T Uverse horror show experience that we'll recount in somewhat graphic detail.  (spoiler alert:  this is not for the faint-of-heart or anyone with anger-management issues)   The point isn't to pile on with the other complainants as much as offer two insights into Internet broadband service:
1. Be wary of 1st year promotional deals by Uverse and other broadband carriers, as they will try to substantially increase your monthly fees after the first year  (in our case, it more than doubled).
2. The fact that AT&T gets away with this customer abuse is symptomatic of much bigger problem:  the absence of alternatives.  So we'll discuss some alternatives to the broadband duopoly in this article.
First, the horrors.  We enjoyed a AT&T Uverse promotion for one year:  Internet service, basic cable TV and HBO for $46 per month.  It was a reasonably good deal and the quality of the service was decent.  No complaints.  Then we noticed our monthly bill started rising, although there was no warning nor any explanation on the bill.   When it got to $70 per month, we tried to switch our service to a lower-priced plan on AT&T's website but it wouldn't permit that.  We had to call to learn about our options.  With a modicum of dread, we called AT&T……..which is the equivalent to walking into a haunted house occupied by Freddy.   But we had no other way of………….well, you've heard that from all of the other slasher-movie victims.
The following 83-minute hazing process started with a customer service representative (CSR) for whom English was probably a third language.  She said her name was Jorlyn.  We slowly worked through the issue:  we wanted to continue service but not at a monthly rate of $108 which was, allegedly, the "standard price" for the service that we'd previously received for $46.  What were our options within the price range that we'd previously paid?   Our CSR asked us to hold for 2 minutes.   12 minutes later, she came back on the phone and said we'd have to pay $57 per month for Internet service only.   12 minutes on hold to tell us that was our only option?    We asked to talk to a supervisor and that's where the real horrors began.   She put us back on hold and we waited another 10 minutes.   Then she returned to the phone to tell us that she was now going to forward us to a supervisor.   That took another 10 minutes.   By the time we finally got a supervisor on the line, we had invested over 40 minutes.
We got a supervisor named Leo on the line.   He was far more articulate and helpful than Jorlyn.  He explained that our only option was, indeed, $57 per month, but we should talk with AT&T's Loyalty Department and perhaps we could get a better break.   Leo only took 13 minutes, so we figured, we were doing better.   Let's hang in there.  22 minutes later, we finally got through to the "Loyalty Department".  The CSR was very helpful, responsive and knowledgeable.  Within 5 minutes, she laid out our options.   Her bottom line:  $54 per month for Internet service alone.   Finally, a sharp, responsive person who made things happen.    By the time we completed the process,  83 minutes  (almost an hour and a half) just to find out what other options existed for our broadband service.   The most galling part of this process is that had we had any other viable option, we'd have hung up after about 5 minutes.   And there's the rub.
No less than President Obama has concluded that:  "However, the overall national investment picture obscures regional variation. Many local and regional markets today do not have the kind of competition required to continue to ensure affordable access to the higher-speed broadband connections that Americans increasingly require."  The President's report noted that less than 1 out of 40 American homes has 3 or more choices of providers at speeds in excess of 25 Mbps.
In San Diego, we have only two wireline high-speed broadband options available to us:  AT&T Uverse and Time Warner Cable.  Time Warner's customer service center is slightly more accessible, but their customer service policies are horrible as well.   In fact, SDCAN is currently pursuing a complaint against one of Time Warner's most outrageous policies;  charging customers who are waiting to have their cable service disconnected.    In our case, it took Time Warner over one week to send a technician out to disconnect the service.   We didn't use the service during that time, as we'd connected AT&T Uverse.   But Time Warner still sought to charge us for the time between when we officially canceled and when their tech finally got around to making the physical disconnect.
Another option is DSL, which generally offers 6Mbps speeds — barely enough for streaming but adequate for web browsing. Earthlink and AT&T both offer DSL service, but availability is limited.   Earthlink also offers cable-based broadband service at speeds of 20 Mbps, but charges approximately $52 per month.   In San Diego, it resells its service over Time Warner's Internet backbone….ugh!
Some additional options available to American consumers are satellite TV, but their broadband offerings only make sense if you want TV service as well.   If you are looking for stand-alone broadband, don't waste your time.  Fixed wireless is available for rural areas, but not metropolitan locations.   Mobile carriers are starting to roll-out high-speed LTE service and this wireless service offers decent streaming speeds but they limit data to such a point that if you try to stream movies, you pretty much are out of luck.   Plus, their monthly service costs are in the same $50-60 range charged by the duopolists.   Of course, you can also use that wireless service for your phone.   So if you don't plan to stream many movies, wireless service offered by Verizon, AT&T, T-Mobile or Sprint might be a feasible broadband alternative.   If you opt for a wireless provider,  there are two ways to connect to a mobile broadband network: hotspots and USB modems. Hotspots are like wireless routers you can take anywhere – they create mobile Wi-Fi networks that any Wi-Fi device can connect to. USB dongles, on the other hand, are specifically for laptops. They're usually cheaper than hotspots, but only a single computer can use them at a time, and they're not compatible with tablets, eReaders or certain operating systems.     Both options won't provide the kind of WiFi signal coverage that more traditional routers will provide.
The bottom line is that AT&T's Uverse horror tales will continue unabated until real competition exists in the broadband world.   There are a few municipalities in the U.S. that have taken matters into their own hands and offer their residents "community-based broadband" with far better service at far lower prices than are charged by the duopolists.   While the White House and some other policy makers have recognized the problem, solutions are not developing anytime soon.   For broadband consumers, these are the worst of times……unless you live in one of the 35 countries whose broadband service is both much faster and cheaper than that offered in the U.S.
https://www.sandiegocan.org/wp-content/uploads/2015/03/ATT1-150x150.jpg
150
150
mshames
https://www.sandiegocan.org/wp-content/uploads/2018/07/Logo4-sm.png
mshames
2015-03-05 14:48:16
2015-03-05 14:48:16
AT&T Uverse Broadband Promotional Rate Horror Show