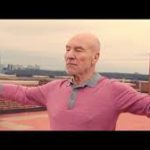 At the 2015 Palm Spring Film Festival, two films stood out from the 8 that we viewed:  'Match' and '5 to 7'   They are must-see movies for 2015.  Match is set to debut in theaters on January 14th.  '5 to 7' is slated to be screened sometime in 2015, but has no release dates set.
Match is an adaptation of a play written by Stephen Belber.   He directs here and does a nice job.  However, while is directing may not be revelationary, his script is taut and well-honed.  It is a gripping, funny and fast movie that holds your interest and addresses some very compelling issues.  Patrick Stewart gives a masterclass in acting….it'll be a shame if he doesn't get an Oscar nomination.   Independent filmmaking doesn't really get any better than this.  And Stewart is a joy!   The actors play off one another well  (in person at the Film Festival, they seemed to truly enjoy one another and displayed an affection that is somewhat unusual in that line of work).  Their mutual enthusiasm and affection shows – the film sparkles.
'5 to 7' doesn't quite have the acting bravado of 'Match', but what it does have is a wonderful Woody Allen-ish script written by Howard Levin (the writer also directed) that tickles, amuses and pushes the audience into dealing with some uncomfortable but fun questions about relationships.  It is an excellent piece of writing.  The screenplay introduces us to struggling but gifted young writer (Anton Yelchin) who begins an affair with an older woman (Bérénice Marlohe) from France whose open marriage to a diplomat (Lambert Wilson) dictates that they can meet only between the hours of 5 to 7.   Frank Langella and Glenn Close join in laugh-filled supporting roles playing the funniest and most unlikely Jewish parents since Laurence Olivier in 'The Jazz Singer'.  But unlike Olivier,  these two are hilarious, as is the movie.   A definite must see in 2015.
https://www.sandiegocan.org/wp-content/uploads/2015/01/Match-150x150.jpg
150
150
mshames
https://www.sandiegocan.org/wp-content/uploads/2018/07/Logo4-sm.png
mshames
2015-01-07 18:47:46
2015-01-07 18:47:46
Movies: Match and '5 to 7'