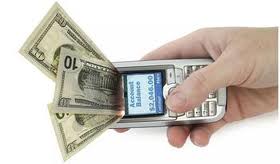 So, you are probably looking to replace your current long-in-the-bluetooth smartphone and you are ready to plunk down some dollars (or commit to a 2-year plan) and get it done with.   WAIT!   A cellular price war is on!    Prices are dropping as various carriers and manufacturers begin to compete more vigorously for customers.   In January 2014, we predicted that a cellular price war was about to commence.  And it did;  fueled largely by T-Mobile's aggressive pricing and the Government's rejection of the proposed Sprint/T-Mobile merger along with some technological advances.  The 2014 summer continued to be the very competitive wireless environment that we had predicted at the beginning of the year.   So here are five things you need to be considering before you buy a smartphone this coming 2015:
1.   The Amazon Fire Phone was a bust, but now is being priced at essentially $99 unlocked.  Pick up this phone and get a low-cost prepaid plan and you've got yourself a pretty sweet deal. It was recently updated to become a very decent smart phone with an excellent camera and cool Firefly app.  It wasn't worth $649, but at $199 along with the $99 for one-year of Prime and unlimited photo storage, it's a deal.
2.  Google's Nexus 5 phone was a very compelling Android bargain.  Priced at under $349, unlocked and a universally highly rated phone, this model was released in late 2013 and observers are expecting a new version coming later this Fall.    With Amazon's entry into the "race", Google moved up its release of the next Nexus incarnation — Nexus 6.  It is a phablet that is very fast and sleek — but almost double the price of the 5.   There's talk that it may be releasing an entire new line of smartphones code-named "Android Silver"which could be lower cost and more accessible to consumers who want quality but affordable phones running on Android.   In the meantime, picking up a used Nexus 5 may be one of the better Android deals in the market right now.
3.   T-Mobile is raising the stakes.  At the end of July 2014, the company announced that it will offer four lines of service on the family plan rate of $100, as compared with the other two companies that charge $160 for less-tempting family plan options. Also included in that price is unlimited talk, text and data. Plus, according to a chart that compares T-Mobile's "Simple Choice" plan  and there are no overage charges. There is 2.5 GB of 4G LTE available per line for a total of 10 GB as compared with the "shared" model of the other two carriers offering 10 GB with only unlimited talk and text. Tethering is also included.   However, there are caveats in T-Mobile's own special offer, which is available from June 30 through September. While the deal is cheaper on its face, the data usage isn't shared among family members — it's set at 2.5 gigabytes per line.   And it is a promotional rate that ends in January 2016.   Still, not a bad deal for the next 1.5 years.
4.  In response,  Sprint has introduced the new Family Share Pack in August which provides an unprecedented amount of versatility and user control.  It followed up with a "Cut Your Bill in Half Event" in which it is offering unlimited talk and text as well as comparable data but at half the price of Verizon and AT&T.  Customers can sign up for data plans as low as $20 for all devices. Of course, that plan will only allot 600MB of total data, but the freedom and option to keep prices so low are astounding to consumers. You can opt for 60GB of shared data for $225 per month. The core plan (and likely most desirable option) includes 20GB of data for $100. Apparently this is an introductory price that will increase to $160 for 20GB of data.   It also announced a substantial drop in its unlimited data plan — now set at $60 per month.   This is about $20 less than T-Mobile's unlimited offering, although we expect T-Mobile will respond in kind.   Sprint is also offering a $350 "termination fee" payment to new customers who defect from other mobile carriers.
5.  We continue to believe that the best is still yet to come.   We expect other carriers as well as phone manufacturers to follow suit with responsive offerings.  2015 will be a pretty opportunistic time to be in the market for a new smartphone.  We'll continue to update this page as things develop.    So bookmark this page and check back often!
https://www.sandiegocan.org/wp-content/uploads/2013/12/cellcosts-150x150.jpg
150
150
mshames
https://www.sandiegocan.org/wp-content/uploads/2018/07/Logo4-sm.png
mshames
2014-12-21 07:05:59
2014-12-21 07:05:59
WAIT to Buy Your Next Smartphone….until 2015