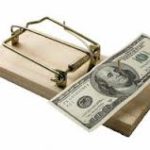 One of the LEAST fun aspects of travel is renting a car, ranking just behind having your spouse run off with a scuba instructor.    There's not much you can do about your spouse other than to be more attentive and fun.   But there IS a lot you can do about getting a decent price renting a decent car.
Over the past decade, the car rental industry has since devolved into the Neanderthal of the travel business.   The excessive fees and taxes demanded by the rental companies could test even a cleric's patience.   We  can't tell you that we've actually seen a rabbi or priest driven to slugging a car rental agent, but we bet it happens.   When you arrive at the car rental counter and give the service agent your reservation number, you enter what can best be described as  "Car Rent-hell."   The first sign – the upgrade switcheroo.   "We can upgrade you to a larger car," the service agent says sweetly.   Are those eyelashes twitching at you or perhaps she just has some dust in her eyes….it's hard to tell.   But for a few more dollars per day, you can get a larger car that consumes more gasoline and emits more pollution.
If you get past that temptation, then there's the "collision damage waiver" and the "loss damage waiver".   The first covers you in the event of a collision, while the second covers any loss to the rental company. For the uninitiated, the collision damage waiver is not insurance; it's an agreement that the rental company will give up its right to recover costs of property damage to the auto from the renter, regardless of who is at fault in an accident. If you have liability insurance, your property damage liability will usually pay for the damage to the rental vehicle.   And if that doesn't cover it, most Gold or Platinum credit cards, such as Visa and MasterCard, will cover the collision damage waiver.   Therefore, generally, you do not need this extra expense.  But most consumers don't know it, and the car rental agent isn't going to tell you that the $8-$10 per day that they want to charge you is, in fact, totally unnecessary.   Heck, it represents a 50% increase over the price that you were originally prepared to pay for the darn car, and the service agent probably gets a commission or a gold star if he or she can talk you into it.
We haven't escaped from Car Rent-hell yet.  More charges will further inflate your daily tab.   Examples include airport taxes, city and county taxes, drop-off fees, fuel charges, mileage fees, additional driver fees, younger driver fees, out of state charges and equipment rental fees.   Oh, we should also mention Personal Accident Insurance (which purportedly covers a portion of your medical bills should you be hurt in an accident and is useless if you have your own medical insurance) and Personal Effects Coverage (which allegedly protect your personal belongings against damage).      All of these various charges can increase the total cost of the car rental by up to 150%.     Your $15 per day bargain becomes closer to $40 per day!    It may not be illegal, but it is scummy.  And it should be illegal.
Then, of course, there is the prepaid gas option.  Unless you are desperate to save a few seconds, you are wasting money. If you prepay for a tank of gas and brought it back with even 5 gallons left in the tank — which is pretty typical — then you lose money.  You just gave the rental car company the value of 5 gallons of gas. Unless you push the car back onto the lot with an empty tank, you lose money prepaying for gas.   From a financial standpoint, prepaying is a bad idea unless you're absolutely certain that you'll use the full tank…….and then spend the money you save on a lottery ticket where you probably stand a better chance of 'winning'.
OUR SUGGESTIONS
 Shop Around, but Try CarRentals.com or AutoSlash.  The on-line travel services that most people use for car rentals are  Kayak, Hotwire, Priceline, Expedia, Travelocity, Orbitz and CarRentals.com.   Our recent searches have shown that all, but CarRentals.com, offer pretty much the same price.   The latter offered some deals that were 20% below what the others showed.   Yes, this is odd, given that CarRentals and Hotwire are owned by Expedia. Go figure!    Another surprisingly good site is AutoSlash.  It shops all of the on-line rental sites and comes up with a number of options;  most importantly, they don't require that you pay in advance or even reserve with your credit card.  Nice!
Membership organizations can help cut costs.   Organizations like AAA and AARP offer cheap—or at least discounted—rental-car deals. AAA members may get perks such free use of a child seat. Member-retailers like Costco, Sam's Club and BJ's also offer some great travel discounts. Costco, for instance, looks for deals that include an additional driver at no extra cost.  Credit card issuers such as American Express and numerous Visa and MasterCard also offer car-rental discounts.  We also like  Zalyn .  Like AutoSlash, it helps you find & compare a variety of car rental discounts, including those from AAA, AARP, BJs, Costco, USAA and many Frequent Flyer discounts, etc. You can even throw in your own discount codes (e.g. your employee discount) into the mix. Comparing discounted rates takes a few simple clicks. You'll know the exact discount code used, the terms & conditions, and you're free to book through any website you like.  We picked up some good deals using this site — and it has some useful blogs on how to best deal with car rental companies.
Rent Off-Site.    Try renting away from the airport.   You can save as much as 50 percent off, by renting downtown, or in a suburb if you're headed for one, rather than grabbing a car at the airport. Use an airport shuttle, train ride, or cab trip to your hotel, all the better, especially if it allows you to skip the airport-rental queues and chaos. If you opt for an off-airport deal,  check out the cost of a one-way rental. This is where you drop the car off at the airport on the return leg. That may give you the best of both worlds.
Use lesser known rental companies.  The best deals appear to be offered by independent rental companies such as Ace, Payless, Fox, Sixt, Enterprise and Advantage.    Some of the car rental companies that used to offer decent deals, like Dollar and Budget, have lost their value sheen.   And fagettabout Avis and Hertz:  they are only worth considering if you rental frequently and have "club" or "member" benefits.   According to Consumer Reports, local and regional agencies can charge 20 to 50 percent less than the big chains. However, those companies often used "hand-me down" rental vehicles from their parent companies. So their fleet might be slightly older than other rental car companies.
Weekends and Weekly Rentals.  Weekend rates are often the cheapest, but you can also get good deals by renting at a weekly rate. But be careful about not changing your plans mid-trip or returning your car sooner or later than you planned; car rental companies like to sock it to anyone who gives them an opportunity to get socked.
Our bottom line: It is essential that you check more than one website if you plan to rent a car.  We've found CarRentals.com is offering consistently low prices and should be part of your review.   But don't rely upon just one site — and watch out for the various insurance, gasoline and other "added services" pushed by most all car rental companies.
https://www.sandiegocan.org/wp-content/uploads/2013/12/mousetrap-150x150.jpg
150
150
mshames
https://www.sandiegocan.org/wp-content/uploads/2018/07/Logo4-sm.png
mshames
2014-12-02 11:57:01
2014-12-02 11:57:01
Best Car Rental Resources, Tricks and Traps