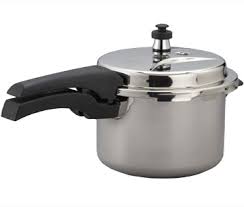 A pressure cooker?   You may have thought that's only what your grandparents used for cooking stuffed cabbage, but they are on the way back.  They are outstanding (if not unparalleled) tools by which to cook meats, broths and vegetables in a quick, safe and healthy way.  Today's pressure cookers are much safer and easier to use than cookers of the 1930s and '40s, which were noisy,  lacked safety features and had many complicated parts. Modern versions include a safety valve that releases excess steam, preventing accidents, as well as a locking feature that won't let you remove the lid until the pressure is reduced. In addition, the new models seal in steam better, so less liquid is required. They also give you a choice of a quick-release option, taking even less time to finish that meal and without the need for wasted water to cool things down.   The benefits offered by pressure cookers are that foods retain most of their nutrients, they are efficient, quick and require less cleaning.   They are perfect for making stock, risotto,  braised short ribs and other lower cost meats as well as beans and cut-oats.
If you plan to purchase a pressure cooker for the first time, or if you are considering upgrading to a newer model, you'll be faced with a variety of choices when you begin shopping for a pressure cooker.   Consumer Reports and other consumer guides have not reviewed pressure cookers in the last decade, so the choice isn't the easiest one to make.   Here are our recommendations.
Choose a stovetop stainless steel pressure cooker
Stainless steel pressure cookers are nonporous, slightly heavier, and more expensive than aluminum models, but it is worth it. The extremely durable nature of stainless steel will provide years of use with a beautiful high luster finish.  All of the literature suggests using a stovetop version of the stainless steel cookers.  Electric pressure cookers have not fared well in ratings or tests.    Keep in mind that stainless steel is not a good conductor of heat, so it's best to select a model with a layered base, usually a disc of aluminum bonded to the outside bottom of the pan. This will greatly improve the heating characteristics and performance of a stainless steel pressure cooker by eliminating "hot spots" that would otherwise be common in stainless steel cookware.  We recommend stainless steel models with a triple wall bottom (SS-aluminum core-SS, or copper), they will minimize burned foods, heats faster and retains heat longer, which translates to improved energy efficiency and a saves a little money on fuel bills over time. You can use a them on  gas,  electric, and even induction burners.
The best size of a pressure cooker
Most pressure cookers are sold by the size of their total liquid capacity even though the actual usable capacity of a pressure cooker is one half to two thirds of its liquid capacity, depending upon the food being cooked. The extra space left in the cooker is necessary to allow steam to build inside the unit. Although, there are many sizes of pressure cookers in the marketplace, the most popular sizes are 4-, 6-, and 8-quart liquid capacities.  We recommend the 8-quart, as this size is good for larger families and is also an excellent capacity for making large batches of stew or stock.
What pressure should you require from a cooker.
You need a pressure cooker that provides 15psi.    Select a cooker with a detachable pressure regulator that can adjust the pressure to low (5 pounds=220 degrees F./100 degrees C.), medium (10 pounds=235 degrees F./115 degrees C.), or high (15 pounds=250 degrees F./120 degrees C.). The higher the pressure, the higher the internal temperature and the less cooking time you will need. The safety valve will automatically vent the steam.
What is the best brand of pressure cooker?
Fissler VitaQuick –  America's Test Kitchen
Fagor Duo   –  America's Test Kitchen/Miss Vickie
Kuhn Rikon –  Miss Vickie
Presto 6-Quart –  Amazon
Much of your decision is based upon how much you want to spend.  The Presto will cost under $50.   The Fagor models run closer to $100.   The Fissler and Kuhn models will often exceed $200.    All of them are decent values, depending upon your needs and how often you'll use them.
How to Use a Pressure Cooker
Pressure cookers SHOULD be used on the small burner (sometimes the smallest) because they need SO LITTLE energy to operate. So the "bulge" or "straight sides" or even "venting" are not actual issues with proper pressure cooker operation – which is easy to figure out with a quick glance at the instruction manual.
For more information about how to choose and use a pressure cooker, we recommend you check out this 3-minute video from America's Test Kitchen or go to Vicki Smith's website.

https://www.sandiegocan.org/wp-content/uploads/2014/10/pressurecooker-150x150.jpg
150
150
mshames
https://www.sandiegocan.org/wp-content/uploads/2018/07/Logo4-sm.png
mshames
2014-10-27 08:44:00
2014-10-27 08:44:00
Smart Tips on Buying a Modern Pressure Cooker