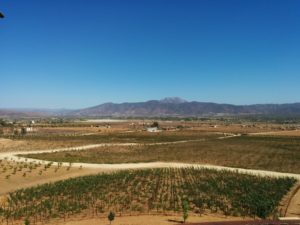 In 1995, Keanu Reeves took a "walk in the clouds" in the movie of the same name.  His character falls in love with a Napa Valley beauty as well as with the grape-filled Valley itself.   Most people who have seen this film will describe it as "magical".  That same magic can be found less than two hours from San Diego.  Valle de Guadalupe, (Guadalupe Valley) is Mexico's wine country.  It is where you will find increasingly adept winemakers, world-class restaurants and high-end boutique hotels  overlooking miles of vineyards and surrounded by (sometimes) snow-capped mountains.  It is magical.  It is also an entirely different experience than anything you can find in Temecula, Paso Robles or even the famed Napa Valley.
Over 100 wineries here sprung up in this remarkably verdant valley over the past 20 years.  They have teamed up with chefs and hoteliers to create Mexico's 'Walk in the Clouds', also known as Ruta del Vino (wine route). Less than two hours from San Diego, the Valle de Guadalupe, is bordered by the city of Ensenada in the West and Tecate to the North.  While many U.S. visitors drive their car to this remarkable valley, the first-time visitor might wish to consider a guided tour that includes transportation, food and tastings at three wineries.   We recently took a full-day tour run by Ark Voyage & Tours based out of San Diego.  The trip, like Reaves' movie, was a dream.
The drive to Guadalupe Valley was uneventful (which is the best kind of trip to take).  Once there, we visited a number of wineries, all of whom are producing some very decent red wines and even a few good whites.  Our guide, Kurt,  started us off at Vinas Pijoan where we sampled some excellent and usual red blends as well as a sweet dessert wine called "Manel" that wowed us with its raisin-y, chocolate-y goodness.   We moved on to Hacienda La Lomita where a truly gifted winemaker showed what he could do with chardonnay, syrah and old-vine grenache grapes.    There's no denying that he had talent and some very luscious fruit.   That tasting was followed by a jaw-dropping scenic Las Nubes lunch (and wine tasting).   We also visited Quinta Monasterio, Trevista, Torres Alegre and LA Cetto for some short visits/tastings.   Torres Alegre offered some remarkably aged wines at reasonable prices –  a 9-year old Cabernet Franc/Merlot blend was selling for $45 and left whoever sipped it walking on clouds.   LA Cetto produces value wines that can compete with many California wineries — its Terra red blend cost $14 and could easily play in the California wine game.   Kurt was well-versed in wines from around the world and specialized in his insights about Baja wineries.   Most importantly, he has good nature and go-with-the flow improvisational qualities necessary for any good guide.
Our trip revealed that the wines being produced in Baja are now easily as good, if not better than those being crafted in Temecula and came surprisingly close to Paso Robles quality.   We had visited the region in the 2000's and we saw the promise, but not the delivery of good wines.   In the five years since we'd visited, it was clear to us that the Valley's promise was now close to being delivered.   The winemakers are moving away from reliance upon Cabernet and Merlot and are, instead, growing excellent fruit better suited to the region and they are creating some very interested blends.   Our advice:  avoid the "bordeaux blends".   Instead ask for the tempranillo, syrah, grenache and nebbiolo blended wines.
Most importantly, U.S. visitors will appreciate what Baja uniquely offers, namely the experience of tasting wines in an entirely different cultural setting.    The vast majority of visitors to Guadalupe Valley are Mexican, along with some Europeans and Asians.   As close as it is to San Diego,  relatively few San Diegans make the short trip to this vino-otherworld.   There are a lot of reasons, including concerns about safety,  US restrictions on importing liquor from Mexico,  language barriers as well as an entirely different currency.    While these concerns may have had some validity in the past, most are no longer issues.   The merchants in the Valley all speak English,  use U.S. currency along with all credit cards and the region is as safe as most places in San Diego County.   Moreover, the roads are well-maintained and marked.   Yes,  you do need to be attuned to the fact that it is a different country with different rules and customs.   But that is partly what makes the trip there so exciting and, well, different.   You can pick up a McDonald's burger after wine-tasting in Temecula, but in Guadalupe Valley, you'll need to partake of savory local T's:  tacos, tamales and tapas.
This is a trip that you really must take if you have any appreciation of wine, good food and culture.    The only thing you'll be disappointed about is the 1 bottle per person limit that the U.S. Customs imposes upon people returning to the U.S. and the slightly higher-than-warranted prices of the Mexican wines.   There are definitely some decent value wines and most of the wines are not horribly overpriced.  However,  the luxury tax that Mexico slaps on wines makes them slightly more expensive than comparable Spanish, Argentinian and Chilean wines.    So, you may opt not to buy a lot of the wines that you'll taste there.  Still, the experience that you'll have driving into Mexico and enjoying some of the best of what the country has to offer should simply not be missed.   You can bring home some yummy memories, fun stories and lots of great pictures.

https://www.sandiegocan.org/wp-content/uploads/2018/07/Logo4-sm.png
0
0
mshames
https://www.sandiegocan.org/wp-content/uploads/2018/07/Logo4-sm.png
mshames
2014-09-27 22:06:56
2014-09-27 22:06:56
A Walk in the Clouds Just 2 Hours From San Diego