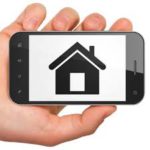 The Smart Home is coming…..in fact, it is already here.   Most of the major computer and appliance manufacturers are creating devices that connect to the Internet.   They call it the "Internet of Things" (IoT).   But it's not "things" as much as it is "everything".  Not just computers and smartphones, but light fixtures, thermostats, clocks, garage doors, speakers, appliances, security systems, window shades and even pet feeders.   Each of these devices would all communicate with each other, with you and with third party companies who will sell you a service called "remote home management" or "home automation" but with a much catchier name "hopefully".
These new services will have one thing in common:  automating the ability to control items around the house. And you will be able to monitor all of these home-based activities using your computer, tablet, smartphone or even someone else's computer.  Big companies are spending big bucks preparing for this new retail market.   In early 2014, Google made a big investment in it, spending $3.2 billion dollars to buy Nest Labs, the company behind some of the highest profile home automation/IoT products now available.   More recently, Samsung is reported to have paid $200m for SmartThings,to help the Korean giant catch up with Apple and others in laying the basis for an offering which will embed itself into the whole home ecosystem, integrating different applications, protocols and devices behind its own user experience and development tools. Importantly for Samsung, this could enhance several of its core businesses – mobile, TV and home appliances – and bring them closer together.  Before that purchase, Samsung announced its Smart Home initiative, which will give you control over TVs and appliances from your Galaxy smartphone. Archos is also getting into the act, making a Connected Home system with an option to buy a 7-inch home gateway tablet to control it all.
Of course, hubs that control everything around the house, which you access via your always-present phone or tablet, are readily available for the tech-savvy homeowner. Just about every utility and security company has a finger in the home automation pie for a while, but with big moves like this from Google and Samsung, you can expect experts in super-simple technology—we're looking at you, Apple—to join the fray or get left behind. Get in on the ground floor and become the home automation expert.he battle to snap up smart home assets will continue to build throughout the fall, and Samsung has called the latest shot with the acquisition of start-up SmartThings.   Meanwhile, mainstream retailers such as Amazon, AT&T, Home Depot, Lowe's, Staples, and Verizon have begun introducing smart products and services that let you run your home from your phone (and other devices).    Home management companies will spring up because they know, as Google has proven, that home data can be converted into information gold.   The more data they can collect,  the more money they can make.   So Internet-connected appliances in the home represent a huge new market in which collect data, advertise to customers and expand the scope of Internet-based offerings.
Product selection is growing, with 37 billion smart products expected on the market by the year 2020, according to Consumer Reports.   Ranges and ovens can be set to preheat during your drive home, so you can get dinner on the table faster. A refrigerator can text you if a door is ajar, helping you save energy and prevent food from spoiling. Certain dryers can tell you if your dryer exhaust duct is clogged, which prolongs drying time, wastes energy, and is a fire hazard. ­Appliances can self-diagnose problems via your smart phone, potentially saving on repair costs or time waiting for the service technician.  It is all very exciting…….and a bit unnerving as well.
While the potential for these services is great, the dark sides of home automation have yet to be fully eradicated…..and they may never be.   First is the BetaMax/VHS conundrum.  Different home automation systems use different protocols for connectivity.  So you can control a product via its app on your phone, but you'll be inconvenienced by the multiple apps needed to control your household.  The alternative, a suite of products from a single brand or that run on the same wireless standard, such as ZigBee, X10, Insteon or Z-Wave, is tricky because that wireless standard may not be THE standard in the future.   Until a wireless protocol is adopted by all manufacturers, connectivity will be a challenge that, currently, is dealt with by devices like Revolv, which is a hub that talks to multiple protocols.
Privacy is a big issue as well. An unconnected "dumb" gadget shares no information that you might prefer to keep to yourself, such as when your home is empty. But a smart thermostat might be less discreet, alerting hackers when it's in vacation mode. Or a smart-lock app might be accessed by thieves determined learn when you usually get home from work without having to stake out your house.  Many of these products will be running on your Wi-Fi network which makes WiFi security more important than ever. Even if the security settings on your home's router limit access to devices you've authorized, the security settings of each device you add to the network, whether it's a whole-house suite of products controlling lighting, ­security, and smoke/CO alarms, or just an Internet-enabled fork become entry-points for ill-intentioned hackers.   Security consulting firm Proofpointone documented a cyber­attack where about 100,000 everyday consumer gadgets, such as routers, TVs, and at least one connected refrigerator, sent out more than 750,000 phishing e-mails over two weeks.  The culprit was a refrigerator owner failed to change the default password on the device.
The Smart Home is no longer in the future.  It is now.   As outlined by Consumer Reports, most all online and bricks-and-mortar home retailers are offering an array of 'Smart Home' devices, including:
1. Burglar alarm. Major providers offer multidevice systems that you can monitor from afar.
2. Generator. Lets you know whether the generator is working and can e-mail or text you and a service technician if there's a problem.
3. Thermostat. Senses patterns in human presence and controls equipment accordingly.
4. Lighting. Lets you control lights from an app and set vacation schedules.
5. Smoke/CO detector. Can notify you and prompt the same-brand thermostat to shut off fuel-burning appliances.
6. Refrigerator. Alerts you if power is out and even if a door is left ajar.
7. Range. Lets you preheat the oven, set the timer, and check cooking status without being in the room.
8. Electronic door locks. Let you remotely lock or unlock and change who's authorized to enter.
9. Water alarm or shutoff. Can text you when water is spilling from a pipe or an appliance; shutoffs can cut off your water main to minimize flooding.
10. Washer and dryer. Lets you start cycles and monitor progress, and alerts you if your dryer duct is clogged.
With every new purchase of any of these devices, consumers will need to be thinking about how that purchased device will be integrated into the home automation system coming soon to each and every American home.    It no longer  makes little sense to purchase a home appliance that doesn't contain some built-in connectivity.
https://www.sandiegocan.org/wp-content/uploads/2014/08/smarthome-150x150.jpg
150
150
mshames
https://www.sandiegocan.org/wp-content/uploads/2018/07/Logo4-sm.png
mshames
2014-08-19 08:53:12
2014-08-19 08:53:12
The Emerging 'Smart Home' Breakdown