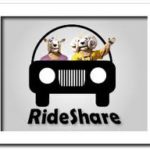 What happens if you are involved in an accident when using a ridesharing service like Uber, Lyft or Sidecar?  Or what happens to your own insurance if you are driving for these companies and you are in an accident?   Both are good questions to which answers are still in the formulation stage.   As most of us say when trying to describe our fascination with elves or the dynamics of our family: "It's complicated".    Fortunately, there are some uncomplicated parts, so we'll start with those first.
As a customer of one of these ridesharing companies, you are pretty much protected.  Each of these services provides $1 million to cover a driver's liability for property damage and/or bodily injury to passengers and third parties. So, if you are hit by a rideshare driver or you are in a ridesharing vehicle and injured during an accident caused by the driver, the ridesharing company will cover up to $1 million in property damage and bodily injury. Uber and Lyft–but not Sidecar–also have $1 million policies to protect passengers against injuries sustained by an accident with an uninsured or underinsured driver of another vehicle while in a rideshare vehicle.
Now we get to the more complicated part which affects drivers more than passengers.   There are a few insurance "gaps" in which insurance is not as clear cut.   A perceived gap in insurance coverage occurs when rideshare company's commercial insurance policy is in effect and when a driver's personal auto policy will be expected to cover any unplanned incidents.  For example, where a rideshare driver is on his/her way to pick up a customers.   The insurers say that the drivers are providing a commercial service any time they are logged into a ridesharing smartphone app and looking for a ride.   The battle has escalated to the political world, with taxi drivers and other large insurers' groups advocating for stricter insurance requirements for rideshare companies.
The dispute that found its way into the regulatory world as well.   In 2012, the California Public Utilities Commission  (PUC) undertook to try to sort out the mess and create rules that allowed the rideshare industry to grow but also protect customers.   It initiated Rulemaking 12-12-011 and, in that proceeding, issued basic insurance requirements.   It also created a regulatory term to describe these rideshare companies:  "Transportation Network Companies" (TNC).     But its 2013 decision detailing insurance requirements was frustrated by the insurance industry's footdragging.  Also, it didn't address a gap in insurance coverage between when a TNC's commercial insurance is in play and when driver's would be relying on their personal auto policies for coverage. That gap – when a ridesharing driver has an app on but isn't on the way to get a ride or doesn't have a ride – has caused consternation for the insurance industry.
So the California regulators tried again and issued a decision in November 2014.   In that  revision of the 2013 rules, the regulators splitting  TNC operations into three periods – No. 1 app on and waiting for a match, No. 2 match accepted, but no passenger yet, No. 3 passenger in the car through the time when the passenger safely exits the car.   The second key change is requiring a $1 million commercial policy to be in place during all three periods.   The decision does a few other things:
The decision requires the TNCs to carry a minimum of at least $1 million primary commercial insurance for Periods 2 & 3.  It also requires a minimum of at least $100,000 for one person, $300,000 for more than one person, and $50,000 for property damage of excess commercial insurance for Period 1, consistent  with the City of Los Angeles' insurance amount that is required for all taxicabs.   It also requires TNCs to:
Require each driver to undergo a criminal background check;
Establish a driver training program;
Implement a zero-tolerance policy on drugs and alcohol;
Conduct a 19-point car inspection;
Obtain authorization from airports before conducting any operations on airport property orinto any airport;
Obtain a license from the CPUC to operate in California.
The PUC stated that the commercial insurance requirements can be met by TNCs like Uber and Lyft, but it was contingent upon the insurance industry stepping up and provide a TNC-specific policy that doesn't require a commercial license.  In essence, the regulators challenged the insurers to create some products to offer to ridesharing drivers.    However, no insurer has yet announced a product tailored for TNC drivers, or an endorsement on personal auto policies to cover drivers when they are acting in a ridesharing capacity.   Instead, they are fighting on at the legislative level.   The taxi companies, who are threatened by TNCs,  wants all ridesharing vehicles covered by commercial insurance at all times, just like taxicab and limousine drivers.   They helped draft AB 2293 by Assemblywoman Susan Bonilla, D-Concord, which required drivers to have $750,000 worth of commercial liability insurance from the moment they turn on the smartphone app.
In the meantime, it is fairly safe for a customer to use a TNC like Uber, Lyft and Sidecar;  insurance exists.
https://www.sandiegocan.org/wp-content/uploads/2014/08/rideshare2-150x150.jpg
150
150
mshames
https://www.sandiegocan.org/wp-content/uploads/2018/07/Logo4-sm.png
mshames
2014-08-18 16:55:55
2014-08-18 16:55:55
Rideshare Insurance Wars Explained