Just as ridesharing is shaking up the taxi industry,  carsharing is knocking on the rental car industry's door.    In San Diego, two companies are offering car sharing services without requiring a membership arrangement:  GetAround and RelayRides.      Both companies offer "peer-to-peer" car rentals.  They are pretty easy to use;  car owners list their cars as available for rent from any location within the geographic area that offers the service.   GetAround offers cars by the hour.  For example, a car owner can drive to work in the morning and park his car, at which time a renter can pick up the car to run a few errands and return it before the end of the workday. Typical rental fees can range from $8 to $10 per hour.   RelayRides only offers carshares on a daily basis.   Its rental fees can range from $20 to $50 per day, depending upon the car.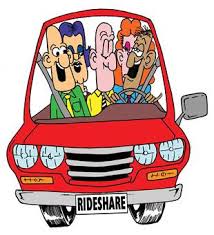 Both Zipcar and Flexcar are membership services that offer a comprehensive alternative to car ownership. Members go online or get on the phone to reserve cars that will be parked in specific places, usually reserved parking spots close to their homes, for specific time slots. When the time comes, they simply walk to where the cars are parked and wave their membership cards over readers installed in the cars.  Unlike GetAround and RelayRides, the cars are not owned by private individuals.  Both services cost about $50 per month for an annual membership and $8-10 an hour to use a car, and both are all-inclusive, meaning that every rental includes insurance, gas and maintenance.   In San Diego, Zipcar has a number of locations in the Downtown, Hillcrest and Pacific Beach area.    Recently, even traditional car-rental companies such as Enterprise have gotten in on the action, offering hourly car rentals in some of the same urban and college-town markets now serviced by Flexcar and Zipcar.
So why use these carsharing alternatives?   It may well be cheaper than owning your own car car.   Combine the average cost of buying a new car and then adding gas, insurance and maintenance would cost the average consumer well over $300 per month.   For the same amount….or less…..you could rent a car two or three days a week to do errands without the hassles of ownership.   But saving money isn't the only reason people are opting for carsharing. For some, environmental responsibility issues such as global warming, national energy independence and urban sprawl are increasingly important. The savings in pollution, gas and parking spaces created by fuel-efficient carshares is a very meaningful response to vehicle emissions.
As for insurance,  car sharing is basically analogous to a public rental. There's no sharing of expenses and no sharing of a ride between driver and passenger to a common destination. In essence, the car is available to rent for a fee. In line with this, some car-sharing services offer primary coverage in the event of an accident. In many cases, the service offers car owners third-party liability coverage as well as some comprehensive and collision coverage.
One downside to GetAround is that the company requires consumers to login through Facebook.   In so doing, you are required to allow GetAround access to  your public profile, friend list, email address, education history, current city and even your likes.   So it is pretty intrusive.   For that reason, alone, we don't recommend GetAround.  ReadyRides allows consumers to use the service without having to login through Facebook.
https://www.sandiegocan.org/wp-content/uploads/2013/12/rideshare-150x150.jpg
150
150
mshames
https://www.sandiegocan.org/wp-content/uploads/2018/07/Logo4-sm.png
mshames
2014-08-17 07:05:34
2014-08-17 07:05:34
Car Sharing Alternative to Car Rental