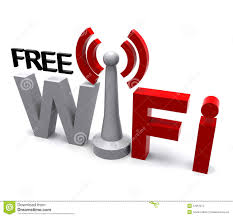 WiFi?  Why not?   It's cheap (or free), it is easy and it is increasingly available outside of your home.    Plus, it can help you avoid using up your data allowance for your tablet or smartphone's wireless plan.  The objective is to offload your data usage from cellular networks to WiFi when an acceptable connection is available.  If you do it thoughtfully, you'll always have the best connection available.  Finding WiFi is getting increasingly easier as well.   Here's a list of strategies to find free/cheap wi-fi when you are out of your home:
1.  WiFi Apps
Use a hotspot database like WeFi, Netstumbler or WiFiFinder apps   They each boast access to a huge list of over 100 million Wi-Fi hotspots around the world, including rural areas you might not expect. They've also got apps for iPhone and Android, so use these handy apps to get online wherever you are located.
2.  Restaurants/Hotels
McDonald's food may be sketchy, but it offers some of the fastest and free-est WiFi access in the U.S.    Many bookstores, coffee shops and other fast food outlets are deploying WiFi.   If you are signed up for a hotel loyalty program, then you often qualify for free WiFi when on the hotel grounds…whether you are staying there or not.   Panera Bread and Starbucks are pretty good bets for free WiFi
3.  Public Places
Most all public libraries and many state parks, universities offer free wi-fi to guests.   Airports are also becoming increasingly WiFi friendly.    Many city parks and plazas now also offer free WiFi because they host public events want to get more people to come to them and offering free Internet in those places where various shows, concerts, and other special events are held just makes sense.
4.  Internet Provider Hotspots
If your home internet service provider (ISP) is AT&T or TimeWarner,  you can log-in and access free WiFi at a number of locations, such as Starbucks, McDonalds and other public places.
5.  Freedom Pop
FreedomPop also offers free internet access over Sprint's WiMax network. You're limited to 500MB per month, and you have to pay  an $89 refundable deposit for a mobile hotspot or USB adapter, but it costs you nothing after that.   It uses Sprint's wireless backbone.    Just sign up before you hit the road and you'll have a great fall-back in the event that you can't turn up free WiFi at the other spots listed above.
There is one caveat to consider for using public WiFi:  understand that these networks are not secure.    You cannot assume that important personal data or passwords will be safe on these networks.    Even though wireless hotspots are increasingly useful these days, please be careful.  Just as you wouldn't sit in a cafe with your wallet open on the table, you shouldn't leave your laptop or other mobile device wide open to thieves.  If you  use public WiFi, awareness and encryption are paramount.  If you are going to use sensitive data, try to limit it to web addresses that start with HTTPS.
https://www.sandiegocan.org/wp-content/uploads/2014/08/Wifi-150x150.jpg
150
150
mshames
https://www.sandiegocan.org/wp-content/uploads/2018/07/Logo4-sm.png
mshames
2014-08-10 17:28:10
2014-08-10 17:28:10
Finest Free Wi-Fi Finders