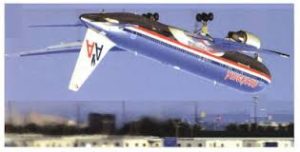 In the 1980s,  airlines began "bumping" passengers off of flights.   In response, federal regulators imposed stringent rules upon the airlines when passengers were subjected to this inconvenience.  The new rules reduced this practice, but as seen in the letter below, it hasn't ended it.    A San Diego couple shared their American Airlines horror story with SDCAN in the hopes that other airline passengers would be alert to this tactic and exercise their rights.   This couple wrote a letter to American Airlines and got a terse email response offering $200 vouchers, which were promptly rejected by the couple.   They will be taking their complaint to the Department of Transportation and other regulatory agencies.    We invite you to read their letter and learn how you can avoid getting bumped and abused by American Airlines/US Air.    We also share this as yet another example of how American Airlines  (and some others as well) are placing a lower premium on customer satisfaction.
Dear American Airlines,
We are writing to inform you that USAir employees engaged in highly unprofessional conduct, violated airline regulations and caused us to reconsider whether to ever use American Airlines again.   Having been long-time and loyal American Airlines customers, it pains us to see what has happened to this company after its integration with USAir.   We ask that our experience be reviewed by your management and changes in customer service go into effect.    We also ask for an involuntary refund as compensation for the involuntary bumping to which were subjected.   In the event that you choose not to do the "right thing",  we will have little choice but to make the Department of Transportation aware of the events that occurred to us.
Briefly, we were involuntarily bumped on May 22nd, 2014. We booked two one way non-stop tickets with American Airlines on the internet. the first was non-stop from San Diego to Philadelphia on US Air and the second tickets were non-stop from New York to San Diego scheduled to depart on May 22.  The ticket numbers were:  03723482371195 and 03723482371184
We received  emails from American Airlines confirming the details about our flights and confirming our boarding passes.   The evening before the scheduled flight on 5/21 we downloaded and printed our boarding passes confirming our seat assignments 9 EF on AA flight 67 JFK to SAN  the next day 5/22 at 5:15.
We arrived at JFK early around 2 o'clock  for AA  flight 67 to check in at the American Airlines Gold desk. We were told that our boarding passes were worthless and the USAir had canceled our itinerary and we did not have a seat. We were totally bewildered and after standing with the very unsympathetic agent for over half an hour while she was on hold with USAir  the American Airlines representative then  told us we would have to take a USAir flight into Phoenix,  and catch a flight the next morning  to San Diego but there was nothing she could do to help us for this was a US Airways problem. She was rather rude and expressed no concern, no responsibility and didn't help us any further . She just basically told us to leave and go to the USAirways agent at the other end of the counter. When we went over to the agent at the other end of the counter that was still labelled as AA and all the agents had AA uniforms , but they told us that they were indeed USAirways agents.
We tried to talk to the supervisor Bill who was on hold on the telephone. He was quite rude and kept demanding that we go to the back of the line and refused to even attempt to find out what our problem was. He was on the telephone for about 15 min then just left
We then encountered another US Airways attendant(with AA uniform). Without any explanation or apology as to why our initial nonstop boarding pass was invalidated she reluctantly offered to help us get on a flight to Phoenix (USAir 671 at 4:10) insisting that we would need to sleep over and then take an earlier flight the next morning to San Diego(USAir 452 on 5/23). When I asked her if AA/USair would pay for our overnight hotel ,she laughed derisively and said "of course not".
She then told  we had to pay $50 for our checked luggage!  We said that we are American Gold members and the bags were free on our AA flight,she rudely told us if we did not pay ,then we should to take our bags and leave .We paid and then made our way to the gate.
While waiting in the gate for the USAir 671 flight to Phoenix(which was delayed well over an hour), it occurred to us that we could check on the Internet and find other flights flying out of Phoenix that night. We did indeed find another flight USAir 475 leaving Phoenix at 10:50 that was not full. The agent Valerie at the gate kindly changed us to that flight so we could get back to San Diego that night without having to overnight in Phoenix.  Valerie was that first agent that treated us with respect and dignity.
We finally arrived in San Diego after 1:00 am on the 23rd ,instead of our original time which was 8:15pm on the 22nd.
We also subsequently were informed by our parents who were travelling with us (they were in first class on AA Flight 67 ) that there were at least 4 empty seats on our original flight.  We were not made aware of open seats nor given an option of even taking that flight.
In Summary:
We were involuntarily bumped from a direct flight on AA for which we had printed boarding passes  (and we subsequently found out had empty seats)
We were then booked on a USAir flight with an overnight stop (without an offer for paying for a hotel)when there were indeed seats on a flight the same night.
We were made to pay $50 for our baggage.
In addition we found the unsympathetic,very rude and disrespectful treatment from the first 3 agents quite disturbing and upsetting.
Please note that each of the things that happened to us are direct violation of Department of Transportation rules  (Code of Federal Regulations Title 14, Section 250), which require that each airline  give all passengers who are bumped involuntarily a written statement describing their rights and explaining how the carrier decides who gets on an oversold flight and who doesn't.  We were never provided that written statement .
In addition to that rule violation:
* You failed to get us to our final destination  within one hour of your original scheduled arrival time, there is no compensation.
* The  substitute transportation that you provided was  more than two hours late,  thus requiring you to pay us double the rate of the compensation (400% of our one-way fare with a $1300 maximum).
* You failed to allow us to keep our original ticket and use it on another flight.
* You charged us for optional services on our original flight (e.g., checked baggage) on the substitute flight that were not charged us in the original flight in which we were bumped.
Accordingly, we require that American Airlines reimbursement us in the amount of $2600 for the involuntary bumping to which we were subjected.
If we do not hear back from you by July 1, 2014,  we will conclude that you are rejecting our request and will take further action to bring this matter to the attention of American Airlines management.
Sincerely,
Anthony & Ellen Sacks
https://www.sandiegocan.org/wp-content/uploads/2014/07/AAdownward-150x150.jpg
150
150
mshames
https://www.sandiegocan.org/wp-content/uploads/2018/07/Logo4-sm.png
mshames
2014-07-09 03:34:51
2014-07-09 03:34:51
Bumped: An American Airlines Horror Story