The news infor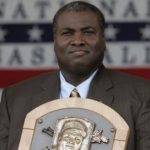 ms us that a Hall of Fame baseball player died today, yet that that doesn't accurately describe what really happened.   The worth of Tony Gwynn is not measured by his batting average or the fact that he was admitted to Baseball's Hall of Fame.    Yes, he was a supremely gifted hitter.   But the real gift bestowed by Mr. Gwynn was the decency, the intelligence and the spirit of a man who, for many, was a role model for how to truly live life.    He did make one mistake;  he used chewing tobacco in his early playing days.   He believed that this nasty habit, developed while a rookie baseball player, caused the salivary cancer that slayed him at age 54.
We never met Tony Gwynn.   But as a fellow San Diegan, he was ever-present at the Padres ballparks, at SDSU where he coached, or on San Diego's "awards" circuit that we frequented as a presenter, recipient or observer for two decades.    As many have said, and many more will intone, he was a class act.   But beyond his amiability,   Tony Gwynn was paragon in a profession where the number of role models are dwindling.   He preached a gospel of excellence, dedication, decency and honesty.    One of the reasons that he was interviewed so much by the meda is that he made himself available to all journalists — famous or nascent — and he spoke truthfully and respectfully.   He treated fans  (and even opponents) with that same degree of integrity.    In fact, he openly feuded with the irascible Jack Clark in 1990, yet publicly supported him when Clark met with financial problems just two years later.
Gwynn forsook wealth and refused to explore baseball's free market in 1997 even though he was one of the best players in the sport.   He was committed to staying in San Diego and, as we understand it, was more interested in ensuring that Padres' owners had sufficient monies available to them to hire other good players who would make the Padres a winning team.   In the mid-90s, the Padres brought in some good — but not great — players and, with Gwynn as the team's nucleus,  the Padres went to the World Series twice. At the time, Gwynn could have made far more than the $4 million annual salary he accepted.     Around the same time,  a fellow Padres (Kevin Brown) signed a contract for $15 million a year for 7 years.  One year later, Manny Ramirez was paid $20 million a year.   Gwynn had dramatically undervalued himself but it wasn't done out of ignorance as much as a desire to build a winning team notwithstanding the Padres' limited resource as a mid-market ballclub.
We share these observations on the day of Mr. Gwynn's death not to idolize him as much as to remind people who are successful in any profession — whether it would be sports, commerce, arts, entrepreneurship or education — to embrace the qualities demonstrated by  Tony Gwynn during his life.   His determination, his positive approach to life, the respect that he accorded to all — from bat boys to team presidents — his innate decency are the legacy that we hope are remembered far longer than his induction plaque that hangs in Cooperstown.    He was a Hall of Fame person, as well as a darned good baseball player.    While you are no longer with us, Tony, you can be sure that your essence will remain with so many of us for generations to come.
One additional thought:  Hopefully at least one reader, who currently chews tobacco, will quit immediately and never look back. Tobacco took a good man from us — it shouldn't take anyone else.   Quit for Tony, if you won't do it for your own welfare.  Quit out of respect for the man, if not out of respect for your own life.
https://www.sandiegocan.org/wp-content/uploads/2014/06/Gwynn-150x150.jpg
150
150
mshames
https://www.sandiegocan.org/wp-content/uploads/2018/07/Logo4-sm.png
mshames
2014-06-16 10:17:57
2014-06-16 10:17:57
Goodbye Tony Gwynn