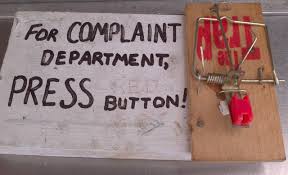 OK.   Some business just pissed you off and you want to express your dissatisfaction BUT you don't want to waste your time on a useless gripe site or spinning your wheels with the company's labyrinthian customer service maze.   How can you be effective in getting that company's attention? You'd think the answer to this question would be a simple one, but it isn't.  We tried a number of emerging customer complaint sites and found them to be wanting.    We sent a customer complaint to Time Warner Cable using each of these complaint sites and were underwhelmed by the response.   So what is the best option?   Find our top 3 suggestions at the bottom of this page and use our Highly Effective Complaint Letter form, also at the bottom.
Complaint Sites
Rip-Off Report –  Is one of the longer-operating and most frequently used complaint websites on the Net.  Its focus is largely upon getting your gripe out into the public.   Allegedly, companies read the reports posted on Rip-Off Report and then will try to resolve the issue.   We submitted our own "report", but it didn't elicit any response by Time Warner Cable.
Measured Up –   Like Rip-Off Report, it is a gripe site that shares your experience with others.    It is a well-designed and easy-to-use site.   However, while it claims that it send your complaint directly to the company, because it doesn't ask for account information it is unlikely that the company even knows your identity, let alone how to fix your problem.    We submitted our Time Warner complaint but didn't get a response from the company.    On the plus side, it had a fair number of complaints posted by other Time Warner Cable of San Diego customers.
Better Business Bureau –  Where Rip-Off Report focuses upon sharing your rip-off experience with the public, the BBB (a long-time business-supported organization) is more oriented towards getting your complaint resolved.   It views itself as an intermediary between you and the retailer.    It is fairly good in ferreting out fly-by-night or unusually bad local businesses, but is largely ineffectual with the large national retailers.   We tried using it for our complaint with Time Warner Cable but it didn't not have the company in its complaint database!    Probably best to use the BBB only if you feel you've been scammed by a local company, if at all.
Get Human –  Boasts most immediate access to company complaint departments.  It offers phone numbers, emails and other contact information.    It had some pretty cool information about average wait times for Time Warner phone numbers, but didn't have anything specific to Time Warner's San Diego offices.   It also makes it possible to post brief versions of your complaints on line so that others can see it.    Overall, not bad, but not gangbusters.
Yelp –   Like Angie's List and the BBB,  this is a fairly useful site for airing your complaints (or compliments) about a local company, but it is less useful for getting a problem resolved with a large national retailer. We love Yelp and use it a lot to find local restaurants or service providers, but it wasn't helpful at all with our Time Warner Cable complaint.
Gripe-0 – Appears to largely focus on disseminating your brief gripe about a company to others using social media networks.   It claims that it send your complaint directly to the company, but because it doesn't ask for account information, it is unlikely that the company even knows your identity, let alone how to fix your problem.   The website claims that it will be creating a process where you fill out a form with which they contact the companies using the optimal accounts and hashtags, and try to get a response. Their FAQ talks about the introduction of a "Complaint Marketplace," in early 2014 where competitors can offer you discounts and coupons to keep you from going back to where you were mistreated.  However, as of June 2014, it is not function.   So, for now, Gripe-0 appears to be more about mining data about you and your network than in resolving problems.
Call Red –  It is largely a referral service to various national retailers.  It doesn't disclose the nature or number of the complaints it has received to the public  (even though its site suggests that it has a comparison feature).    We received no response from Time Warner Cable.
Our Suggestions
Our first suggestion is to buy products or services through Amazon.com or some other Internet retailer that will stand behind your purchase and compel merchants to accept returns where the goods or services were not satisfactory.   It is no coincidence that Amazon has become a force in retailing;  it really does offer excellent customer support.     Similarly, Costco also offers some very effective customer protections, including an excellent return policy.
Second, use a credit card (and NOT a debit card), where possible, for the purchase of a good or service.   Credit card companies are obligated, by law, to refund your money and deal directly with any merchant that has not delivered on what it promised.   The credit card companies enjoy leverage and professional intervenors who will take your fight to the company for you.    They aren't "consumer advocates" and will do as little as possible to resolve the matter, but because of their size, we've found that contesting a charge through a credit company is very effective.
Finally, we recommend you write and send a complaint to the retailer and then post your letter at a few of the sites listed above.    An effective demand letter should be concise and clear.    For example,  it should address the following points:
· Do you want a refund….full or partial?
· Do you want an admission of error by the company or just a fix?
· Do you want to prevent the company from doing the same wrong to other customers?
Writing such letters requires precise, cool-headed engagement.  Leave your anger, angst and strong emotions at the door; letters or e-mails should be written with a tone of professionalism and determination. When writing, consider that a judge or some other third party may read the letter.    If you sound like a hot-head, they'll perceive you as such. Keep focused on your objectives and do not allow the company to divert your objectives. Their "preserve the sale" defenses often include strategies to change your plans and add services or goods by touting "special deals".
We encourage you to use our battle-tested HIGHLY EFFECTIVE COMPLAINT LETTER FORM.  It will provide you with a structure of how to present your arguments as well as some tips about how to get the right peoples' attention.    In return, we ask only that you let us know how it worked for you.  If you need the document in a Word format, please contact us and let us know.
https://www.sandiegocan.org/wp-content/uploads/2014/05/complaints-150x150.jpg
150
150
mshames
https://www.sandiegocan.org/wp-content/uploads/2018/07/Logo4-sm.png
mshames
2014-05-22 05:28:04
2014-05-22 05:28:04
Effective Consumer Complaint Tips