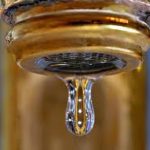 The City of San Diego held "public hearings" on a scheme to increase water rates on November 21, 2013.    SDCAN sent the City Council and Mayor a letter calling for the implementation of tiered rates and lowered base fees to reward customers who use water wisely.   It was an updated version of a letter that I sent to then-Mayor Jerry Sanders and the City Council in 2009.   At that time,  the City continued its antiquated and long-broken pricing scheme,  i.e.  high fixed charges, low variable charges and slightly tiered rate levels.
But this November, the Council was singing a different tune.  With the imminent election of a new Mayor and a newly constituted City Council, it adopted a new set of water rates that are efficient and fair with an 8-1 vote.  It is important to note that San Diego is not facing a temporary shortage due to current drought conditions but an ongoing water supply crisis that requires a combination of short-, intermediate- and long-term pricing and non-pricing policies.   Customers who use 6HCF per month, or less, will likely not see any increases. Customers who use excessive levels of water will find that their bills will skyrocket.   It remains to be seen how customers will respond: will they reduce their water consumption or raise a political fuss.
The SDCAN  letter to San Diego Interim Mayor Todd Gloria and an accompanying 16-page analysis submitted prior to those hearings  can be found here.    I attended the hearings and urged the Council to adopt the new rate structure but to pay special attention to low-income customers and possible increases in water disconnections as well as take another look at the multi-family rates, which seemed high relative to their water efficiency.
https://www.sandiegocan.org/wp-content/uploads/2018/07/Logo4-sm.png
0
0
mshames
https://www.sandiegocan.org/wp-content/uploads/2018/07/Logo4-sm.png
mshames
2013-10-07 05:52:38
2013-10-07 05:52:38
Fixing San Diego's Leaky Water Rates