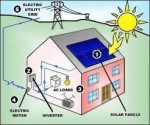 The hot debate in regulatory circles is how to "align incentives with utility performance".   In English, that can be restated to say: "how to pay utilities to accept the new energy realities".     Those new realities are the pressures that new technologies are bringing to energy generation and consumption, as outlined in the SDCAN White Paper on this topic. Utilities are beginning a coordinated campaign to fight back against these changes.  They want to be assured that they will be adequately compensated in this new paradigm where customers can reduce their energy usage or, worse, generate their own power and cut the utility cord.    The ensuing debate is a fairly active one that is looking at the following questions:
What outcomes does society want from the electric utility industry?
What role should utilities fulfill in the future?
What incentives should law and regulation provide?
How must regulation be modified to provide these incentives?
Can utilities' clean energy strategies become their most profitable courses of action?
In the coming months and years, consumer representatives in this debate (and there aren't many) will join in with regulators, energy companies and a scattering of academics to figure out whether and how regulation night provide better incentives for utility performance on traditional goals, such as adequacy and reliability of service, cost, and environmental performance, lead utilities toward constructive responses new challenges that require innovation, such as new technology, cyber security, and storm damage repairs, as well as improve utility responses to rapidly changing consumer preferences?
They will need to dig into policy, financial, market, and operational considerations, constraints, and opportunities to determine an appropriate role for utilities going forward.   In so doing, they need to figure out what consumers really want.   And that might be amongst the trickiest questions as there is little consensus on this point.    Moreover, it requires the ability to read tea leaves and prophecy amongst the least desirable bases for regulatory policy.
SDCAN's take is that in the coming decades,  the future retail world will be dominated by  "network" service providers that will include energy management services in their portfolio.  These network providers will offer bundled packages of network services that will include:
communication services like Internet, telephony, mobile Net access etc,
energy management services,
on demand entertainment,
security and home monitoring,
remote medical services,
financial services, such as banking, investment, insurance
home delivery of groceries, prepared foods, home goods and electronics, amongst other things.
These Network Service companies will likely evolve from today's current communication companies (AT&T/Verizon),  cable companies (Comcast, Time Warner),  electric utilities,  online shopping services (primarily Amazon), online information services (Google, Yahoo, Microsoft),  financial companies (JP Morgan Chase, Bank of America, Citigroup, Wells Fargo, Morgan Stanley) and current retailers (Costco, Target, Walmart, Best Buy) and then perhaps one or two start-ups.    Most of these existing companies will create alliances with others to fashion three or four major Network Service providers and they will use various subsidization schemes to offer an array of free and fee-based services.
Since 2010, we've seen the flashy entrance and quiet demise of Google and Microsoft (and many other lesser-known companies) in the home energy management space. These first-movers created dashboarding tools and hardware working independently from other systems in the home, thus requiring a new technology commitment from consumers for comparatively little energy savings.  Despite the branding from big-name tech companies, the customers did not materialize.  In 2010, Apple filed patents for a technology that would turn electrical sockets into internet ports but Apple hasn't done anything publicly on the home energy management front since then.   Nest — a company created by ex-Apple brains — has jumped in with an elegant smart thermostat and savvy marketing approach. But having the flashiest technology or a web-based portal that connects to a smart thermostat hasn't proven to be a successful business model…..yet.    Each of these big (and small) players are staking out a position in this emerging market but no one player has pulled it all together and figured out the profitable business model.
In all likelihood, it will boil down to smart automation.   The successful home management companies will figure out how to allow customers to turn over their energy decisions to the management company that can put an automated system in place.   It is complex, but it can be done.   Many of the current entrants in the home energy management space are exploring ways of doing it, such as Vivint  (for more on these home energy management wannabes,  go to this article).     Once that automation functionality has been proven, the large Network Service providers will jump into the market.
Ultimately, consumers will want to have at least three or four of these Network Service providers from which to choose and some information synthesizers, like Consumers Union, to help them decipher amongst the choices offered by these companies.   Specifically, as to energy services,  consumers will look to the energy management services offered by these companies as the functional equivalent of today's financial planner who works with a client to fashion a budget and then an investment strategy by which to achieve the budget outcomes.   Then the financial planner does all of the investing and the consumer effectively just monitors the outcomes to ensure that they are getting what was promised.
Contrary to the opinion of many utilities and academics,   the vast number of consumers neither want nor have the time/interest/skills to analyze their energy consumption and generation options and make informed choices about which technologies or functionalities to rely upon to meet their energy needs.   The transaction costs are formidable and the level of risk is far too high for most residential consumers.    Consumers will want to rely upon companies with the expertise and risk tolerance to effectively make these complex decisions.
Any makeover of energy regulation must have firmly in mind a means by which this Network Services retail structure is allowed to develop. That is why I am so concerned that real-time pricing of electricity must be reflect the true differentiation of prices for peak, shoulder and off-peak costs.  Without that, there's no economic incentive for energy management services to develop and energy will fall from the list of services that can be provided from these Network Service companies.
https://www.sandiegocan.org/wp-content/uploads/2013/04/PVdiagram-150x125.jpg
125
150
mshames
https://www.sandiegocan.org/wp-content/uploads/2018/07/Logo4-sm.png
mshames
2013-09-01 13:55:51
2013-09-01 13:55:51
Energy Utility Makeover: The Debate